Most overland tours use a self sufficient expedition truck to get around, fully equipped with everything needed to get you from A to B in comfort and safety. These are rugged, durable vehicles built to cope with travel both on- and off-road.

You'll travel in relative comfort, with plenty of leg room and seats that are forward facing and raised for good views. If you're going to be wild camping, then everything you need will be carried with you, including sturdy tents, cookery equipment and a water tank. Each truck will also be equipped with an emergency medical kit and a fridge. Crew are meticulously trained, and have mechanical knowledge to deal with any minor engine problems.
What to pack
Packing lightly in a soft bag is highly recommended, as space is limited, but since everybody will be wearing the same things day-in, day-out, only having a few shirts to choose from is nothing to worry about. Probably the most important thing to bring is your patience. You'll be sharing a confined space for several hours most days, sometimes facing delays. These trips are designed to bring out the sociable side in everyone, and you'll find you're all on first name terms by the end of day one.
Cooking & eating
Most dietary requirements can be catered for with enough advance notice. A truckload of people may be divided into small groups that take turns preparing meals, so if you are a vegetarian for instance, you can be assigned to a group that doesn't handle meat.
The kitty
Maintaining a kitty is an integral part of many overland trips. It provides flexibility and best value for group expenses, with the crew running the fund, and is paid separately from the tour price. It generally covers everything that the group does while on the ground, including some accommodation such as local hotel and campsite fees, meals whilst camping (but not in restaurants), and some activities that cannot be paid for in advance.
In it together
Don't be under the impression that you'll be spending most of your time in the truck. Rest stops and activities are regular. On travel days you can expect to be in your seat for around 6-7 hours but time flies chatting with fellow travellers, playing cards or just absorbing the scenery. If you're only doing a section of a longer route then you may be joining an established group. Expect to be heartily welcomed aboard and shown the ropes – there's no room for cliques on this kind of trip, you're all in it together.
Choosing the right tour
There is huge variety in overland tours, and given the cost involved, as well as the amount of time you'll be travelling for, you should choose carefully to ensure the trip is right for you. Factors you'll want to consider are likely weather conditions, medical requirements, the altitude and terrain, the cuisine, and any particular activities you want to do. You may start your research thinking the Trans Mongolian Railway would be perfect, only to find yourself drawn to a six-week overland tour through Indochina.
Our top Overland Holiday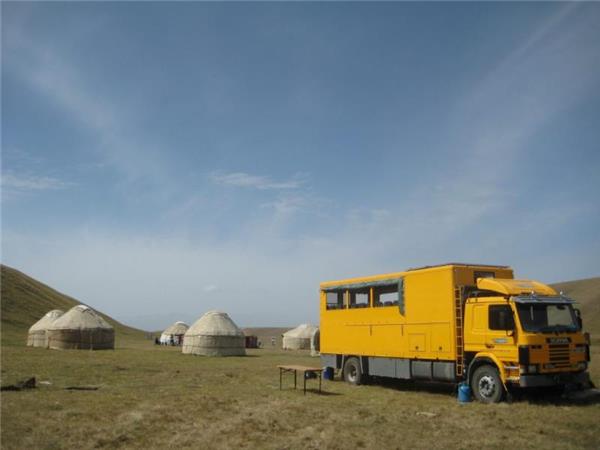 Follow ancient trading routes through the 'Stan's'
From
£1795
20 days
ex flights
Small group travel:
2024: 29 May
If you'd like to chat about Overland or need help finding a holiday to suit you we're very happy to help.

Best value
Michael Battley from our supplier Dragoman unpacks the specifics of life on the road:
"The kitty system is unique to overlanding and provides maximum flexibility and best value on the road - you can see exactly what is being paid for, you get everything at cost price, it keeps costs competitive by leveraging group expenses and saves on administrative costs. The fund is run by the Dragoman crew, and any excess left over at the end is returned equally to the group."
Keep on trucking
"Dragoman's fleet is truly unique. We use Mercedes-Benz trucks (known for their durability) and specially build and modify them at our Suffolk workshop into our carefully designed overland vehicles. They are rugged, sturdy and comfortable. They will get you off the beaten track and are fully equipped for self sufficient wild camping. The comfort comes inside with coach style seating, plenty of leg room, two tables, a library, fridge, safe, open access cabins to the crew and storage for bags and personal belongings. On the outside we also have a water tank for drinking water. All the trucks are owned and maintained by us, while the crew is mechanically trained and follows a strict maintenance schedule."
Community benefits
"Every Dragoman trip will have our two crew who are extensively trained over eight weeks at our HQ in Suffolk and then on the road for two months. For a large number of our trips we will also recruit local guides, either be for the whole country or just specific sites. This is always carefully monitored by our operations team to make sure the guides are up to the job and we use them to make sure we are doing the best for the local communities. An example is our Wild Andes trek, a route that changes seasonally to ensure we don't overwhelm one area."