A major reason to recommend overlanding in
Central America
is just how easy it is to become immersed in local communities along the way. Whether it's a homestay with a local family, browsing the stalls and bartering at a colourful indigenous market, or travelling from place to place by public bus, a smattering of Spanish will come in very handy.
Central America itinerary & highlights
There are seven countries in the Central America isthmus: Guatemala, El Salvador, Belize, Honduras, Nicaragua, Costa Rica and Panama. Overland routes might spend a few weeks taking in a handful of these, while in a month and travelling at a clip you could get from Mexico to Panama City.

Every itinerary is different but regular highlights include touring ancient Mayan sites such as Copán in Honduras and Tikal National Park in Guatemala; hiking around active volcanoes; exploring colonial cities and scuba diving with sharks, manta rays and sea turtles off idyllic coasts.

Some countries such as Belize and Costa Rica are well set up for tourism while others including Honduras and Nicaragua are emerging from political instability and still have little in the way of infrastructure. But of course, for intrepid travellers that rawness and air of discovery, the need to rough it a little, is what makes them such attractive destinations in the first place.
Our top trip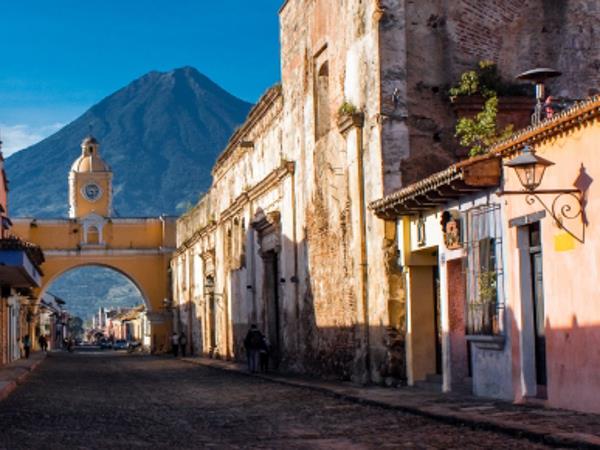 Travel through 6 Central American countries
From
£3807
22 days
ex flights
Small group travel:
2023: 9 Dec
2024: 6 Jan, 10 Feb, 9 Mar, 22 Apr, 3 Aug, 12 Oct, 9 Nov, 7 Dec
If you'd like to chat about Overland or need help finding a holiday to suit you we're very happy to help.

Practicalities
Getting around Central America independently can be a challenge, especially if you're not able to get by in Spanish. All the more reason, then, to join a small group tour where the route planning and organization is handled for you, so you can just enjoy the journey. A typical itinerary lasts between two and four weeks, during which you'll be getting around by a mix of private minivans and public buses.
Some long drives can be anticipated, up to eight hours now and again, and the nature of travel here is very much 'expect the unexpected'. Boats and internal flights are also common. This is the perfect continent for those wanting to get off piste a little for an authentic taste of day-to-day life. Local guides, local public transport, local restaurants and locally owned hotels and homestays are the rule, and once you move away from the hotspots you'll find that other travel groups are few and far between.
Tips from our holiday reviews
"For value for money, and as an introduction to Central America, it was great. The trip really does have everything: history, culture, beaches, colonial cities, nature and great food, not to mention professional tour guides who were keen to impart their local knowledge and ensure we all had a good experience. Be warned though: it is just a taster; you're going to want to go back! Know, however, that once you leave Guatemala, there are some long travel days. The trip from Antigua to Copán, in particular, involved a lot of travel for what was just 24 hours in Honduras (although the ruins are, admittedly, impressive)." – Laurie Munslow on a Central America overland holiday through Costa Rica, Guatemala, Honduras, Nicaragua and Mexico
"Fantastic insight into many different cultures. Stunning and varied scenery in wonderful hot weather from the might of the Panama Canal to the jaw dropping beauty of the rain and cloud forests to the awesome splendour of the region's volcanoes and craters. Do as much research as possible before your trip - I wished I had done more! Try and learn some basic conversational Spanish – I wish I had learnt more! It was an absolutely stunning experience, greatly helped by the small group I travelled and very well organised." – Douglas Newlands on an overland tour from Panama to Guatemala via Honduras, Guatemala and Costa Rica