Hot, humid and welcoming,
Indochina
deserves to be explored at a languid pace. This region is made up of four countries: Thailand, Laos, Cambodia and Vietnam, which have many cultural differences despite their close proximity. This is a favourite backpacker route of course, in part because itís relatively inexpensive, and travel logistics are generally very easy. But an overland tour can take you to areas far off the well beaten trail that independent travellers tend to miss, shining a light on hidden history and buried treasure.
Indochina overland itineraries & highlights
Overland routes can incorporate a few, or all of the Indochina countries, and you can travel as part of a small group or on a tailor made tour. Though more expensive, this latter option allows you to focus the itinerary on your interests such as beaches, temples or modern history. In addition, many Indochina overland tours can be adapted to upgrade your accommodation, and slow the action down with a day extra here or there. Some cities, such as Vientiane, Chiang Mai and Luang Prabang, fully merit this approach.
As to what you'll see, every country has its own world famous points of interest. Cambodia has the haunting Killing Fields, plus its vast
Angkor Wat
temple complex that really requires several days to fully explore. City tours of Bangkok with its temples and floating markets promise fertile ground for photographers, as do the tribal villages and cruises along the Mekong in Laos. Highlights of Vietnam include the Cù Chi tunnel network outside Ho Chi Minh and the dramatic limestone towers of Halong Bay.
Our top Overland Holiday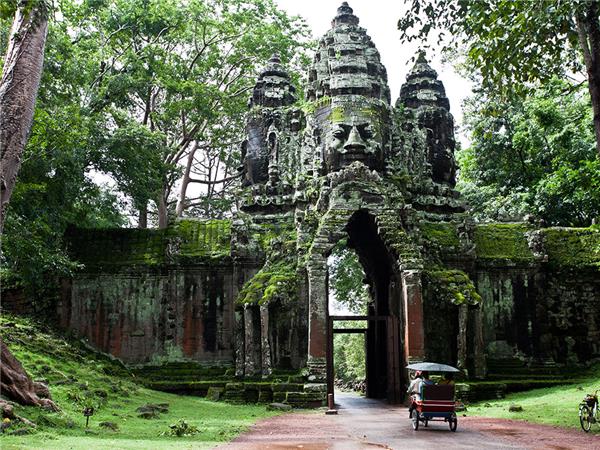 An awesome adventure Cambodia Laos Thailand & Vietnam
From
£3275

to

£3960
30 days
ex flights
Small group travel:
2022: 15 Oct, 26 Oct, 16 Nov, 26 Nov, 3 Dec, 7 Dec, 14 Dec, 17 Dec, 21 Dec, 24 Dec
2023: 4 Jan, 7 Jan, 11 Jan, 18 Jan, 25 Jan, 28 Jan, 1 Feb, 8 Feb, 11 Feb, 15 Feb, 18 Feb, 22 Feb, 1 Mar, 11 Mar, 18 Mar, 22 Mar, 15 Apr, 19 Apr, 26 Apr, 3 May, 13 May, 14 Jun, 17 Jun, 21 Jun, 19 Jul, 22 Jul, 16 Aug, 6 Sep, 13 Sep, 7 Oct, 11 Oct, 14 Oct, 18 Oct, 21 Oct, 25 Oct, 1 Nov, 11 Nov, 15 Nov, 18 Nov, 22 Nov, 25 Nov, 29 Nov, 2 Dec ...
If you'd like to chat about Overland or need help finding a holiday to suit you we're very happy to help.

Practicalities
If you have limited time and youíre looking at a whistlestop tour, then the seamless organisation behind a small group trip will prove invaluable so as to avoid any unnecessary holdups. Many itineraries use overnight trains and boats, and domestic flights, to maximize your time on the ground. A fantastic element of Indochina travel is the many different ways there are to get around: Chinese junks, traditional longtail boats on the Mekong, bicycles, rickshaws, rickety local buses and of course the iconic tuk-tuk.
Accommodation standards are usually very good, but some hotels and guesthouses in more remote areas, or homestays in hill tribe villages, will be very basic; anticipate squat toilets, no air conditioning, and the likelihood of being woken up by the family rooster. Yet these experiences invariably result in some of the tripís happiest memories.
Tips from our holiday reviews
"An excellent way to see Indochina – airport to airport guided tour – with everything taken care of – excursions, hotels, transport, etc. The people are amazingly friendly, the scenery is superb, all very refreshing. Halong Bay and Angkor Wat stick out just a bit above the rest of the places we visited. There is no hard walking or trekking - but you still need to be reasonably fit to climb mountainside steps, and squat walk thru small tunnels - if you want." – Vinod Mehta on a month-long overland trip through Cambodia, Thailand, Laos and Vietnam
"I found the quality of the accommodation to be high, I expected more basic sleeping arrangements. We even had air con in most places. Do not take a lot of clothes etc because you can buy everything you need while there. Definitely, the tour guide was very good on this we felt that we were able to help by buying ethically and eating in the right places. There wasn't a day that didn't excite. The differences between the four countries was fascinating, the language, food customs and culture ensured that there were always new things to experience. The insight into the history of S.E.Asia was sad but enlightening. The local guides did have good knowledge and were very helpful. The tour guide was outstanding, everything was brilliantly organised and all the activities, transport, accommodation were of a very high standard definitely a 5 star experience." – Peter Heath on a 30-day round-trip tour from Bangkok through Vietnam, Cambodia and Laos