"A stunning tailor made trip, for a week, cycling around the Peloponnese, with ease. Great bikes, bags transferred for you, wonderful accommodation, and fine food. And so many beautiful beaches. "
Highlights
Athens | Sparta |Mystras | Gytheio | Mavrovouni | Vathi | Kamares | Skoutari | Elia | Neapoli | Elafonisos Island | Monemvassia | Six full days of moderate cycling on the Peloponnese
Description of Laconia cycling holiday in Greece
This week long cycling holiday in Greece is focused on SE region of the Peloponnese peninsula, known as Laconia. After a quick transfer from Athens, you will head to Sparta, which is the heritage hub of the region, famous for its ancient archaeology and military history. You have a day to explore on foot before we get you fitted for your bikes on day two. From here you will head west to Mystras, with wonderful medieval ruins and Byzantine beauty, cycling on through fruit and olive groves en route to Gythio, a beautiful traditional fishing town further south.

For the next few days you will be cycling from one beautiful beach to another, travelling further south on the most perfect Mediterranean odyssey. And then heading east onto the other finger of this pretty peninsular region, you will cycle to the ancient towns of Elia and Neapoli, the former boasting stunning views from its cliff top Byzantine tower, the latter a truly remote and tranquil piece of coast. Another coastal wonder awaits on the island of Elafonisos, just minutes away by ferry from Pounta, and where you can cycle swim, cycle swim, all day, before returning to Neapoli that night.

You will leave on a high for your last day of cycling. Literally, as we transport you and your bikes up to the top of a mountain at Kryovrisi village, to enjoy not only the views but also the downhill route all the way to the magnificent fortress town of Monemvasia. Actually another small island but joined to the Peloponnese by a short causeway, it has a towering plateau where the fortress is located.This is considered the crossroads of civilisations through the centuries, with Byzantines, Venetians and Ottomans all having left their marks in one way or another on this famous rock. Watching the sunset on Monemvasia is a fine finale to this wonderful week of cycling.

Please note that this cycling holiday requires an intermediate level of fitness, cycling between 30-60km every day. However, there are beaches to aspire to and tavernas to strengthen you. And Peloponnese prettiness around every corner of this exciting itinerary.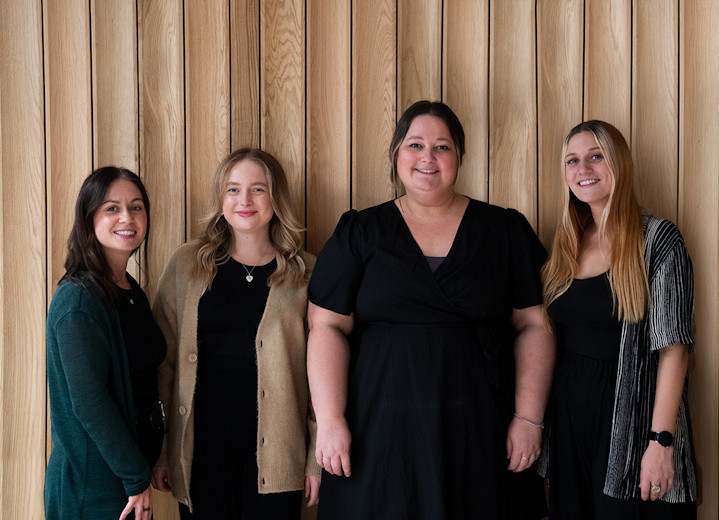 Departure information
This trip can be tailor made throughout the year to suit your requirements
Responsible tourism
Responsible tourism: Laconia cycling holiday in Greece
Environment
On this tour you will cycle through an area and discover it on your own, becoming aware of its environmental sensitivity. Famous Sparta, the amazing beach of Elafonissos and the tremendous medieval town of Monemvassia all rely on environmental cleanliness and purity to preserve their beauty and uniqueness.
We believe that it is a matter of high importance to preserve what we have and not take advantage of it by any cost. We have adopted a sustainable tourism policy to protect the environment and the society. To all our clients we provide guidelines about how to show maximum responsibility and respect the area. At the same time we organize a reforestation project and we donate 5 euros for each participant of the tour to plant trees in areas hit by the fires of the summer. We also ask clients to donate any amount they can afford for the same project.
Community
Laconia is a very picturesque area and has its own unique social characteristics. The local community needs to be supported but also wants to prove that they can survive without the mass tourism that negatively affects those characteristics.
Following our sustainable tourism policy, we cooperate with hotels owned by locals, mainly family businesses with local employees. We designed our cycling tour to pass through locations that are still pure, away from mass tourism, and that will benefit locals instead of causing problems. We are locals too and we recruit only locals in our business. In addition, we have a plan for the cycling development of the area of Laconia. Your presence here will help us negotiate with the local authorities the development of a cycling net which will also be used by the locals.
In this way we make sure that the Laconian community receives the maximum benefit from your visit here, but also that you will gain the maximum that you can from them. We believe that coming as close as possible to the locals is the only way to get to know a new place in depth. After all, it's the people that make the difference.
4 Reviews of Laconia cycling holiday in Greece
---
Reviewed on 06 Feb 2017 by
Amber Rosenthal
1. What was the most memorable or exciting part of your holiday?

The Laconia coastal bike tour was such a fantastic way to really see the country and feel like you've lived a bit of it. Our tour operator was great - met us at the airport with the bikes and dropped us off at the first hotel (fantastic car journey over the mountain rode between Kalamata and Sparta). Bikes were just what was needed for the slightly rough terrain in parts (perfectly smooth, virtually empty tarmac roads in others) - good and sturdy with bike stands so you could hop and off anywhere to take photos (there were a lot of photo stops - it was all so beautiful!), or scrump oranges (we had the best oranges we have ever tasted just picked up off the floor). We travelled during Easter 2016, perfect temperature for cycling during the day, the scent of hot olives and orange blossom greeting us as we meandered through little back roads and dirt tracks we would never have thought of taking if we'd been finding our own route (just turn on the GPS and follow the route - took us right to the hotel door each day)! Every hotel was expecting us and had somewhere for us to put the bikes. We smiled and waved at all the people we passed in the villages we went through and they all smiled back (cycle touring still probably quite unusual in Greece). Even had the odd thumbs up from the cars passing us, and no problems at all with car drivers so we never felt unsafe (not like cycling at home in the UK). Good mixture of seeing a few towns - Monemvasia was definitely worth spending a good afternoon/ evening wandering around - and quiet time out in the countryside, with a bit of beach thrown in for good measure. Just the right amount of easy cycling so you cover some ground and the odd challenging hill section to make you feel like you had achieved something, or for the keen hill climbers in your group (we had one keen on hills and one not so keen). Greek food is lovely and was pretty cheap, as was the very nice local rose wine. Probably is the best holiday we've ever had!


2. What tips would you give other travellers booking this holiday?

If you want to reduce your environmental impact why not carry your own luggage rather than get it taken from place to place for you? We only had carry on bags for the flight so hired paniers from our tour operator and just carried our stuff. I would still get the lift up out of Neopoli though unless you are a very keen hill climber!

Easter was a great day-time temperature for cycling in shorts and t shirts (while all the locals are still in winter coats etc) but it was cool in the evening so needed to cover up then. Can get quite hot in the middle of the day - we were often cycling through olive or orange groves so this wasn't a problem but if you are doing the cycle from Elia on the coastal route you may want to avoid cycling back up to the main road in the early afternoon - the dirt track heats up in the sun, there's no shade and it's quite a long hill climb so in the afternoon heat it was a bit of a challenge (you do get to do some amazing free wheeling down the other-side afterwards to compensate though). Carry a reasonable amount of water but we usually found somewhere to refill on the journey - several of the villages have fountains that you cycle past.

Don't forget to charge the GPS every night just in case - we were often out for a long time on our link days because we kept stopping for coffee or photos or at the beach etc.


3. Did you feel that your holiday benefited local people, reduced environmental impacts or supported conservation?

In terms of environment - because we carried our own bags we had less impact than if we'd driven around, or had the bags driven. We took our own water bottles so we didn't buy any plastic bottles (they got through check in ok - we separated the lids and filled them with socks etc though you may not want to do this if you wouldn't be prepared to give the bottle up if they didn't like it), though of course you could just keep re-filling a bottle once bought.
In terms of overall impact - our custom was well spread around smaller hotels/ restaurants/ cafes at a time when everything was pretty quiet so hopefully some welcome economic stimulus in what are difficult financial times for Greece, and any money we did spend was going to the local community rather than any big touristy companies. It definitely felt like the kind of tourism that respects the place you are visiting and has a positive rather than negative impact.


4. Finally, how would you rate your holiday overall?

Really fantastic - cycle touring is a great way to see a place, mainland Greece is a fabulous destination and our tour operator gave us great service.
---
Reviewed on 11 May 2016 by
martin mitchell
1. What was the most memorable or exciting part of your holiday?

We had a fantastic holiday although weather was not the best, the cycling was great and accommodation also very good. We amended the last 2 days cycling as simply to short, we cycled all the way around the island on the new road and then across the island as well, the last day we cycled the whole way from the hotel , it was hilly but not to bad , the hardest day was still the first day. The Sat Nav was brilliant and bikes very good with no problems, the locals where all vey friendly and hosts very good. Journeys all went well and a great holiday had by all. Thank you for a great experience.


2. What tips would you give other travellers booking this holiday?

The distances on the last 2 days can be extended and are worth it or the biking is a bit short, as usual get some biking done before going.


3. Did you feel that your holiday benefited local people, reduced environmental impacts or supported conservation?

The trip would of certainly benefited the local people who were very friendly and great hosts, environmental impact not sure as a flight to Athens the 3 hours in a mini bus.


4. Finally, how would you rate your holiday overall?

Great holiday, wonderful accommodation with sea views, would highly recommend, this was our eleventh biking trip around Europe, we go same time each year, the first week in May, the group (seven mates) have rated this in the top three.
---
Reviewed on 08 Jun 2015 by
Hilary Thomas
1. What was the most memorable or exciting part of your holiday?

Nothing particularly stands out - all good


2. What tips would you give other travellers booking this holiday?

The Garmin device is OK providing you stay on track but does not show other roads - detailed maps would be a useful addition.
Take a slip on gel saddle cover if you're not wearing cycling shorts.


3. Did you feel that your holiday benefited local people, reduced environmental impacts or supported conservation?

Yes re local people, reduced environmental Impact - probably not. No evidence of supporting conservation.


4. Finally, how would you rate your holiday overall?

Good fun - relatively strenuous at times even for regular commuter cyclists. People were very friendly and helpful - we felt we were well off the beaten tourist track at times. Scenery impressive. Accommodation always good but Kavos Hostel at Elia was very pleasant.
---
Reviewed on 27 Sep 2014 by
Andrew Wallace
1. What was the most memorable or exciting part of your holiday?

I recently completed the Discover Peloponnese cycling tour in Messinia. It was a fantastic trip and this question took some thought -- quite a few memorable and exciting aspects within the six days of cycling in some beautiful and historic locales. If I had to highlight one part, my choice would be the day I cycled from Petalidi, on the Gulf of Messini, south to the town of Koroni with its charming waterfront and impressive Venetian castle. The course then took me back inland over a range of mountains and through several small towns. The cycling became quite steep at this point, but the views of the Gulf of Messini and the surrounding area were fantastic. The day ended with a steep descent down the mountain to the Mediterranean and the beautiful beach town of Finikounda - a perfect place to end the day, and a magnificent sunset made it complete.


2. What tips would you give other travellers booking this holiday?

This trip is ideal for someone who is comfortable on bike, in good shape, and comfortable with different types of cycling - some long straightaways on the road, but also some significant mountain roads - as you would expect in Greece, also a good deal of off-road, but not technical, riding next to the coast and through olive groves made this trip a unique experience. The one other tip I can give is to try to get as early a start each day as you can. The cycling averages 23 miles a day and there is a lot to stop and see along the way!


3. Did you feel that your holiday benefited local people, reduced environmental impacts or supported conservation?

One of the nicest aspects of the trip was that there was always a clean, accessible and pleasant hotel at the end of each day. The hotels were locally run - in some cases, family run - and very hospitable.


4. Finally, how would you rate your holiday overall?

Everything about the trip was excellent. The operator has done meticulous research to map out the cycling routes and provides directions that are informative and easy to follow. The equipment provided - the bike and the GPS - were top notch. This trip would appeal most to an active person, with a strong interest in history and an interest in seeing a magnificent part of Greece that is somewhat off the tourist track, though hardly isolated or forgotten.
---
Popular similar holidays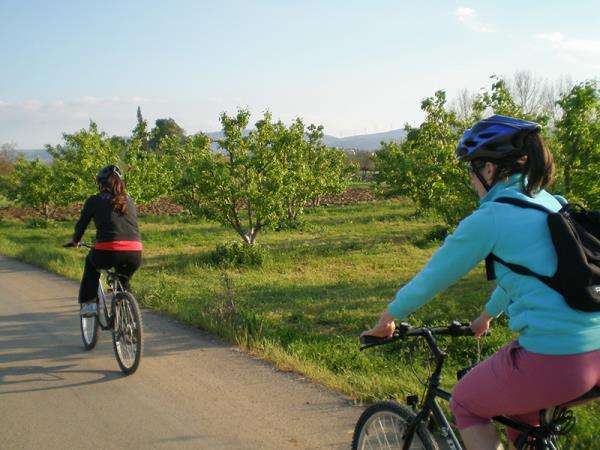 Discover Greek history and the Greek seaside beauty by bike
From €735 8 days excluding flights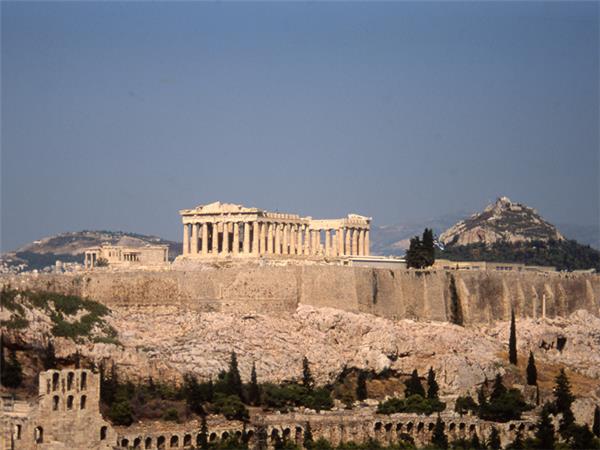 Superb cycling from Athens around mainland Greece
From £1449 - £1549 8 days including UK flights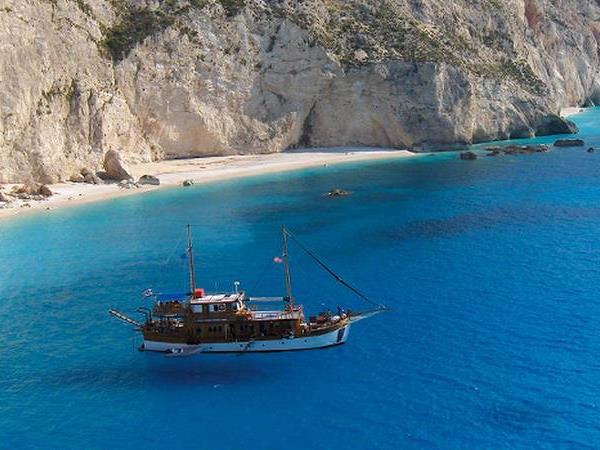 Cycle and sail around the Cyclades Greek Islands
From £1390 8 days excluding flights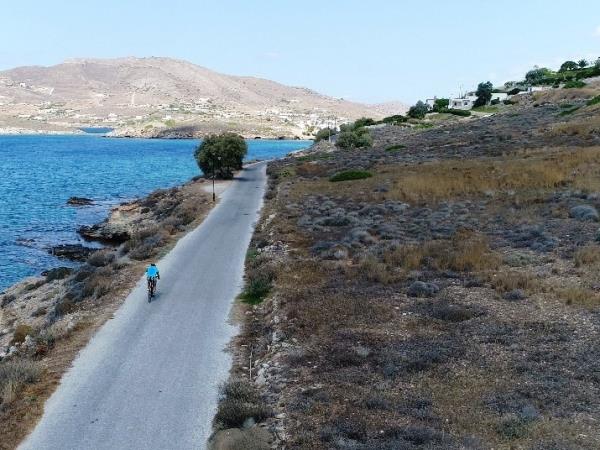 Unique cycling tour in the beautiful west Crete in Greece
From €780 - €1250 8 days excluding flights