"Enjoy a week of walking in amongst the foothills of Mount Pelion where ancient forest footpaths lead to remote monasteries, white washed chapels and untouched Aegean beaches. "
Highlights
Kastraki | Meteora | Kalambaka monasteries | Mount Pelion | Milies | Tsagarada | Damouchari | Agios Ioannis | Aegean beaches | Makrinitsa village | Chania | Optional hikes to Agriolefkes |
Description of Pelion walking holiday in Greece
Follow in the playful footsteps of the gods as you embark on a walking holiday in Greece that combines the traditions of mountain and beach communities with the dense forested slopes of Mount Pelion in central Greece.

Once the home of Chiron the Centaur and renowned as the playground of the gods who resided on Mt Olympus, Pelion is an extremely important site in Greek mythology and certain to enthuse walking holiday makers interested in unspoiled natural landscapes.

Several traditional mountain villages feature prominent stone built properties and characterful central squares with walks to hidden beaches and crystal clear coves providing a spot of sunshine away from the shade of the dense beech, oak and chestnut forests that stretch up and away from the coast.

Pelion holidays are perfect for walkers who love breathtaking sea views, peace and solitude; with villages, such as Makrinitsa, the 'Balcony of Pelion', providing all of the above alongside traditional tavernas where beef, bean and oven baked pasta dishes offer hearty sustenance after a good morning spent outdoors.

This walking holiday in Greece can be undertaken either as part of a small group or as a private journey with significant historic sites, such as the monasteries of Meteora, adding to the enjoyment of smoothed stone paths and spectacular views over the Pelion Peninsula.

Throughout the walks you'll be accompanied by experienced and officially qualified mountain guides who offer a mine of information on all things Greek not to mention which regional menu items come highly recommended.

What's included on this Pelion Peninsula walking holiday:
- All meals, accommodation and overland transport
- Seven breakfasts, two lunches, four picnics and seven dinners
- Seven nights double en-suite room accommodation
- Luggage transfers between hotels
- Airport transfers [Thessaloniki] and all overland transportation
- Sightseeing tours (depending on time)
- English-speaking guide/escort throughout
- Optional guided sightseeing tours of Meteora, Thessaloniki and Volos
- Activities mentioned within the itinerary, and local taxes

Additional info:
- Minimum age: 12 years old
- Anyone under 18 years must be accompanied by an adult
- This Pelion Peninsula walking holiday itinerary is subject to change at the discretion of the tour leader to account for weather conditions and exceptional circumstances

Accommodation details:
All guest houses and hotels have been hand-picked to represent the character and hospitality of local life on the Pelion Peninsula. In general you'll be staying in smaller, independently owned properties that are run by local families who will be happy to discuss their own personal walking routes and the secret spots that are well off the tourist radar.

Accommodation has all been personally inspected and experienced by qualified team members with en-suite facilities, including: shower, WC, air-con, telephone and TV, adding to comfortable double room sleeping arrangements.

Departure dates:
This tour can be tailor-made to any reasonable date although there are several small group dates that are guaranteed for April, May, September and October; please get in touch for more information.
Day-by-day experiences
| | |
| --- | --- |
| Day 1: | Meet your guide at Thessaloniki Airport before transferring to the village of Kastraki which is situated amongst the sandstone pillars and rock monoliths of Meteora. Settle into your guesthouse accommodation before enjoying your first evening meal at a local taverna in Kastraki. |
| Day 2: | Today's hike takes place after breakfast and leads through the rock formations and sandstone carved monasteries of Meteora utilising ancient footpaths that have been used down the ages by monks rather than tourists. After lunch in a traditional local taverna in Kalambaka you'll visit one of six inhabited monasteries and learn much more about the history of Meteora and the lifestyles of the monks prior to transferring by road to the village of Milies at the foot of Mount Pelion. |
| Day 3: | Head out on an ancient and well worn stone pathway after breakfast today as you walk to Kala Nera village where you can enjoy a dip in the ocean and take lunch at one of the village's traditional seafood restaurants prior to returning on foot to Milies. |
| Day 4: | After breakfast today you'll start to hike around the foothills of Mt Pelion from Milies to the beach at Damouchari via the chestnut groves and forest roads around Tsagarada village. Tsagarada is famed for its ancient trees and the white washed chapel that sits on top of the hillside to provide some fantastic views to appreciate during your packed lunch. The trail down to the beach at Damouchari takes you over ancient stone foot paths before you settle into your overnight accommodation in Damouchari. |
| Day 5: | Set out from Damouchari today on a circular walk that incorporates the untouched Fakistra beach whereupon packed lunch and a dip in the Aegean provide the perfect mid-afternoon treat before you bid the crystal clear shallows farewell and head back to Damouchari in the late afternoon. |
| Day 6: | Today's walk starts at Damouchari and follows the coastal track to Papa Nero beach at Agios Ioannis for a quick dip in the ocean or just a relaxing recline in the sunshine. After spending time enjoying the clarity of the Aegean you'll be driven to the village of Chania at almost 4,000 feet where you'll have the opportunity to hike in the afternoon to Agriolefkes or simply settle into your new accommodation in Chania. |
| Day 7: | Follow in the well heeled prints of the Centaurs today as you walk the ancient footpath to Portaria village for lunch before continuing to one of Mount Pelion's most fabulous look out points, the village of Makrinitsa. The views from Makrinitsa are absolutely stunning with the sprawling city of Volos and the clear blue hues of the Pagasitic Gulf forming the scenery to your penultimate day amongst mansions and myths prior to settling down for the evening at your Makrinitsa accommodation. |
| Day 8: | Depart Makrinitsa after breakfast and transfer to Thessaloniki Airport in order to meet your scheduled flight back home. |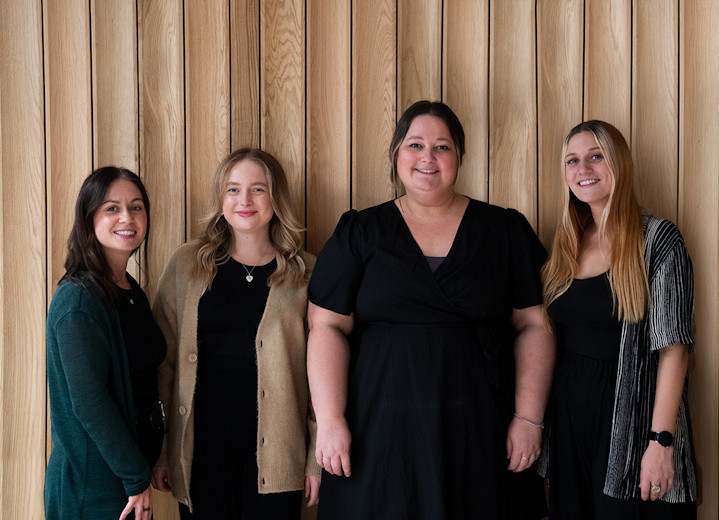 Check dates, prices & availability
Responsible tourism
Responsible tourism: Pelion walking holiday in Greece
Environment
Our aim is to promote ecotourism and sustainable adventure holidays at the same time as providing a unique travel experience and allowing you to enjoy the fantastic nature and scenery of this wonderful part of Greece, a world away from busy tourist resorts.
Our treks and holidays throughout Greece, encompassing National Parks, Protected Environmental Areas, Archaeological Sites, Caves & Hot Springs - places that have great natural, geological, cultural, and historical value, and the local guides provide further information about the environment and the benefits of sustainable adventure holidays. All staff have a wide knowledge of local areas that you visit during the trips and, most importantly, they know how to protect them.
On this tour we use a Hyndai mini van with natural gas fuel (currently this is the most environmentally friendly fuel source for vehicles); and we keep our groups to a maximum of 8 persons to avoid excessive trampling on the sensitive coastal paths, in particular. In all of our tours we try to avoid as much driving as possible. So we walk. Just this fact helps makes our tours more sustainable. Especially during the spring time, we see a lot of orchids in Pelion. Although for all of our visitors it is obvious, we inform them that orchids are rare and protected. More interested visitors get details about the Greek Flora and Fauna which is one of the richest in Europe.
We strongly believe in the need to protect and enhance the places we travel to, and in the potential of responsible tourism, to be a positive force in environmental and cultural conservation. Our guides provide lots of information to our clients and encourage them to research and support the two specific NGOs:
1. Archelon - The Sea Turtle Protection Society of Greece
2. Arcturos - The Society for the Protection of Wildlife in Greece (with current emphasis on the Brown Bear and Wolf).
For 2016 & 2017 they plan to donate a percentage of the tour price to maintain ancient paths in the Zagoria area (Vikos National Park) and Pelion.
We ask all our customers to respect the fragile mountain environment by, for example, taking their litter away with them. All our trips are either in very small groups or tailor made for individuals to minimise the impact of large groups on this mountain region.
Community
100% of our guides and drivers in Greece are local people. We firmly believe that a local licensed guide can offer more insight into the countryside and region as a whole as well as enhancing the local economy. Their expertise and local knowledge will enhance your experience and understanding of the historical context and the environmental impact of your visit. This is preferable, in our opinion, than sending a guide from another country or even from elsewhere in Greece. All food on the included trek is bought locally, which provides employment for local shops.
The accommodation used on the tour is in small, family run establishments which have been in business for many years. Many of these hotels are traditionally built, respecting the local architecture and surroundings. Of course at the same time, these enterprises have to offer high standard of quality in dining and accommodation. Food in the hotels is primarily sourced locally. Last, but not least, we have a personal relationship / friendship with all of our providers.
In Meteora we stay in Hotel Dellas, which is owned from the family Dellas; they have 5 more employees, all locals from Kastraki and Kalambaka. We have our lunches and dinners at the Restaurant Paradisos, a family run (couple serving and mother is the cook) with 2 more employees. In Pelion, we mainly stay in Hotel Triantafiles, operated by the same family who owns the restaurant Kritsa at the village's main square. In Milies we use the family run Hotel Dryalos and our favourite restaurant on the whole trip is there - the "Panorama". Depending on arrival and departure of the flights, we visit two more family run restaurants. One is a small fish taverna in Platamonas by the sea named "To Kaiki Tou Saki" (our head guide says it maybe the best fish restaurant he ever ate in) and in Veria a traditional taverna named Aggelikon.
In all of these villages, the main income of the locals is tourism. Since the economic crisis in Greece, the number of the Greeks visiting the area reduced dramatically. There are no official reports to support this statement yet, but we know it. Greeks used to be the majority of the tourists in the area now only some Greeks can afford a trip there.
3 Reviews of Pelion walking holiday in Greece
---
Reviewed on 24 May 2017 by
Joy Field
1. What was the most memorable or exciting part of your holiday?

Meteora in the mist, ancient plane trees in Village Squares, magnificent temperate rain forests, warm and generous hospitality from our hosts,the walk to and swim at Fakistra beach (dancing snakes included), quirky Damouchari and of course the delicious and abundant food.


2. What tips would you give other travellers booking this holiday?

A reasonable level of fitness and good walking boots help. Oh, and a large
appetite a must!


3. Did you feel that your holiday benefited local people, reduced environmental impacts or supported conservation?

Yes. Most of the walks were on ancient paths currently being maintained by local conservation groups. Accommodation was in family run Hotels and we ate at local family run Tavernas.


4. Finally, how would you rate your holiday overall?

Overall, a wonderful experience. We were sad to leave the breathtaking and
mystical area of Meteora. The Pelion delighted with it's ancient walking
tracks and it's ever changing verdant Springtime scenery. Our guide Alex
proved to be a friendly, knowledgeable, patient and understanding guide. We shared lot's of laughs and really appreciated being picked up and dropped off at Athens. Generally a paradise for walkers and food lovers alike.
---
Reviewed on 16 May 2016 by
Giovanna Bonito
1. What was the most memorable or exciting part of your holiday?

Every walk was in itself memorable.


2. What tips would you give other travellers booking this holiday?
3. Did you feel that your holiday benefited local people, reduced environmental impacts or supported conservation?

It benefited local people for sure and supported conservation, as the guide is for sure taking care of the condition of the paths within his possibilities.


4. Finally, how would you rate your holiday overall?

Among the group organized holiday, this is the best I have ever had.
---
Reviewed on 17 May 2016 by
Jane Agg
1. What was the most memorable or exciting part of your holiday?

Our guide Thanasis Pantes who runs walking holidays in this part of Greece (Pelion peninsula) was simply outstanding. He was a mine of information about all things Greek: culture, politics, food, history, mythology etc. He grew up in the area and knows all the footpaths, local restaurants, best items on the menu to choose and so on. The views of the monasteries in Meteora, the walks along
the cliffs overlooking tiny unspoiled beaches were particularly memorable.


2. What tips would you give other travellers booking this holiday?

Be prepared to experience a variety of accommodation--it isn't all 5 star! But even the simplest had something to offer like a wonderful location, and our favourite the Triantafillies guest house in Portaria had the best breakfast!


3. Did you feel that your holiday benefited local people, reduced environmental impacts or supported conservation?

Definitely. For example, Thanasis used locally-owned restaurants which might have been overlooked by tourists.


4. Finally, how would you rate your holiday overall?

Memorable! I particularly enjoyed trying all the wonderful Greek food.
---
Popular similar holidays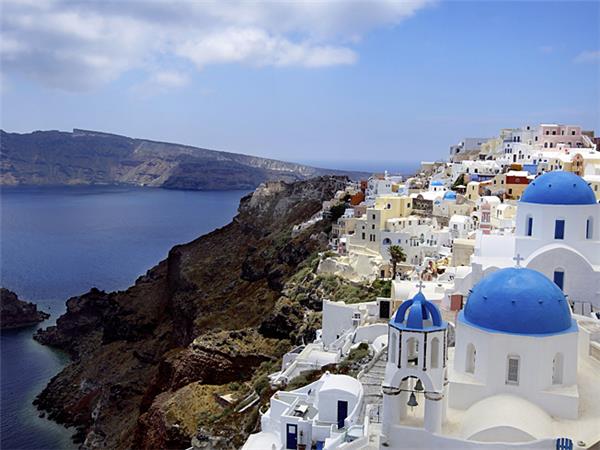 A gently active holiday in the Cyclades
From £1149 - £1399 8 days including UK flights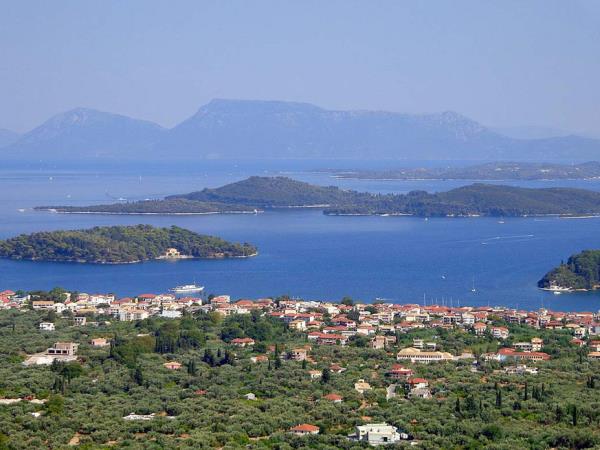 Walk with us and explore the lush, green Ionian islands
From £697 - £1112 10 days excluding flights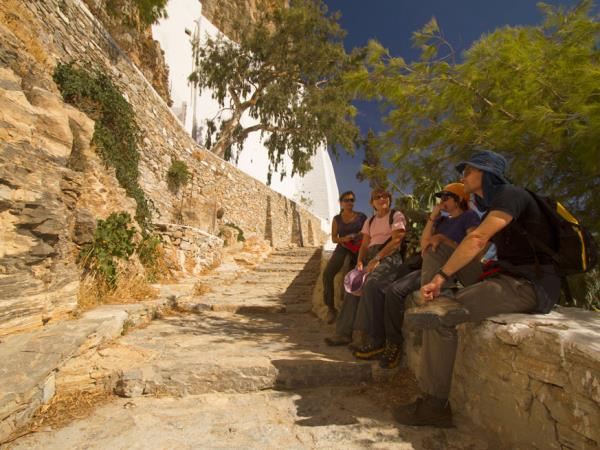 Walk and discover Naxos and the unspoilt Small Cyclades
From £592 - £914 10 days excluding flights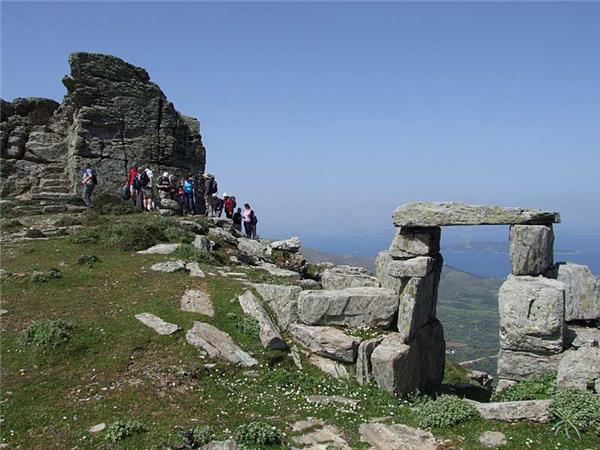 A week's walking
From £1029 - £1249 8 days including UK flights