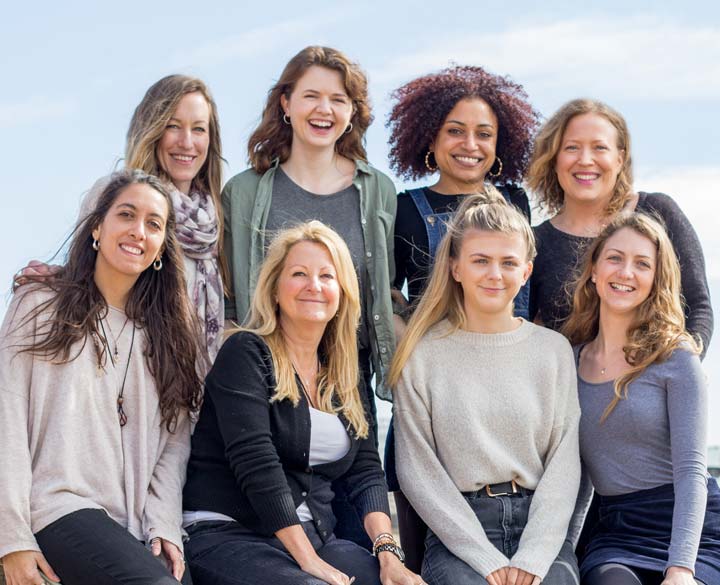 If you'd like to chat about this holiday or need some help finding one we're here to help.
Departure information
We offer a complete tailor made service allowing you to decide where you stay and what to do
Holiday type
Tailor Made Specialists in Costa Rica
Our specialists have carefully designed this holiday to be the best of its type. You can choose it with confidence straight 'off-the-peg', for any date. You can add days before or after the itinerary if you have more time available. We can also design something just for you on a fully tailor-made basis. A tailor-made service naturally adds a little to the cost of a trip, but you are making sure that you get the most from your valuable holiday time and from the rest of your budget. For inspiration, we provide informative brochures and a comprehensive website. When it comes to planning things in detail our advisers are a phone call or email away. They know Costa Rica exceptionally well, and there's nothing they like better than to share that knowledge with you. We are based in London, fully independent members of AITO, with full financial and legal protection.
Responsible tourism
Responsible tourism: Costa Rica self drive holiday
As an in depth specialist tour operator to Costa Rica responsible tourism is at the very heart of what we do. To us, this means much more than a simple donation to a charity for each client. We try to build long and constructive involvements with local guides, guest houses, wildlife lodges, and hotels, in the course of which we, and our clients, can make lasting wide-ranging contributions to the wonderful places and people we engage with. In this itinerary we use several lodges that fit with this philosophy perfectly, employing local guides and bringing long-term benefits to the local community. We are the first tour operator in the UK to form a partnership with the Rainforest Alliance to work towards the implementation of best management practices in sustainable tourism. In real terms this means that we are working with hotels who are making a positive impact on their local community – socially, environmentally and economically.

Outlined below are hotels we use that employ sustainable tourism methods.

Arenal Observatory Lodge is located within the Arenal Conservation Area, a zone of primary or unaltered forests with uncontaminated rivers and streams. They try to maintain their surroundings and they are careful with their business operating practices. They watch out for cases of environmental alteration and contamination, they promote the efficient use of resources, they reduce the generation of wastes through recycling, and they use proper wastewater management. The hotel also helps the community indirectly by creating jobs (98% of the workers are local people).

Si Como No is a unique blend of the country's incredible bio-diversity and the deeply-rooted cultural values of the Costa Rican people. For the original construction of the hotel, provisions were made to keep the ecosystem as undisturbed as possible - amazingly, only one tree was intentionally removed. Great care was taken to ensure that habitat was protected, including animal corridors, to assure the least impact on flora and fauna. The same strict standards applied for the development of the adjacent Butterfly Botanical Gardens and the Crocodile Lagoons. Si Como No uses well water for gardening and maintenance, Bio-digesters for sewage, a gray water plant for laundry, biodegradable products for housekeeping and city water for guest and employee usage. A Bocashi compost program utilizes waste from food preparation, and the hotel donates all glass, plastic and aluminium products to a local women's auxiliary in Quepos (ASOMUFAQ) each month. Si Como No utilises solar panels to heat water along with back up "on demand" instant gas water heaters. Double insulated windows and ceilings, plus natural canopy shade factors help reduce energy demands and maintain natural comfort values for the hotel guests and employees.

On this trip you will visit the National Parks of Monteverde and Manual Antonio. The entrance fees contribute to the conservation of these protected areas.


4 Reviews of Costa Rica self drive holiday
---
Reviewed on 16 Mar 2016 by
Janet Sutherland
1. What was the most memorable or exciting part of your holiday?

Lots of very memorable moments, but the best was finding a family of sloths at Playa Punta Uva on the Carribean Coast who were so close we could have touched them. They were moving down the tree to drink from the river, as we stood in it. Magical! Right next to the beach. Also walking along this beach to Manzanillo, the end of the road, close to Panama, seeing monkeys and birds along the way. We spent a few days at the beginning on the Caribbean coast and at the end on the Pacific Coast, and this was a wonderful way to bookend our concentrated time exploring the 3 different forest environments and the Arenal volcano area.


2. What tips would you give other travellers booking this holiday?

Our holiday providers were wonderful, all the travel arrangements with the hotel shuttle bus uses worked perfectly, all the hotels were good
and the tours were excellent, particularly spending a whole day at Selve Verdi Biological reserve, and another whole day in the Monteverdi cloud forest.


3. Did you feel that your holiday benefited local people, reduced environmental impacts or supported conservation?

Tourism is the biggest industry in Costa Rica, and all the people who helped make our holiday such a success were friendly and helpful. Usual contradictions as our travel and hotel stays clearly impact the natural environment, but tourism is leading to reforestation, and an awareness of the impact of agricultural pesticides etc on wildlife, so hopefully overall is beneficial.


4. Finally, how would you rate your holiday overall?

Excellent.
---
Reviewed on 06 Aug 2014 by
Jane Fowles
1. What was the most memorable or exciting part of your holiday?

Our time at El Remanso lodge in the osa penninsla it was a super place and had some wonderful wildlife sightings there.


2. What tips would you give other travellers booking this holiday?

Be careful what time of the year you go as we had some very wet weather for the first week and some of our hikes had to be cancelled.


3. Did you feel that your holiday benefited local people, reduced environmental impacts or supported conservation?

Yes definitely especially at el remanso they only employ local people and have a very good environmental record.


4. Finally, how would you rate your holiday overall?

Fantastic!

---
Reviewed on 04 Mar 2010 by
Paul Smith
1. What was the most memorable or exciting part of your holiday?

There were many memorable moments during our holiday but the best for us was the opportunity to get very close to the Replendent Quetzals in the cloud forest at San Gerardo de Dota. On an early morning bird-watching trail with a local guide, we were lucky enough to see 5 of these beautiful birds (3 males and 2 females) feeding on wild avocados. We sat for an hour as the sun began to rise, driving away the cold night air as the clouds rolled up the forested mountain side. Quite amazing. The Trogon Lodge at San Gerardo de Dota is also in a wonderful setting even though access to and from it is along a winding, gravel mountain track with a precipitous drop on one side. At night it does get cold but the rooms have heaters, which you need at night even when the days are warm.


2. What tips would you give other travellers booking this holiday?

1) If you self-drive you MUST get a GPS satellite navigation system. Road signs are few and far between and driving anywhere other than along the Interamericana Highway (route 1) would be incredibly difficult using maps. Book one in advance and make a saving on renting one locally and check that it works before you set off from the rental company. We had to change the first one we were given. 2) If you travel to La Ensenada lodge, Punterenas / Guanacaste region, take lots of bug repellant - and as strong as possible. When we were there it was infested by mosquitoes that pierced us, (horse) flies that bit us and a very small wasp that stung us despite smothering ourselves in deet. One night we had lumps all over our bodies and our skin felt as though it was itching all over. It spoiled an otherwise beautiful location that we would not visit again.


3. Did you feel that your holiday benefited local people, and minimized impacts on the environment?

The fact that we had to travel miles by 'plane across the Atlantic and some (by Continental - not Costa Rican) and also took an internal flight (Nature Air - Costa Rican) and a self-drive 4x4 (SIXT, not Costa Rican), was not very environmentally responsible perhaps. From what we could ascertain, local people were employed in all of the hotels and lodges we used on this holiday ("Off the beaten track") and local produce was provided at meals plus local coffee, of course. The local eggs for breakfast were out of this world. Tourism is having a beneficial impact on Costa Rica by bringing in much-needed income during times of recession but it is also having an impact on the infrastructure, for example, the inadequate sewerage and sewage treatment systems.


4. Finally, how would you rate your holiday overall?

Very good. The organisation and attention to detail provided by this operator and the local arrangements, were of a very high standard and could not be faulted. We have taken holidays in the past 3 years to Sri Lanka, Kerala, India and South Africa and these are all very different culturally from the UK and Europe and very exciting as a result of that difference. Our first impressions of Costa Rica was that it seemed to be a strange hybridisation between American and European cultures because of its proximity to and the obvious influence on the country from the US and the use of the Spanish language. The latter, in particular, perhaps makes it feel less exotic or perhaps not so distant from Europe than it actually is. Nevertheless, all of the local people we met were very friendly and helpful and accommodated our limited use of Spanish. The scenery is spectacular, particularly in the mountains as the clouds descend below the peaks and in volcanic areas and the opportunities to see new species of birds, animals and plants is almost endless.

---
Reviewed on 24 Nov 2008 by
David Oakley
1. What was the most memorable or exciting part of your holiday?

This was a wonderful trip to Costa Rica with many memorable moments. I am reluctant to choose a 'most memorable' one, but waking up to the sound of howler monkeys at 5am and walking down from Lapa Rios to the deserted (except for the white faced capuchins and scarlet macaws) Pacific beach takes some beating.


2. What tips would you give other travellers booking this holiday?

Costa Rica is a small country, but has a tremendous amount to offer. It would be impossible to experience it all in one trip. You need to decide exactly what you want to get out of the holiday and then be ruthless about the itinerary (our major interest was in walking and nature watching for which CR is justly famous). 3 centres in a fortnight was great for us; more would have been a rush. Fairly cheap internal flights can save a day's travelling. We went in November to avoid crowds and catch bird migration. Sadly, our last and best location (for bird watching) was a washout due to a tropical storm lasting 72 hours. C'est la vie, it is a rain forest after all. A trip in the dry season (December to April) would minimise this risk, but the downside is higher prices and many more tourists. You take your choice. Our flight (Continental via New York) was cheap, but tediously long. It is important to confirm flights which get overbooked. If you are visiting the hot springs round Arenal do consider Ecothermales. Some of the others are more popular with views of the volcano, but Ecothermales has a great atmosphere, it's much quieter and cheaper and we loved it. Book in advance. We tended to go for guided walks. Once you know a place, it is fun to explore on your own, but when time is limited the guides can give you a flying start. They were uniformly helpful and knowledgeable, some exceptionally so. Most spoke English, but our attempts to communicate in Spanish were greatly appreciated!


3. Did you feel that your holiday benefited local people, and minimized impacts on the environment?

Yes, we agree with the above, especially at the eco-lodges. It is difficult to say how much, but we did feel that conservation, sustainability and local benefit is a high priority for tourism in Costa Rica. In fact it is one of their 'selling points', helping to mitigate a slight sense of guilt which tends to afflict well healed westerners swanning around the world in expensive and polluting aeroplanes.


4. Finally, how would you rate your holiday overall?

Overall, a fantastic, but expensive, trip. We had to dig deep to afford it, but it was worth every penny. We encountered many animals (4 species of monkeys, iguanas basilisks and caimans, boas, coral and fer de lance snakes, bugs, butterflies and frogs galore, 203 species of birds, coati, agouti, kinkajou, pacas, etc).The four (rather than five) stars reflects a bit of disappointment that our last destination in the cloud forest was a washout, but this was nobody's fault, of course.

---
Popular similar holidays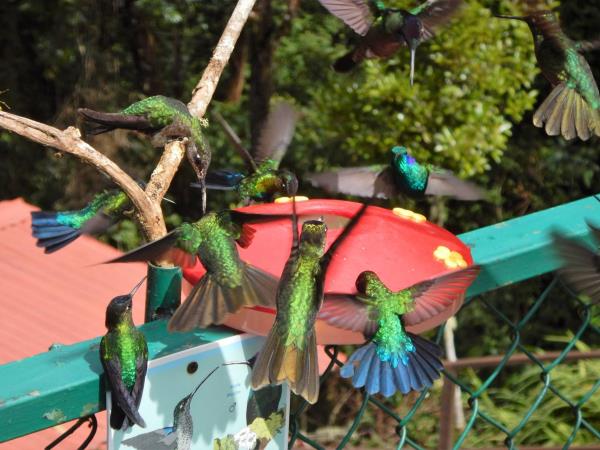 A tailor made road trip covering volcanoes, cloud forests and turtle beaches
From £1235 14 days excluding flights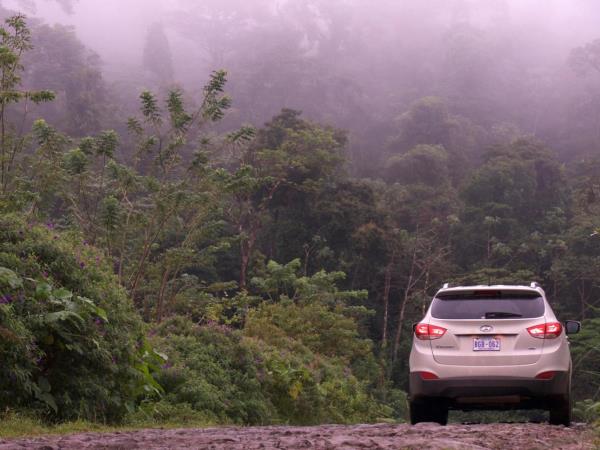 Self-drive Costa Rica's Pacific coast, away from the crowds
From £4495 17 days excluding flights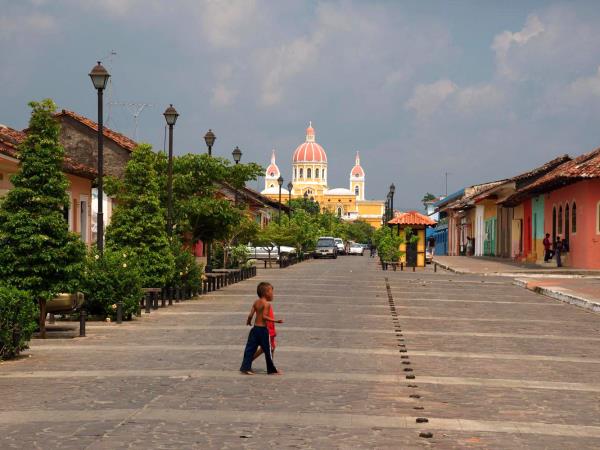 Self drive highlights of Nicaragua and Costa Rica
From £3130 16 days excluding flights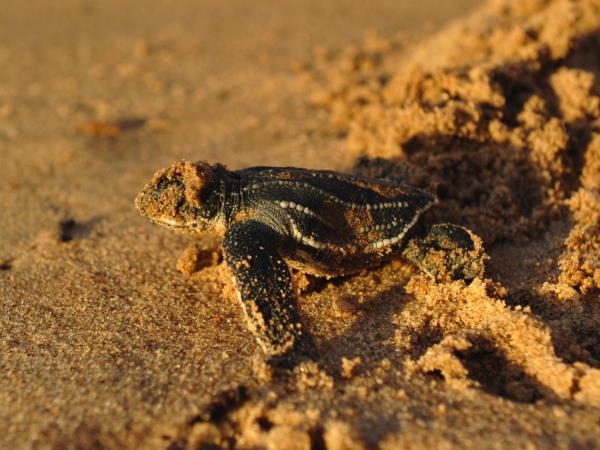 Self-drive tailormade family holiday away from the crowds
From £2090 15 days excluding flights