Best time to visit Azerbaijan

On the springtime Novruz holiday, people come out in their droves to dance in traditional costume - an explosion of Persian prettiness

Although many of us associate it with Russia, Azerbaijan does not get as cold as one might imagine. The Caucasus Mountains do get snow in winter, with temps as low as -20°C, but they also protect the rest of the country from full on Arctic conditions. Similarly, the Caspian Sea keeps summer manageable, but it can hit 40°C. So for hiking and culture, the best time to visit Azerbaijan is April-June and Sep-Oct. The mountains turn into a wildflower frenzy when snows melt and, at the same time spring brings the biggest holiday: Novruz Bayrami, around third week March. It also celebrates Persian New Year.
Things to do in Azerbaijan
Things to do in Azerbaijan...
Cultural, architectural and archaeological tours are what visiting Azerbaijan is all about. So it is well worth doing some background reading to get your head around the influences of Persians, Zoroastrians, Mongols, the Khanates, Russians and, of a different ilk altogether, the Nobel Brothers' oil company. What can we say? It's complicated.
Leave some room in your luggage and some money in the non-oil based economy by buying some local crafts. It's a land of traditional artisans, from silk artists to silversmiths, carpet weavers to coppersmiths. If you are really organised, bring measurements for a space back home that is just waiting for a rug, and then choose from the fine work on offer and have it shipped.
Include your trip to Azerbaijan as part of a longer overland Silk Road tour. There are many options for exploring this extraordinary ancient trade route that linked China with Central Asia and Europe, and then into India, Persia and the Mediterranean. You could do the mega four-month Istanbul to Ulaanbaatar odyssey, or a more manageable couple of weeks around the Caspian Sea, starting in Azerbaijan, heading into Iran and finishing in Turkmenistan.
Things not to do in Azerbaijan...
Don't expect a top human rights record. International events such as Eurovision Song Contest and the European Games held in Baku put the country on the map. It also heightened awareness of human rights abuses, with activists, anti government protestors or journalists speaking out against such abuses arrested and human rights NGO's s shut down. In 2015, an Amnesty International representative was refused entry. Keep an eye on Amnesty International's website for updates.
Travelling to the Nagorno-Karabakh region, a disputed territory between Armenia and Azerbaijan, with a history of violence between military forces on both sides, is not recommended. Although there was a ceasefire in 1994, violent scenarios still occur.
Be prepared for homophobia. Although decriminalised in 2001, little has been done to progress LGBT rights and homophobia is still rife. For example, in 2011, the Azerbaijani gay artist, Babi Badalov, was given asylum in France because he was under threat of an 'honour killing'.
If you'd like to chat about Azerbaijan or need help finding a holiday to suit you we're very happy to help.

Itinerary tips
Aled Evans from our supplier, Undiscovered Destinations, shares his Azerbaijan travel advice:
"Enjoy the contrast between Baku, which is a wealthy modern capital city with skyscrapers and excellent shopping and the rest of Azerbaijan. It is like taking a time machine and going back 50 years, when all you are doing is driving half an hour out of the capital."
Nigel Fisher from our supplier Wild Frontiers:
"Don't miss the Carpet museum in Baku. And keep your eyes peeled for the most bizarre beach resort south of Baku which looks out onto the Caspian Sea and an oil refinery!"
Food tips
Aled Evans from our supplier, Undiscovered Destinations:
"Try as much of the local cuisine as you can, it is surprisingly good, especially the plov."
Shopping tips
Nigel Fisher from our supplier Wild Frontiers, shares his Azerbaijan travel tips on how to spend it:

"Be prepared for a real cultural adventure. Buy some local crafts in Lahic – they may not be priceless works of art but they make good souvenirs and help the local economy. And try some wonderful local fruit and veg from Sheki's market and then sit in Sheki's main square & enjoy some tea (or a beer) with the locals."
Nigel Fisher from our supplier, Wild Frontiers:
"Pack for hot conditions in June to September, so loose baggy trousers and lots of sun scream. Ladies need a headscarf for the mosques. The religion is mostly Islamic. Also, read up on Peter Hopkirk's 'On Secret Service East of Constantinople' to understand the pivotal role that Azerbaijan played in WWI."
Aled Evans from our supplier, Undiscovered Destinations:

"Pack some warm clothes. Even in the summer it can feel cold up in the mountains and the wind in Baku can be very chilly."
More Azerbaijan articles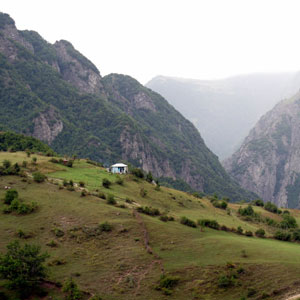 Read our travel guide as it explores a nation defined by the Caucasus Mountains and Caspian Sea.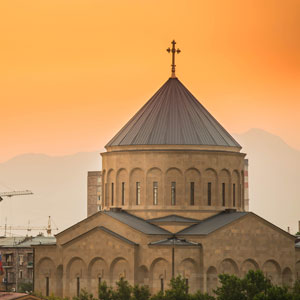 The ex-Soviet states of Georgia, Armenia and Azerbaijan are well worth visiting on the same trip.