Clouded leopard safaris in Borneo
The island of Borneo is something of a Mecca for wildlife enthusiasts, entranced by its endangered orangutans, proboscis monkeys and even the chance to see pygmy elephants. And deep in the forests of
Sabah
state can be found one of Borneo's most fascinating and reclusive residents: the Sunda clouded leopard.
So-named because the dark ovals on its fur are said to resemble clouds, the leopard is known as the 'tree-tiger' in Indonesian. This is one cat that never gets stuck up a tree – in fact that's where they feel safest and happiest. Clouded leopards have been observed making their way along branches upside-down, and descending trunks headfirst. Their tails can grow as long as their bodies; handy for balance when you're nimbly scaling a tree in search of a good vantage point.
Sunda clouded leopards are listed as vulnerable, with fewer than 10,000 thought to remain in the wild and falling, their survival threatened by deforestation that has dramatically reduced their habitat. Sightings on big cat safaris in Borneo are shared with researchers, and can make a big contribution towards effective conservation efforts. There is no typical sighting. A leopard may cross the road in front of you and disappear straight into the dense forest, or it may pause to groom and rest a while. You might see one climbing trees, scent-marking, or even walking with its cubs – there's just no way to tell what luck will bring.

But of course in a place such as Sabah, the wild and rugged landscapes are home to many of the world's least observed species. On a typical big cat safari in Borneo, while the focus may be on tracking leopards, you're also likely to see animals including orangutans, marbled and bay cats, proboscis monkeys, primates such as gibbons, macaques and langurs, Bornean bearded pigs, Sunda stink badgers, saltwater crocodiles, reticulated pythons and Asiatic elephants. So what we're saying is – the potential for encountering wildlife here is… wild.
Our top trip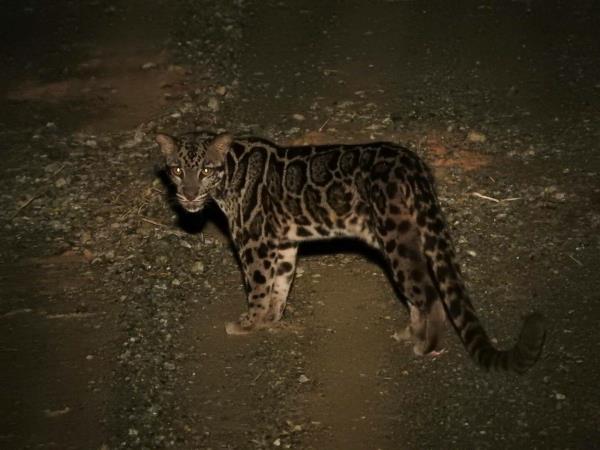 A dedicated rare mammal watching tour of Sabah, Borneo.
From
£3995
15 days
ex flights
Tailor made:
This trip can be tailor made throughout the year to suit your requirements
If you'd like to chat about Big cat safaris or need help finding a holiday to suit you we're very happy to help.

Borneo safari practicalities
Many species are nocturnal, so most of the activities in Borneo are done by night, meaning you will be out from the early evening until after midnight, returning to your eco lodge or guesthouse deep in forest reserves. While the safaris themselves, travelling by jeep and boat, aren't physically demanding and last the same time as they would in the daylight, it can take a little while to adapt to the schedule. Spotlighting is used, and exact routes are decided on a day-by-day basis for maximum flexibility.

Trips are accompanied by local naturalist guides, there to lead you to the optimum wildlife watching locations, and often zoologists' too, able to explain behaviours of animals so rare that actually very little is known about them. Luck is naturally very much the name of the game, but with expert trackers you stand a good chance of seeing leopards and other animals.
Deramakot Forest Reserve
Since the 1970s the Deramakot Forest Reserve has been a model of sustainable logging in Borneo which has led to superb levels of biodiversity in comparison to many other parts of the island. Several of the island's most iconic species, including clouded leopards, are found here, and safaris in this reserve will hopefully serve as an inspiration for more sustainable practices elsewhere.
Tabin Wildlife Reserve
Clouded leopards are also present in the forests of the Tabin Wildlife Reserve, feeding on rodents and deer. There is also the opportunity to see Bornean elephants and Bornean rhinoceros here. As with Deramakot, you will generally be exploring by night.
Kinabatangan River
There are only two places in the world where 10 primate species are present, and one of them is the wildlife reserve on the banks of the Kinabatangan River. Some of Borneo's densest concentrations of wildlife are to be found in lowland forests and mangrove swamps, including elephants, orangutans and proboscis monkeys.
More Big cat safaris articles