Brunei travel guide
---
2 MINUTE SUMMARY
Brunei does contrasts well. Itís a tiny nation but vastly wealthy, thanks to its oil and gas reserves. Its capital city is home to gold domed mosques and vast palaces, but also an entire ramshackle suburb built on stilts. The Sultan introduced Sharia Law here in 2014, and peopleís lives rotate around a seemingly contradictory pairing of worship and wealth; religious faith and mass consumption in the nationís glitzy shopping malls. Then thereís its geography, with the nation divided into two by a chunk of Malaysian Sarawak. Western Brunei boasts oil fields, while eastern Brunei is a lush, biodiverse wilderness, home to Iban tribespeople and one of the most pristine rainforests in all of Borneo. So donít overlook Brunei; it makes a worthy addition to any Borneo tour, with time in the capital and its glorious green interior the ideal way to soak up the yin and yang of this compact but contradictory nation.

Find out more in our Brunei travel guide.
Brunei is...
a crazy combination of
wild nature and extreme wealth
.
Brunei isn't...
a safe place for LGBT travellers.
A law passed in 2019 punishes homosexual sex and adultery with death by stoning.
Brunei map & highlights
---
MAKE THE MOST OF YOUR TIME
Brunei isnít big but it is, unusually, separated into two parts by the Malaysian state of Sarawak. Most of its highlights are within easy reach of the capital, Bandar Seri Begawan, known by the locals as Bandar or BSB. From here you can travel by road into western Brunei, home to the nationís largest oil producing towns, but to reach its wild, pristine eastern side, you either drive through Malaysian territory, passing time consuming customs checkpoints, or go via sea and river. This situation is set to change when the 30km Temburong Bridge is completed, which will connect both parts of the nation by road.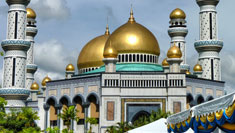 Bandar Seri Begawan (BSB)
Clean and ordered, the capital of Brunei boasts a handful of impressive landmarks, including Omar Ali Saifuddin Mosque, with its 16th century royal barge replica moored outside, and the Nurul Iman Palace, the largest royal residence in the world. Shopping is huge here and slick malls pepper the city, while the Bruneiansí love of food is satisfied in its many restaurants and at Pasar Malam night market.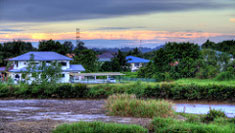 Bangar
The administrative centre of Temburong District, small, laid-back Bangar is a 45-minute speedboat ride from BSB Ė at least until a bridge linking the two sides of the sultanate is completed. The journey navigates open seas, before negotiating rapids and weaving past mangroves and palms on the Temburong River. From Bangar itís a short drive or river journey to Ulu Temburong National Park.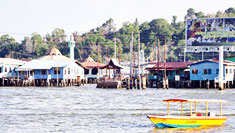 Kampong Ayer
A contrast to the slick malls found elsewhere in the capital, Kampong Ayer consists of 42 stilt villages on the banks of the Brunei River. Founded at least 1,000 years ago, itís the largest stilt settlement in the world. Water taxis ply the river, while a boat ride will take you into the narrow waterways between schools, colourful houses, mosques and police station.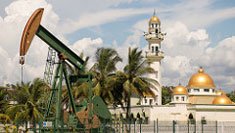 Seria
On the coast of western Brunei, Seria is home to the nationís onshore oil industry, where rows of Ďnodding donkeyí pump jacks draw the liquid gold up from the ground. The Oil & Gas Discovery Centre has interactive exhibitions on the petroleum industry, while the Billionth Barrel Monument commemorates that production landmark, reached in 1991.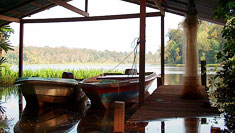 Tasek Merimbun Heritage Park
In the Tutong District of western Brunei, about 70km from the capital, the wilderness of Tasek Merimbun was given Heritage Park status in 1984 when rare, white-collared fruit bats were discovered here. Cruise on the lake, dark from the tannin rich leaves which fall into it, spotting exotic birds and crocodiles; or walk the nature trails, looking out for orchids and red leaf monkeys.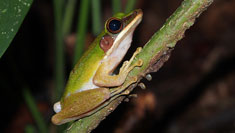 Ulu Temburong National Park
This park lies within 500sq km of pristine rainforest. Most of it is off limits to everyone except scientists, but visitors can explore a portion via river cruises, nature hikes, waterfall visits, kayaking, tubing and night jungle walks. A 50m-high canopy walk gives long views over distant mountains and the chance to spot rhinoceros hornbills, gibbons and some of the 400 species of butterfly.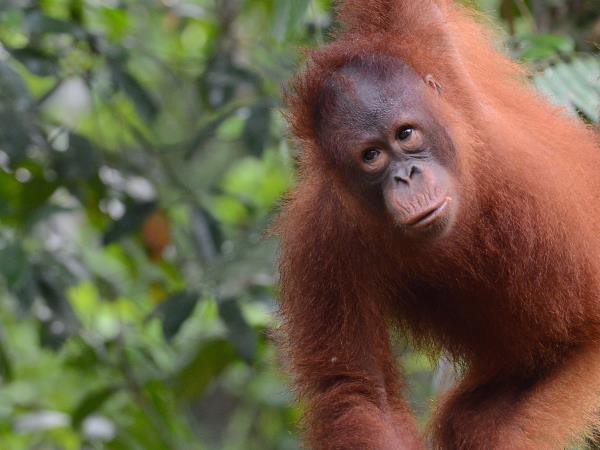 Exotic Trans-Borneo Overland from Rainforest to Beach
From
US $1398
13 Days
ex flights