Family holidays in Canada guide
Family holidays to Canada are of the storybook variety. You might find yourselves wandering through the Rocky Mountain backdrop of This Moose Belongs to Me, kayaking along Pacific Coast shores straight out of The Snail and the Whale, or following The Call of the Wild up to gold rush towns well north of the US border. And if you go down to the woods, there's a pretty good chance that you'll meet some bears.

Adventuring, camping, secret trails – the Famous Five can eat their hearts out. Just swap the ginger beer for root beer.

Although adventurous, these holidays aren't about striking out into the wilderness alone. You'll snooze at campsites fully prepped for families, with tents and cooking pits already in situ. The hiking paths are well-marked, apparently inaccessible mountains come with cable cars, and epic roads are smooth and lit up with mom-and-pop diners. Keep reading our Canada family holidays guide to find out more.
Our Canada family Holidays
What are family holidays in Canada like?
Small group or tailor made?
Small group holidays are great for families that want to meet other families. You'll be in a band of up to 13 people following a set itinerary – particularly appealing for single parents or guardians hoping to holiday with likeminded people who aren't preteens. The minimum age is usually eight, due to included activities like horse riding and rafting, and longer drives.
Best of all, a guide will steer the way all the way. They're the ones who know how to approach this vast country best – and how to translate it. They'll show you how to hike safely in bear country, how to set up a camp in the wilderness, and add backstory to the paths and canoe routes long used by Aboriginal Canadians.
Tailor made holidays aren't always explicitly labelled as family trips, but they usually are by nature. The holiday company will create a holiday that suits your likes and dislikes: whether that's swapping summer holidays for spring break or staying at a campsite you've had on your wish list for years. They're also great if you've got very young children: you can request accommodation and activities suitable for pint-sized travellers.
Whichever type of holiday you choose, accommodation, some meals, camping equipment (apart from your sleeping bag) and transport are usually included.
Adventure activities
Adventure activities are the kingpins of family holidays in Canada. Some activities might be included: say, a guided hike to the toe of the Athabasca Glacier or sea kayaking through whale waters. But many activities are optional, allowing you to build your own adventure depending on your budget – white water rafting and helicopter rides don't come cheap – and factor in some rest days if you need a breather.
Our top Canada family Holiday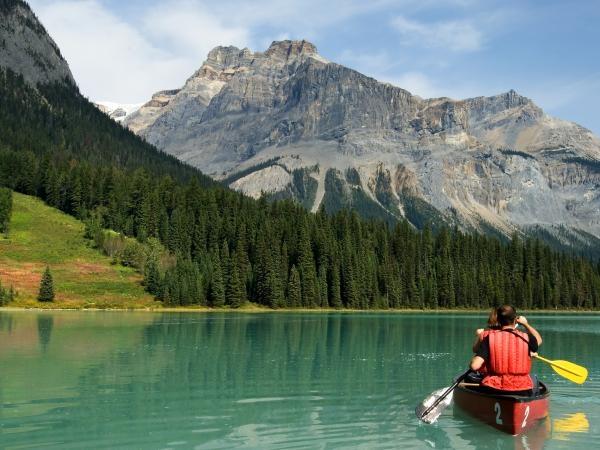 Perfect adventure for families who love the outdoors
From
£2299
days
ex flights
Small group travel:
2023: 18 Jul, 23 Jul, 29 Jul
If you'd like to chat about Canada family or need help finding a holiday to suit you we're very happy to help.

Accommodation & food
The best family holidays are pure Canadiana, putting you up in a mix of campsites, hotels and motels. Some small group holidays include eight nights of camping – just enough for you to get to know your fellow campers and mine your guide for stories. You'll usually be asked to bring your own sleeping bags. Outdoor cookouts are a Canadian must-do; they're a well-earned feast after a day on the hiking trails or river rapids. You'll usually be expected to chip in with cooking, washing up and breaking down the campsite – it's when you'll find you and the kids making friends for life. Wherever you lay your head, a good night's sleep is guaranteed. You'll be sacked out.
City to city
Holidays usually start in Calgary and finish in Vancouver (or the other way around), or do a circuit from Calgary. Oil-rich Calgary isn't anything to write home about other than for the novelty of seeing an oil boom town. Vancouver, on the other hand, is a city with a green heart. Downtown Stanley Park is a rainforest with resident bald eagles and raccoons; hiking trails creep along Capilano Canyon and panoramic Lighthouse Park; and you can learn about the Northwest Coast First Nations in the cavernous Museum of Anthropology built in traditional – and impressive – post-and-beam style.
More about Canada family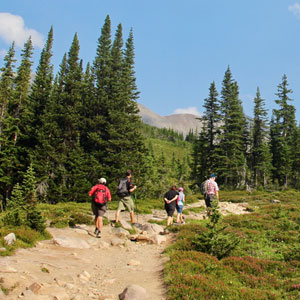 The best time to go on a family holiday to Canada often wars with the only time to go. Most trips run in summer.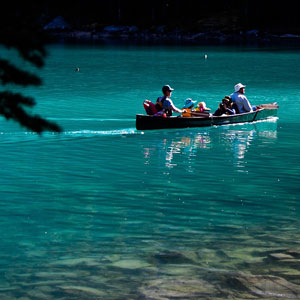 Wondering about where to go on a family holiday to Canada? Take a look at our map and highlights, for the best picks.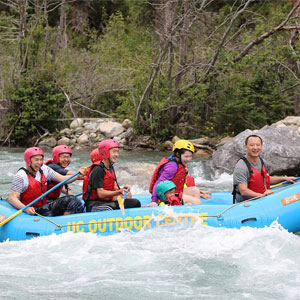 A family holiday to Canada is an adventure holiday. After all, there's nothing half-hearted about this country.