Costa Rica cycling highlights
---
MAKE THE MOST OF YOUR TIME
Thanks to Costa Rica's neat size, cyclists can enjoy the satisfaction of completely crossing the country – from Nicaragua to Panama, or from the Pacific to the Caribbean. Cycling holidays generally go from point to point, staying in a different location each night, with the odd two or three night stay to give you chance to recuperate and explore your surroundings – and spend time off the bike. Transfers cover some of the longer or more monotonous stretches between Costa Rica's cycling highlights – as well as allowing you to spend less time on the Panamerican Highway, and enjoying the quieter country roads lined with nature.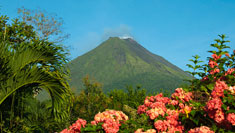 Arenal Volcano
A top pick for mountain bikers due to the varied terrain and incredible views – not to mention the conveniently sited natural hot springs where you can soak your sore legs after a day in the saddle. There are plenty of trails through the forest here, with road tours around the base and tougher mountain bike trails on the volcano itself.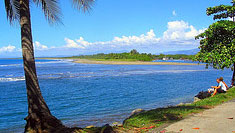 Coastal Highway
Cycling the new Costanera – or Coastal Highway – is one of Costa Rica's top experiences in terms of dramatic scenery, as you pedal your way between vertiginous forested hills on one side and the ocean on the other. Turn off for the wildlife-rich forests of Manuel Antonio National Park, or pedal on to catch the sunset on an isolated beach.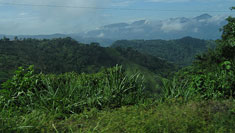 Las Cruces-Paso Real
Stretch your legs with a walk around the Las Cruces Biological Station before mounting your bike for the 50km route to Paso Real. The hilly scenery is gorgeous and makes for a fun ride, and you'll be passing indigenous villages – a fairly rare sight in Costa Rica – with many locals in colourful traditional dress.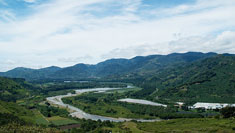 Orosi Valley
The Orosi Valley is spectacular, overlooked by looming volcanoes. The enormous Cachi Lake is brimming with wildlife and lily pads – as well as trout, which is a delicious local dish. Dismount for a tour of a coffee plantation – you'll learn how to grow, harvest and process the beans. A strong cup should power you all the way back down to the Caribbean Coast!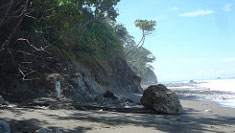 Osa Peninsula
One of Costa Rica's least explored yet most biodiverse regions, the Osa Peninsula curves around the Golfo Dulce, a haven for dolphins, sea turtles and ghostly bioluminescence. The peninsula offers plenty of activities away from your bike, from rainforest walks, sunset kayak trips and waterfall hikes.
Savegre Valley
This Savegre River tumbles through mountains and quetzal-inhabited cloud forest before emptying out into the Pacific. The eponymous valley, reached via a breathtakingly high mountain pass, contains lush, protected forest, cascade-fed pools, hiking trails and comfortable mountain lodges.
Costa Rica cycling holidays travel advice
---
TIPS FROM OUR FRIENDS IN COSTA RICA
Using the support vehicle
---

Gina Eckersley, from our leading Costa Rica cycling supplier Exodus, cycled across the country on a group tour. Here is her top advice:
"There is a real mix of people on these trips. There was a girl training for an Iron Man at one extreme, and a woman who hadn't been on a bike for about four years at the other. But everyone enjoyed it as much as each other. In the mornings the tour leader would go through the day. If there was a particularly big climb, he'd say to look out for mile X – if you want, the support van can stop and pick you up, drive you to the top of the hill then you can be on your way. Plus if you aren't feeling great – it's hot, so sometimes it's nice to have a burst of air conditioning and have a bit of a break. That's always possible."
Beat the heat
---
"There's nothing better for keeping hydrated than stopping at these little shacks on the side of the road and having the local coconut water. Our driver would stop the van every 5-6 miles and they'd chop up all this local fruit and you'd be able to refill your water, so we had all these amazing refreshments every 5-6 miles. I didn't really feel the heat was a problem for me. The rides are well timed, they start early in the morning to try and keep you out of the sun for the hottest part of the day."
The benefits of a support team
---
"The support team are brilliant, they look after your bikes from start to finish so you don't need to worry about any maintenance. They maintain them part way through the trip as well. They're there for you with snacks at all times, making sure you're well nourished and hydrated, and keeping you motivated and cycling alongside you. So I didn't feel I needed anything that I didn't take really."
Packing tips
---
"I took a backpack with me but it was far too hot to be riding with anything on my back. Quite a lot of people had little Velcro bags and in retrospect that would have been great. There's always something to take photos of – volcanoes, wildlife, other cyclists – so it would have been nice to have had something to put my camera in rather than leave it on the bus."
Hello.
If you'd like to chat about Costa Rica cycling or need help finding a holiday to suit you we're very happy to help.
Rosy & team

01273 823 700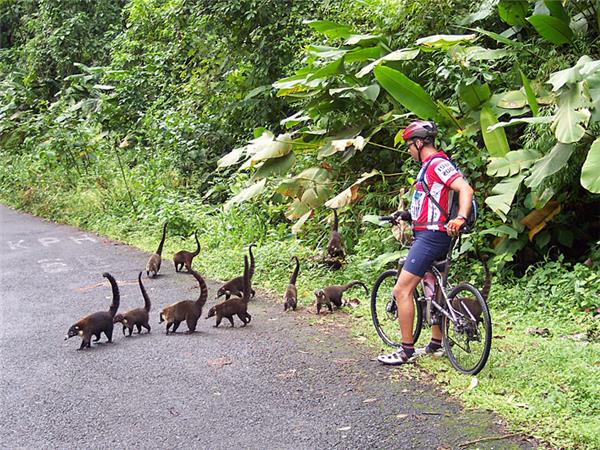 Colonial cities, cloud forests and tropical island paradise
From
£3149
16 Days
inc UK flights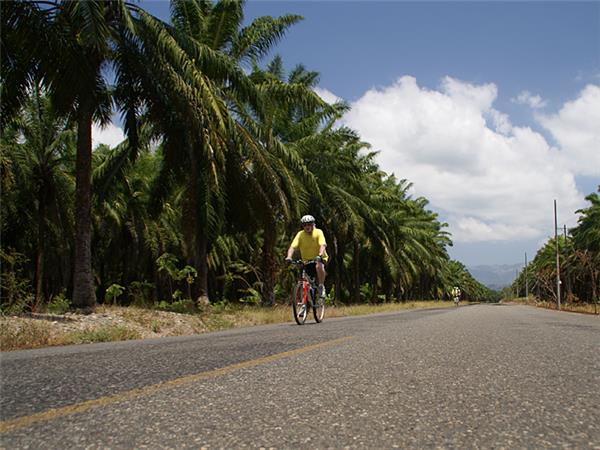 Take in the variety of Costa Rica by bike
From
£3199
15 Days
inc UK flights