Dolphin watching in Scotland
Watching dolphins in Scotland is a privilege, not a right. You can't just rock up along the coast and expect to see troupes of dancing dolphins skipping about offshore. Just in the same way that you can't clamber aboard a boat and click your fingers or whistle or whatever. There are no guarantees.

Luck will play a huge part in whether you're successful or not. Where and when you go also contributes greatly to how likely you are to catch sight of a pod. A little local knowledge goes a long way and watching dolphins in the company of a qualified conservationist or marine mammal expert will explain more about what you're seeing and why a pod or individual is behaving in a certain way.

You'll not only learn more about dolphins, and other animals, and stand a greater chance of observing them in their natural environment, but you'll also meet passionate local people looking to share their expertise through sustainable tourism trips that support coastal and island communities.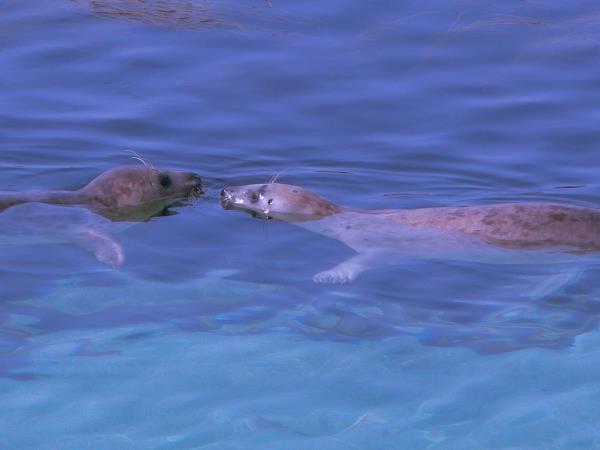 Ultimate week of wildlife spotting on the Isle of Mull
From
£895

to

£1255
7 days
ex flights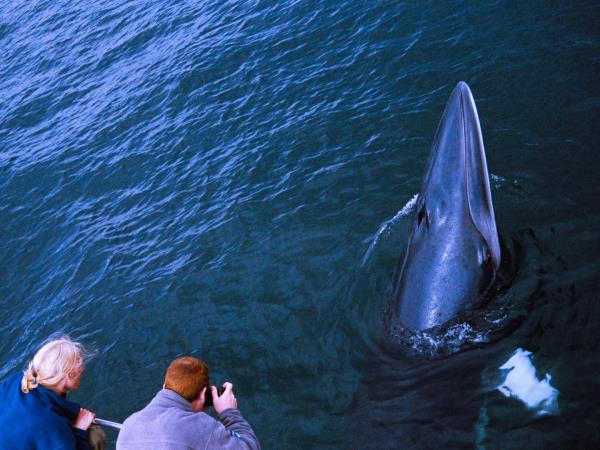 Spot whales, otters and eagles on Isle of Mull, Scotland
From
£595

to

£830
5 days
ex flights
Identifying Scotland's dolphins
Atlantic white-sided, white-beaked, common, bottlenose and Risso's dolphins, along with the most distinctive and largest variety of dolphin, orcas, can all be seen swimming in Scottish waters.
Bottlenose and common varieties tend to be seen with more frequency, whereas the other types of dolphin prefer to swim and hunt in deeper waters. This means that you have to get further away from the mainland to see them as they're more likely to be closer to the open ocean.
Short-beaked common dolphins can be identified by a figure of eight on their flanks formed through distinctive yellow and white flashes around their dorsal fins. Bottlenose dolphins are larger than common dolphins and mainly grey, with lighter, whiter underbellies. Atlantic white-sided dolphins are very pretty and stylish, with darker dorsal fins fading to light grey and white along the flanks and underbelly, tempered by yellow flashes splashed along the rear of their flanks. Orcas are unmissable, although don't expect to see much more of these giant black and white beasts other than a fin or tail.
Where can I watch dolphins in Scotland?
The west coast of Scotland is a well-known setting to watch dolphins, especially short-beaked common dolphins throughout the islands of the Inner Hebrides. Around the Isle of Mull, for example, common dolphins can be found in huge super pods – numbering more than 100 – and make for an unforgettable sighting both from land and out at sea. Orcas, too, have also been known to make an appearance around the Inner Hebrides, as have bottlenose and Risso's dolphins.
Can I see dolphins from land?
The best place to watch bottlenose dolphins in Scotland – and Europe, to be fair – is Chanonry Point, off the Black Isle Peninsula, within the Moray Firth inlet on Scotland's northeast coast. The beach below the lighthouse at Chanonry Point on the north shore of the Moray Firth is particularly notable. And you should be able to spot them from dry land as they swim really close to the shore for food.

White-beaked dolphins and Risso's dolphins favour the deeper waters around the Outer Hebrides where stocks of squid, octopus and cuttlefish are at their most plentiful. The Shetland Isles, too, is an excellent location to watch dolphins.

Tessa O' Hara, from our Travel Team at Responsible Travel, was lucky enough to enjoy five uninterrupted hours of orca action on a recent trip to Scotland's northerly islands: "Shetland is so calming and peaceful. You feel like you're the only person on earth. At one point I was actually the most northerly person in the whole of the UK. Amazing. Watching orca was just an incredible experience. They got so close to the shore that you could actually hear them breathe when they surfaced. I watched them from land for five hours. We followed the pod's progress as it made its way north around the headland in-between the southeast coast of Shetland and the island of Mousa. Sometimes we'd jump in the minivan and follow them, other times we were able to keep pace on foot. Didn't even really need binoculars as they were so close to land. We knew where the orcas were going thanks to a Facebook group that shares sightings. Anyone can join the group but even in July, peak season, there weren't that many people watching from the land."
Our top trip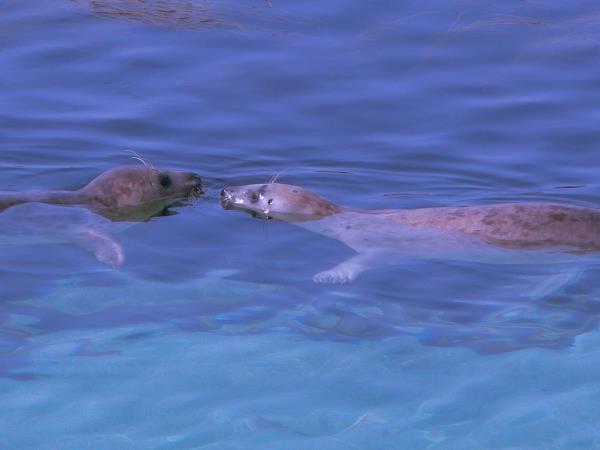 Ultimate week of wildlife spotting on the Isle of Mull
From
£895

to

£1255
7 days
ex flights
Tailor made:
This trip can be tailor made from late April to the end of September
If you'd like to chat about Dolphin watching or need help finding a holiday to suit you we're very happy to help.

How can I watch dolphins in Scotland?
You can drive up through the Highlands of Scotland and take the car ferry over to Orkney. From there you can take an overnight car ferry north to Shetland. There are a few places in Lerwick, on Shetland, where you can take a boat out and look for dolphins, although these are usually more inclined towards bird watching. Your best bet is to go with a guide and look out for dolphins from the headland or take one of the regular ferries out to the surrounding islands. A self drive itinerary allows you the freedom to roam as well as the company of wildlife guides and local B&B hosts who will happily point you in the right direction of the best spots to watch dolphins.
Other tailor made tours where you can watch dolphins take you off the mainland by ferry from Oban, and onto the Isle of Mull in the Inner Hebrides. You can spend a week in a small hotel in Tobermory and go on a couple of wildlife watching safaris with marine biologists and local conservationists. Alongside dolphins you might also see eagles, otters and even whales before returning back to base for a bowl of hand-dived scallops served with a hunk of island baked bread.
Small ship cruises in Scotland invite travellers to live on board a boat for a week or more. You'll join other passengers – maximum capacity is from six to 12 passengers – and there's a minimum age of five or seven, depending on the boat, which means families are also welcome aboard. Safety always comes first and only top class equipment and procedures are in place to ensure peace of mind, so you can focus on finding dolphins and other marine mammals and seabirds. Island hopping around the Inner and Outer Hebrides, on the west coast, often creates ample opportunities to watch dolphins and sometimes, if you're ever so lucky, curious and playful juveniles, especially, will approach the boat and might even swim alongside.
Top tip: Scan the seascape with your naked eye first, then, once a pod is spotted, use binoculars to zoom in on the action.
What's the most responsible way to watch dolphins?
Bottlenose dolphins, especially, are very sensitive to disturbance. If you are on dry land you can enjoy the sight of a pod without interfering with their natural behaviour. A local conservationist or wildlife guide will then be able to explain more about what you're seeing and make the experience all the more memorable.
If you're out at sea on a sailing safari then make sure you only go with a company that follows the
Scottish Marine Wildlife Watching Code
at all times. An experienced skipper will understand the need for marine mammals to approach the boat, not the other way round. Look out for
Wild Scotland
or
Wise
logos when choosing half or full dolphin and whale watching ships. This will also ensure you're benefitting local economies and providing support and essential employment for local people living in more remote rural and coastal areas. Never swim with dolphins and only go sea kayaking with a responsible local guide.
When's the best time to watch dolphins in Scotland?
As some dolphins are residents around Scottish shores you can see them all-year-round however, as they prefer the calmer and sunnier sea conditions associated with spring and summer, the best time to see dolphins in Scotland is usually from May to September.

Emma Greer works for our Scotland wildlife tailor made tour specialists McKinlay Kidd: "As dolphins are wild animals, sightings can never be guaranteed. Dolphins are resident to Scotland, but sea conditions and the lack of winter boat trips mean that you rarely see them in the winter. We also recommend checking the tide times – dolphins are most likely to be seen on a rising tide."
What are the chances I'll see a dolphin in Scotland?
Sorry, you really can't put a percentage on it. Go wildlife watching in Scotland without tying yourself to just spotting dolphins. Everything from eagles to otters, seals to seabirds, can be seen in Scotland and sometimes it's the people that you're with who leave the most lasting impression. Good luck!
More Dolphin watching articles