Community based trekking in Ethiopia
Ethiopia is a wonderful yet bewildering place to travel in, with its own unique calendar, religion, language, alphabet and food. And exploring on two feet with the help of an experienced guide, sleeping in community run accommodation and spending time with people who know, love and are personally invested in the destination, is a fantastic way to ease into the culture.

You'll have the time to really interact with local people and learn something of their views on their country, community and environment; as well as discovering the myths and legends behind the landscape and ancient sites, and perhaps picking up a sprinkling of Amharic, too. And a much greater percentage of your money will be staying in the country, funding local salaries and paying for local goods and services.
Our Ethiopia walking Holidays
What does community based trekking entail?
Community based trekking holidays are a great alternative to an organised small group holiday. On these tailor made trips, you'll stay in locally run accommodation, travel with guides who may well have grown up in the area and sample the best traditional food - making you feel less like a visitor and more like you're visiting a friend.
Our operators have worked together with local communities in Ethiopia to create a handful of hosting facilities for tourists to trek between. You'll have a mule to carry your luggage, a guide to help you negotiate the pathways and daily journeys on foot of between two and six hours, depending on the destination. As these are tailor made trips, you can travel for as many days as you'd like and choose to either take it easy or to push yourself on the walking front.
As you wander through the landscape you'll pass by people in the fields with ox drawn carts, or you could well find yourself on the trail with hundreds of farmers and their families on their way to the market.
Where can I go?
Community based trekking holidays take place either in the farmlands and village of Jamaraland, just outside the Simien Mountains, where the landscape is raw and beautiful and walks will be at an altitude of over 3000m; the Wollo region surrounding the celebrated rock hewn churches of Lalibela, where you could walk in the surrounding farmland or tackle the Afro-Alpine Mount Abuna Yoseph; the Wof Washa Forest, which covers 6000ha of the Rift Valley escarpment; or the Tigray Region, in the country's far north, where you'll find some lesser known churches hidden among the striking red sandstone mountains.
What about sleeping and eating?
Guesthouses vary depending on the village that you're staying in and you could be housed in one large building or in separate, smaller huts. Either way, you'll get a simple, private room with shared composting toilet and washing facilities as well as space in which to dine or relax. Community members will serve you tasty food along with coffee and tea (traditional coffee ceremony is a must, with beans freshly roasted over hot coals then hand-ground and brewed in a ceramic jebena pot).
You'll eat dinner around the fire and lunches will either be picnics en route or a simple meal at a local eatery, which will often include injera (flatbread) and wot (Ethiopian stew). Evenings tend to be low-key, and you might find yourself chatting to local farmers, playing with the kids or even doing some traditional dancing.
What are the benefits?
Simply put, the chance to make memories that involve more than gazing at stunning scenery or summiting a peak. You'll be in a more remote environment where you are unlikely to encounter other tourists, and your guides are local so not only can they act as translators, but they have grown up in the area so will give you the inside track on the culture, customs, flora and fauna of the area that you won't get from a foreign tour leader.

Not only does this mean a more rewarding experience for you it also gives the communities themselves authority over what they offer visitors, and more of a stake in protecting their environment - all of the community run lodges on our Ethiopia walking holidays are involved in conservation measures.
Our top Ethiopia walking Holiday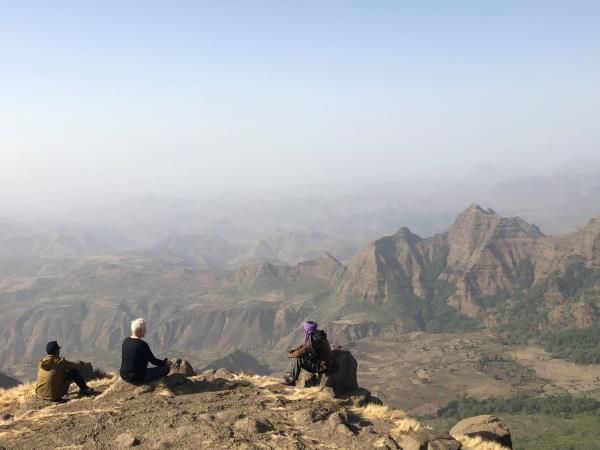 A superb walking tour showcasing the best of Ethiopia
From
£4195
13 days
inc UK flights
Tailor made:
This trip can be tailor made throughout the year to suit your requirements
If you'd like to chat about Ethiopia walking or need help finding a holiday to suit you we're very happy to help.

The best time to go on a community trek in Ethiopia is from December to March when days are warm and dry. July to September brings the heaviest rains to much of the country, but it's still possible to hike in Tigray, and some guest houses remain open.
Light cotton clothes are best for trekking, but it gets cold at night so throw in some warmer clothes for after the sun goes down as well as a quality rain jacket to cope with wind and unexpected showers. Good walking boots that are already broken in are a must and consider bringing energy snacks for high altitude days. Also remember that rural Ethiopia is conservative, and if you're going into homes and churches your shoulders and legs should be covered.
More about Ethiopia walking