Family walking holidays travel guide
A walking holiday isn't the first thing that springs to mind when you think of a harmonious family break. Sweeten the deal with a tiger safari, some kayaking or a donkey to carry your bags, however, and things begin to look a lot more enticing. You don't need to be regular mountaineers to make it work - walking holidays for families come in all shapes and sizes, from gentle daily rambles with nights spent in cosy guesthouses, to hardcore mountain hikes with camping as standard.

Family walking holidays are all about togetherness. No gadgets, no torturous car journeys - just time in the wilderness with your loved ones, with space to breathe and to bond.

The great thing about family walking holidays is that they allow you to truly immerse yourselves in a culture and landscape in a way that's much easier on foot - such as spending time with local families in the mountain villages of Nepal, talking with Berber guides in Morocco, or experiencing rural life (and gastronomy) around the Italian lakes. You can take trips at your own pace, or walk as part of a group; and if you get a guide who knows how to get young people interested in landscape, wildlife and all the natural adventures that await, your holiday is made.

Read on in our family walking holidays travel guide.
Our Family walking Holidays
What does a family walking holiday entail?
Small group or tailor made?
If you don't fancy going it alone, and enjoy sticking to a schedule, then joining a group of likeminded families can take the pressure off. The kids will have a ready-made band of playmates, and you'll get the advantage of travelling with a knowledgeable guide who'll ensure things run efficiently and bring the landscape to life for little ones. Small group walking holidays are also perfect for mixed generational groups and single parents.

Tailor made walking trips also work brilliantly, particularly if your children are very young. There's no need to catch up or wait for other members of a group, and you have the freedom to stop when you want or adjust the walk to suit tired legs and lazy days. You can either go with a private guide - essential on tougher walks in destinations such as Nepal - or go it alone on a self-guided holiday. Routes will be carefully planned to suit children and maps and 24/7 support are provided, so you can stride off with confidence, knowing where you're going but free to explore at your own speed, too.
Centre based or point to point?
Some family walking holidays follow a single route, from location to location, staying at a different hotel, guesthouse or campsite every night or two. Your luggage will usually be transferred for you, though on the odd trip you might have to carry your bags yourself, or with the aid of a porter. This is a great way to see a decent chunk of a country, with lots of variety built in and a real sense of achievement at the end when you tot up how far you've hiked.

If you would like to come home to familiar comforts after a good day's hike then opt for a centre based holiday, where you can take on a different route every day but return to the same bed every night. This gives more time for walking, without the hassle of packing and unpacking, and can be a more relaxing option with young children in tow.
Our top Family walking Holiday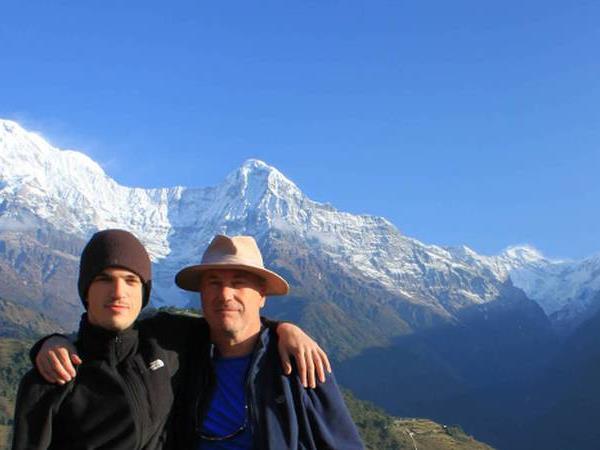 Low altitude trek in the Annapurna foothills
From
£1490

to

£1550
12 days
ex flights
Small group travel:
2023: 15 Jan, 9 Apr, 17 Sep, 24 Sep, 10 Dec, 24 Dec
If you'd like to chat about Family walking or need help finding a holiday to suit you we're very happy to help.

How tough are they?
This all depends on the age of your kids - and what you think they can tackle. Walking holidays aimed at younger children tend to be a week long, with walks of between two and five hours a day and plenty of rest stops built in. You'll usually have a day's break during the week to rest and recharge, or try out another activity, whether that's swimming in the local lake or something more active such as canyoning or kayaking. If you're feeling more adventurous, then hiking in the foothills of the Annapurnas is suitable for six-year-olds, while those ages eight and over can take on an adventurous hiking and activity break in Canada's national parks. Depending on your destination, accommodation could be in anything from guest houses to self-catering accommodation or rural homestays.

If the kids are teenagers, then you can take on bigger challenges - exploring tropical trails in the Amazon rainforest perhaps, or summiting Mount Kilimanjaro. You'll walk up to eight hours a day, with steep ascents and some uneven tracks. On these trips you'll likely spend a few nights camping or sleeping in remote mountain huts.
How old do the kids have to be?
Many of our European family walking holidays don't have a minimum age and offer a relaxed pace and style of trips that are well-suited to young children. Head somewhere more unusual and remote such as Tanzania, Nepal or Peru, and the minimum age could be anything from eight to 13, depending on how strenuous the trip is. Do check with the holiday company, though, as some will accept younger children, so that a sports mad 11-year-old, for instance, doesn't miss out on an epic hiking holiday with a minimum age requirement of 12 years.
When to go on a family walking holiday
Most of our walking holidays for younger children take place in Europe, with the French Alps, the Italian lakes and Croatia's coast all popular. The July and August summer break brings soaring temperatures, but the mountains and the coast should provide a little respite, with lake and ocean swims to keep you cool. Outside of the summer holidays, May or October half term are good times to make for southern and central Europe, with mild conditions that are perfect for hiking.

If heading further afield, there are excellent conditions on Mount Kilimanjaro, in Canada's national parks and at Machu Picchu during the July and August school summer holidays, while Nepal is best avoided due to monsoon rains. If walking in Annapurna, the Easter break around March-April is a good time to visit.
Walking responsibly
Wherever you and your brood take to the trails there are certain things to keep in mind in order to
walk responsibly
. 'Leave no trace' should be your mantra. It goes without saying that you should take all your rubbish with you, including anything 'natural' like apple cores, but you should also leave things as you find them. That includes picking plants and wildflowers - a difficult one to teach young children, but essential if you want to help protect the wild places that you visit. If you're on a self guided walking holiday, remember to stick to the marked tracks. They have been created by experts and are managed carefully to prevent erosion and over trampling.
One of the joys of travelling in remote areas is interacting with small local communities. Take time to chat, always ask their permission to take photos, and check in advance with your guide whether it is appropriate to ask in the first place. If you and your family are tackling Kilimanjaro or trekking in Nepal or Peru, you'll likely have porters and guides accompanying you. Read up on
porters rights
and ask your holiday company endless questions about their ethical trekking policies.
Staying safe
Responsible holiday companies will always have safety procedures in place, use reputable, qualified guides and be able to answer all your concerns, but you can do your bit, too. Making sure you all stay hydrated is key to a happy trip. It's hard to get kids to drink water sometimes, but it's even more crucial when they're walking. Consider hydration backpacks, so that they have water on them at all times, and remember you need to drink much more at high altitudes.

What's more, on more advanced routes it doesn't hurt to be prepared with maps, compass, rain gear, pocketknife, matches and a whistle – just in case. In many countries you may need to be aware of animals such as bears and so do your research before you take to the trails. And don't let your children wander too far ahead of you, so that you can keep a close eye.
More about Family walking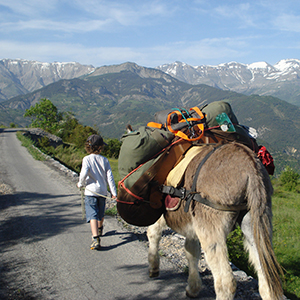 The options are endless for where to go on a family walking holiday.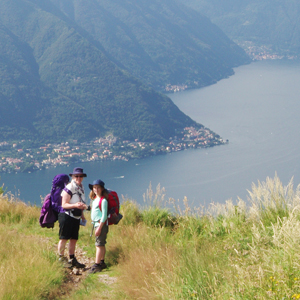 Our family walking holidays in Lake Como let you escape the crowds.