Family walking holidays in Lake Como
"One of the best-selling walking holidays in all of Italy is the Via del Amore in Cinque Terre, Liguria. And you know what? You're in a queue the whole time. Here in Lake Como, it's totally different. Once you get up into the hills and start walking, there's almost no-one else around."
Etien Veeman is the founder of our Italy walking holidays partner, 46 Degrees, and she happily admits that she fell into the travel business almost by accident. "I was doing a scholarship in industrial design in Milan. But I'd grown up in the countryside and I felt unhappy in the city. Then a friend asked me to help organise a cycling tour around Lake Como for a family. I knew cycling wasn't such a good idea, but I got them hiking instead and I've carried on from there."
Etien's holidays focus on the mountains of the Triangolo Lariano, a triangular area of land that is flanked by the 'legs' of Lake Como. To the north: snow-tipped Alps. To the east: the Grigna mountain massif. And below you, always the glittering, glamourous Lake Como, lined with picturesque villages and towns.
"Lake Como has changed a lot over the last 10 years. I bought a house here in 1997 when foreign cars were still rare. There was tourist traffic from Como to Bellagio, but little else happening. Now Airbnbs are everywhere. It used to be that most tourism was on the western side of the lake, with very big, often Victorian hotels, and George Clooney's villa, of course! But now even the Triangolo, which historically was quite a poor, rural area, mainly known for fishing and farming, has got enormously busy. Trekking, though – you find very few tourists up in the mountains."
Over the course of a week here, you'll follow routes that are suggested according to your family's abilities, sometimes walking along forest trails or old donkey tracks and only occasionally a paved road. Etien has plotted her routes so that they link rifugi: small inns where you can pause for a meal and a revitalising glass of wine.

"A speciality I would recommend is missoltini, made from the fish from the lake, which are herring-like. Fishermen used to dry it outside; now with EU law, they have to do it inside. They press it with a bay leaf to dry it out and cook it with vinegar on the wood stove and eat it with polenta. That's the most typical meal here. In autumn there are lots of mushrooms too."

After lunch you'll continue on, perhaps skirting the edge of ancient forests of chestnut or beech, or perhaps through a mountain meadow, heading back down to a lakeside village to stay the night. And never worrying about directions, because Etien provides detailed route notes along with a booklet containing facts about the area's history, culture and wildlife.
These are gentle, slow-paced walks that little legs will be able to cope with easily. Because you're starting off high up, you get all the views with none of the steep climbs, unless you want them. San Primo, at 1,700m, is the tallest peak in the region and from the summit you can enjoy superb panoramas of the lake. You might start in Brunate, an Art Deco-style village reached by funicular from Como, continue to a welcoming farm stay in Pian del Tivano, and finish in magnificent Bellagio, at the tip of the Triangolo and known as the 'Pearl of Lake Como'.
Walking here, to Etien, has an obvious appeal, and explains why she came and never left. "Italy is so varied in its scenery, but Lake Como is really special. Historically it was a fjord. The lowlands were all sea and the lakes: Como, Garda and Maggiore were fjords. Growing up as a child I went on holiday to Scotland, Wales and Scandinavia and loved their landscapes. And of all the Italian lakes, Como has the most Nordic feeling – a melancholic beauty. It's been popular since Victorian times; it has that heritage."
If you'd like to chat about Family walking or need help finding a holiday to suit you we're very happy to help.

Lake Como family walking holidays are typically self-guided, with a choice of routes offered every day so that you can adapt them to your energy levels. More gentle walks go around the mountains and more challenging walks go over them. You can expect to hike 2-5 hours every day depending on your pace – very manageable, even for families with younger children.

"We've had kids of all ages," agrees Etien. "I let parents decide for themselves whether their kids can manage the walks. We can recommend different routes according to their abilities. We also get older people, and young couples looking for more relaxed and easy-going trekking. We once had a couple, he was blind and she was partially sighted, and they managed fine. We had a mum with five kids – one was in a buggy – and they managed too, just about!"
With your luggage transferred ahead of you, you'll stay in a selection of locally owned bed and breakfasts, family-run hotels, and agriturismos.
"These places started so that farmers could make an additional income from hospitality to travellers, and every region of Italy has its own policies about agritourism. For example, in Tuscany they became almost country resorts. In Lombardy, the rules are strict – if you feed people then at least 30 percent of food on table must come from your own farm. So here it's really small farmers; not luxury, very home-style."
When to go on a family walking holiday in Lake Como
You can walk here from spring through to autumn, and Etien herself favours the spring, especially along the lakeshore. These are tailor made holidays, so you can effectively pick your own travel dates and even in peak summer it will be far less busy in the mountains than elsewhere around Lake Como. It's worth pointing out that at lake-level it can be lovely and warm, while up in the mountains it will be much cooler. At San Primo's summit there will be winter flowers such as hellebores and crocus on display even in late spring.
More Family walking articles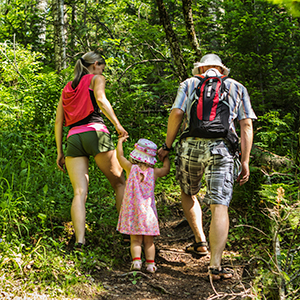 You don't need to be a super fit family to hit the trails on your travels.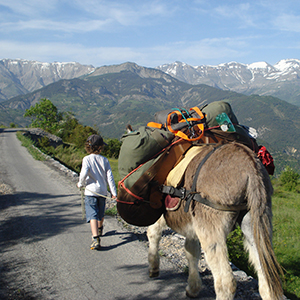 The options are endless for where to go on a family walking holiday.