Not just A to B
Jim Louth, from our long-distance rail holiday partner Undiscovered Destinations:
"View the journey itself as part of your holiday, not simply a way to get from A to B. Going overland is a fantastic way to meet people and see some wonderful scenery you'd miss on a plane."
Easy sea kayaking
Helena Hjort, from our Sweden sea kayaking partner Do the North:
"The Saint Anna Archipelago is great for people who are new to sea kayaking and we'll happily help you get here by train. The water is very calm because waves are broken up by the many islands, there are no tides to worry about, and we use very stable kayaks. If you're a first-timer you'll have no problems."
All aboard the night train?
Lauren Hammond, from our European rail holidays partner Euroventure:
"If you're new to Interrailing then my best piece of advice would be to try a night train. Sometimes people are a bit wary of them, but they really cut the travel time which is useful for shorter trips. Also, don't try to fit in too many cities at the expense of getting to know them. Better to see a few places and have plenty of time in each."
Jim Louth, from our long-distance rail holiday partner Undiscovered Destinations:
"There are endless possibilities for rail travel, with so many routes and stopovers available. My own family once did Disneyland Paris, then on to Morocco. I recommend making a few hotel stopovers and not taking on too much in one go. For example, you can get from London to Istanbul in just three days but you'd be shattered. But not everyone gets on with night trains – you may not always get a good sleep, and of course you also miss a lot of the scenery."
Our top trip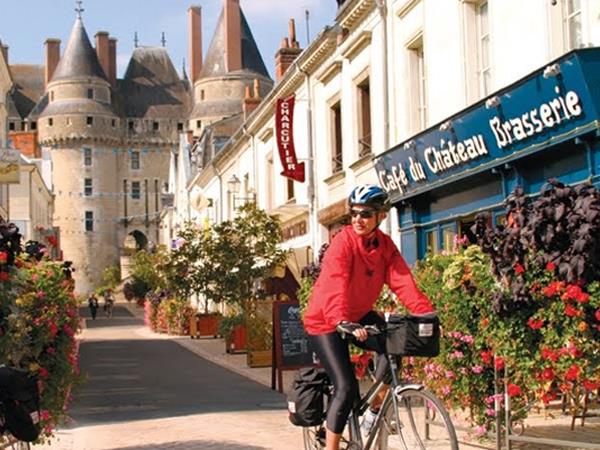 A beautiful hotel when exploring the Loire
From
£550

to

£1465
8 days
return by train
Tailor made:
This trip can be booked April - October
If you'd like to chat about Flight free or need help finding a holiday to suit you we're very happy to help.

Ripple effect
Bronagh Carroll, from our Camino walking partners Magic Hills:
"We encourage people to eat at local cafés on the way as much as possible. As opposed to all-inclusive package holidays in Southern Spain, our trips spread income across 6-7 small communities along the way. There is a clear ripple effect – in some villages Camino income can make up 20 percent of their GDP, and that money then gets spent by residents on their local butchers and bakers, etc."
Listen to the Man
Jim Louth, from our long-distance rail holiday partner Undiscovered Destinations:
"Some travellers, and indeed people working in travel, are naturally wary of the complexities that are sometimes involved with booking a flight free holidays. Unfortunately, there's not one website which gives you all the options, or one uniform booking period – it can vary from 45 days to nine months, which isn't ideal. But it is doable, and I recommend breaking trips up into separate leg, which is what Mark Smith at The Man at Seat 61 does so well. An incredibly useful resource that I wish I'd had the idea for first!"
Making it easy
Lauren Hammond, from our European rail holidays partner Euroventure:
"Our trip planners create a logical and realistic route, incorporating the train as well as the bus and ferry if necessary. We put it together entirely tailor made, wherever you want to go. Especially if you want to go for a longer multi-destination trip, which can be intimidating, it's massively convenient to have someone come in and arrange everything for you."
More Flight free articles