French Guiana travel guide
Despite Emmanuel Macron once referring to French Guiana as an island, it's actually a small country in northeast South America. While its neighbours Guyana and Suriname gained independence from their European rulers in the 20th century, French Guiana remains a département of France, with the Euro as its currency. This has shaped the makeup of its tiny population of 250,000, with two-thirds of adults born elsewhere.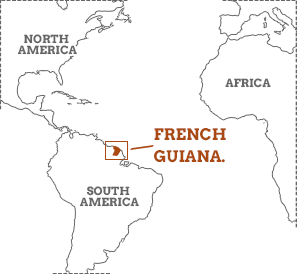 Far from being a little slice of Gallic style in South America, French Guiana is a complex blend of European money, harsh colonial history and humid rainforest.

French Guiana is dominated by rainforest and overshadowed by a history of slavery, racism and penal servitude. Napoleon III founded an island prison colony here in 1852; legendary inmates included Henri Charrière, author of Papillon. In recent decades, money has flooded into the European Space Centre, but the Guyanais argue that more is needed for the country as a whole, with many rural Amerindians and Maroons leading a subsistence lifestyle. Travel in French Guiana is about squaring up to its history and inequalities, with the thrill of venturing to a country rarely on South American itineraries.
Our French Guiana Holidays
French Guiana is…
a weird mix of French wealth and dense, untamed rainforest.
French Guiana isn't…
easy to explore. Only a few places along the coast are readily accessible.
Our top French Guiana Holiday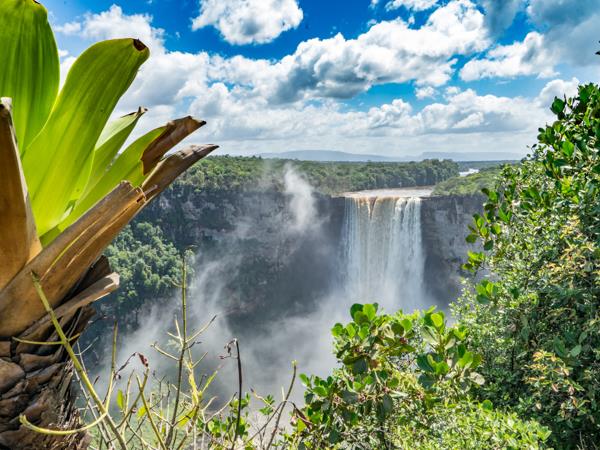 Explore the path less travelled in Guyana, French Guiana and Suriname
From
£4800
16 days
ex flights
Small group travel:
2023: 3 Oct
2024: 8 Oct
If you'd like to chat about French Guiana or need help finding a holiday to suit you we're very happy to help.

French Guiana map & highlights
Consisting mostly of dense, humid jungle, French Guiana is largely untamed and not a country you can explore widely, with travel often frustratingly difficult. Places to visit are concentrated along the coast, and even newly paved roads are potholed and ferns sprout from between kerbs, as the jungle refuses to be pushed back. Tours here always take in neighbouring countries, typically Suriname and Guyana. Canoe shuttles will ferry you over the Maroni River from Suriname and into French Guiana at Saint Laurent, and a paved road takes you the 190km to Kourou. From here, drive along the coast for another 60km and you're in the capital Cayenne.
1. Cayenne
French Guiana's capital boasts a patchwork of architectural styles, from beautiful belle époque to modern buildings that look decidedly shabby. Relax in a bar on the palm fringed Place des Palmistes where there's a monument to the city's own Félix Éboué, an eminent black colonial administrator. Check out the market, too, and follow the footpath up to the old fort remains overlooking Cayenne.
2. Centre Spatial Guyanais
The Guiana Space Centre, operational since 1968, lies just outside Kourou. Chosen as an ideal spaceport location because it's near the equator (from where it takes less energy to get a spacecraft into orbit) and the sea (where debris can fall harmlessly), it's now used by France, the European Space Agency and various commercial companies. There's a fascinating museum and you can tour the centre, too.
3. Iles du Salut
This notorious former penal colony, where many of France's worst criminals were incarcerated, is on an archipelago an hour off Kourou. It's consists of three islands: Ile Royale, Ile St Joseph and Ile du Diable. There's an excellent museum explaining the islands' history and the privations that convicts and guards endured, plus a small church, the remains of a hospital and a cemetery with memorials to prison staff.
4. Kourou
This modern town lies 60km up the coast from the capital, Cayenne. It sits at the mouth of the Kourou River, ringed by hills, with a sandy ocean beach and three lakes. Its proximity to the Guiana Space Centre – the Centre Spatial – means it's home to many of France's top scientists and astrophysicists and today, Kourou generates 15 percent of the country's economic activity.
5. Maroni River
The Maroni River forms the border between French Guiana and Suriname and shuttle canoes transport you over its waters and between countries. As well as crossing it, you can also spend time exploring its beaches where Leatherback turtles nest and learning about the Amerindian and Maroon people that inhabit its shores, including how they make traditional pirogue canoes.
6. St Laurent
Lying opposite Albina in Suriname, on the west bank of the Maroni River, St Laurent was once the receiving station for new inmates bound for the brutal Iles du Salut penal colony. Visit the eerie Camp de la Transportation, where prisoners arrived by boat after a 20-day journey across the Atlantic. One cell has Henri Charrière's name scratched onto its walls, aka Papillon.
More about French Guiana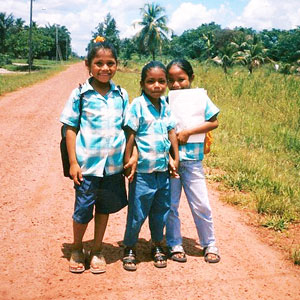 Humid conditions and plenty of rain characterise French Guiana's climate – read on for a detailed analysis of the best time to go. We also have honest advice on what to do and what to avoid when you're here, and some expert tips to help you plan your trip with confidence.