Best time to visit French Guiana

The presence of rainforest implies rain, and French Guiana has lots of it; expect torrential downpours and tropical heat almost year round.

Tropical French Guiana is hot and humid all year round. December and January are wet, with intense but usually short-lived rains, while April to June sees heavy rains and suffocating humidity – St Laurent is drenched with around 300mm per month during this time. There's a short dry season usually in March, but sometimes in February, then the main dry season runs from July until November. By August temperatures are climbing, with September and October the driest, sunniest months, but also the hottest with highs of around 32°C – if you can stand the heat, this is the best time to go to French Guiana.
French Guiana Weather Chart
Things to do in French Guiana
Things to do in French Guiana…
Come prepared for rain. With the exception of dry, sunny September and October, which receive around 40mm of rain each, the rest of the year in French Guiana is wet. Sometimes it rains seven times a day and we're not talking light showers, but short, drenching downpours. Often, these only last 10 minutes, but if you don't have adequate waterproofs, you can be soaked to the skin in two minutes.
Combine with other countries. With much of the country covered by rainforest, most travel within French Guiana concentrates on the coast. Here, you'll find a handful of sights – enough to fill a few days – but this isn't an ideal destination to visit in isolation. Instead, see French Guiana as a fascinating component of a multi country tour that might include neighbouring Suriname and also Guyana, where you can experience rainforest and river lodges, see Kaieteur Falls, meet Amerindian communities and explore the regional capitals, Georgetown and Paramaribo.
Explore French Guiana's colonial history – it continues to inform modern life here. The earliest French settlement was in Cayenne in 1643. The Dutch, British, Brazilians and Portuguese all fought over the country, but France resumed control in the mid 19th century. Penal settlements were established here, with the first convicts arriving in 1852, until closure in 1953.
Things not to do in French Guiana
With little tourism infrastructure, few good roads and a wild interior, French Guiana is not an easy place to travel around independently. It's much easier to book onto an organised small group tour that will explore the entire region, taking in other countries including Guyana, Brazil and Suriname, and arranging all accommodation, transport and guides for you. French Guiana is a department of France, with French laws and currency, so don't forget to bring some Euros. Brush up on your French, too, as it's the national language, with Creole also widely spoken but English scarcely at all. Come on a budget. French Guiana is one of South America's wealthiest and most expensive corners. Household goods are 12 percent more expensive here than in mainland France (many are imported from France), but wages lower for most people [1]. In 2017, local demonstrations highlighted a lack of investment from the mainland in health, education and tackling violent crime. Protesters accused the French government of pumping money into the Centre Spatial and ignoring the people. For the traveller, these inflated prices coupled with French Guiana's remote location means visiting is not a bargain option. Don't take risks with personal safety. Violent crime has been rising in French Guiana since the late 2000s, especially in Cayenne. Your tour leader can advise on the safe parts of town, but as always, keep valuables out of sight and don't wander around alone after dark.
If you'd like to chat about French Guiana or need help finding a holiday to suit you we're very happy to help.

French Guiana travel advice
Chris Parrot, director of specialist supplier Journey Latin America, shares his top travel tips for French Guiana:
Safety tips
"I've been to French Guiana six times over the years and never felt uneasy walking alone around Cayenne, Kourou or St Laurent, even in parts of town which might be considered 'dodgy'. Cayenne has an identifiable 'centre' which is compact and interesting to walk around; Kourou is much more scattered and has seen considerable expansion in the last 20 years."
What to expect
"Infrastructure is basic and you'll have to be prepared for delays and for things not going quite to plan. 19 20ths of the land area is effectively impenetrable to visitors – it's rainforest region called Inini. Effectively there are just two roads. One excellent paved single carriageway runs east-west along the coast, St-Laurent to Cayenne, via the coastal towns of Iracoubo, Sinnamary, Kourou and the Space Station. There's another from Cayenne to the Brazilian border at St Georges straight through swampy jungle. It's paved too, but constantly needs repaving (the €50m bridge over the river to Brazil built 2011 is still only open to pedestrians and cyclists). The Space Centre – hi-tech in the tropics – is an absolute highlight. French Guiana feels like France, but not especially modern. Be aware that ATM machines outside Cayenne are often empty."
Advice on joining a small group
"There's almost no public transport, and most of what little there is is fairly ramshackle, which can make independent travel difficult. Very few local people speak English, and all tourist infrastructure is geared to Francophones. On a group tour like ours you benefit from a tour leader (our current one speaks Portuguese, Dutch, Spanish) and we charter decent buses. It's definitely worth going – it's a different world."
More French Guiana articles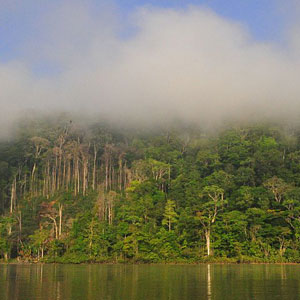 Not on any established tourist trail, French Guiana is a complex and fascinating country.