Abundant wildlife may not be a unique attribute for an African country, but how about the opportunity to encounter gorillas and chimpanzees in the same stretch of forest, or elephants and hippos strolling along a beach? How about witnessing leatherback turtles nesting on that same stretch of sand, or humpback whales breaching offshore? And what about rare manatees, bobbing around in networks of lagoons? This is certainly no Big-Five-from-a-jeep-type encounter.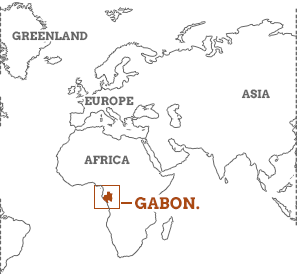 Gabon woke up to its own astonishing natural wealth in 2002, when it created all 13 of its national parks. The rest of the world continues to slumber, however, in peaceful oblivion.

Gabon confounds expectations in other ways, too. It is peaceful and conflict free, despite its 40 ethnic groups, many of whom still lead traditional lifestyles: subsistence farming, fishing and hunting. Oil has made Gabon rich, as can be seen in its contemporary coastal capital, Libreville, with its high end restaurants and chic seafront. Tours of Gabon will immerse you in both its nature and its fascinating culture, both wonderfully preserved and largely unknown to the outside world. Find out more in our Gabon travel guide.
Most tours of Gabon begin in the laid-back capital, Libreville; although if combining with a tour of Cameroon, you will cross the border from the north and travel down. Although Gabon measures little more than 600km from north to south, and east to west, it is largely covered in dense forest with plenty of mountains and wetlands, so it's not as easy to cross it as you might think. It doesn't help that it has just 800km of paved roads, plus brutal rains and flooding. As a result, holidays lasting seven to 10 days tend not to stray too far inland, to keep the lengthy, uncomfortable journeys to a minimum. You don't need to travel too far, though, to find yourself out in what has been described as 'Africa's last Eden'; ancient tribes, lowland gorillas and even 'surfing' hippos can be encountered within just a few hours of the capital.
1. Baka Pygmy village
Voyage up the Ivindo River, deep into the rainforest, to reach a Baka village. The Baka are a pygmy tribe indigenous to the jungles of Gabon and southern Cameroon, and one of the most ancient communities on earth. Their lifestyles are still largely traditional, and you can spend time with them here, as they demonstrate hunting techniques, gather food, and perform traditional music and dances.
2. Lambaréné
The Ogooué River flows through the town of Lambaréné, slicing it into three districts and providing habitat for a number of endemic bird species. Lambaréné is a cultural hub, with residents of Fang, Eshira and Bapounou origin, amongst others. It is also home to the Albert Schweitzer Hospital, founded here in 1913 and now a centre for malaria research. Schweitzer was awarded a Nobel Peace Prize for his work.
3. Libreville
Around a third of Gabon's population lives in its pleasant, peaceful capital, Libreville. This modern city is a demonstration of Gabon's oil money, with tall, almost futuristic buildings, fancy, gated villas and a sculpture lined stretch of beach. A handful of older, colonial mansions remain, but Libreville's soul is to be found in its busy markets, piled high with exotic fruits and colourful fabrics.
4. Loango National Park
This coastal national park is one of the most biodiverse ecosystems in Central Africa, with lagoons, mangroves, savannah and forest. It is famous for its 'surfing' hippos and, astonishingly, its gorillas, elephants, leopards, buffalo and more can occasionally be seen wandering across the white sand beaches, too. Head into the forest with an experienced guide to track habituated lowland gorillas and chimpanzees.
5. Mitshogo Village
The Mitshogo people of Gabon's forested interior are largely subsistence farmers, who practice traditional ancestor worship and animism. Visiting a Mitshogo village gives you the chance to experience a unique initiation ceremony of the Bwiti belief system, during which the young males are spiritually reborn. The initiates ingest bark to conjure hallucinogenic visions, while musicians play harps and drums.
6. Oguemoue Lake
Part of a large network of lakes that together comprise a Ramsar wetland site, Oguemoue Lake shelters an extraordinary variety of wildlife, including rare bird colonies, hippos and manatees. The surrounding forests are home to forest elephants and buffalo, chimps and lowland gorillas. You'll be hosted by a local community, accompanied by local guides and can visit nearby villages to learn about their traditions.
Gabon is…
one of the most forested countries in the world, with almost 80 percent of its land covered in jungle.
Gabon isn't…
English speaking. French is the official language here and it is widely spoken alongside local languages.
If you'd like to chat about Gabon or need help finding a holiday to suit you we're very happy to help.