Great Barrier Reef travel guide
---
2 MINUTE SUMMARY
You are never too old to explore the Great Barrier Reef. As proven by the equally great David Attenborough, who celebrated his 90th year by making one of the finest naturalist documentary series of his lifetime for the BBC: The Great Barrier Reef. Because, at over 2,000km long, the Great Barrier Reef isn't just about coral. It is part of the marine magnificence that is the Great Barrier Reef Marine Park, which actually covers 344,400km2 – a great big blue, packed with approximately 3,000 coral reefs, 600 continental islands, 300 coral cays and 150 inshore mangrove islands.
This Great Barrier Reef travel guide aims to not only show off its diving delights and snorkelling secrets, but also some of the islands to be explored, many of which were once joined to the mainland. Thereby placing pretty, elevated, rainforested kingdoms out in the ocean, as if the most stunning sapphire in the world needed any more jewels on top.
The Great Barrier Reef is...
a world unto its own.
There is nothing like it. At 2,300km long, it can be seen from outer space.
The Great Barrier Reef isn't...
just a big bit of coral.
It is a massive marine park, bigger than the UK, Switzerland and Holland combined.

Hello.
If you'd like to chat about Great Barrier Reef or need help finding a holiday to suit you we're very happy to help.
Rosy & team.
01273 823 700
Great Barrier Reef map & highlights
---
MAKE THE MOST OF YOUR TIME
The Great Barrier Reef is a bit like an Escher painting, with layers and layers that seem to go on forever. Indeed, it has so many, the GBR is not only protected by the umbrella Marine Authority but by lots of other national parks too. Such as the Family Islands NP, with Dunk Island as the daddy, or Fitzroy NP with rainforest walking trails, and Lizard Island NP with wildlife ranging from 15 species of lizard to stunning birdlife. Take a small boat cruise around the eclectic reefs from the larger ones such as Thetford, to the ribbon reefs in the north. Because no matter where you go, the GBR is just GR8.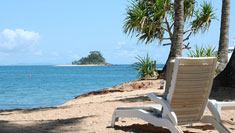 Dunk Island
The Aborigine name for Dunk is 'Coonanglegah', meaning island of peace and plenty. Part of Family Islands NP this is the daddy and largest, just 4km off Mission Beach. Once part of the mainland, it still maintains rainforest habitat for birds and butterflies, reptiles and reef regulars. Explore the land loving wildlife on several hiking routes, including a four-hour rainforest circuit. Or immerse yourself in its sapphire waters.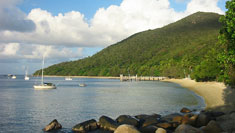 Fitzroy Island National Park
Just 45 minutes from Cairns, great for both snorkelling and bush or rainforest walks, one taking you to the summit which, at 269m, gives stunning views over the reef and islands. Keep an eye out for reptiles, including the yellow-spotted monitor at over a metre long. You won't miss the birdlife, however, with emerald doves, cockatoos, orange-footed scrub fowls and kingfishers.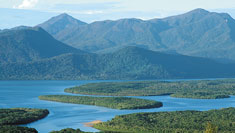 Hinchinbrook Channel & Island
This 50km-long channel separating mainland and island is bursting with biodiversity. Between the the towering, tropical cliffs and the mangrove filled, navigable waterways where the Herbert River flows into the sea, wildlife thrives including crocs, dolphins, turtles and dugongs. Check out Pelorus Island to the south, for tranquil beach time.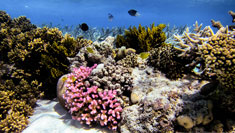 Lizard Island National Park
Well known for its elevated lookout point, where Captain Cook purveyed the surrounding islands and reefs in order to make safe passage. You can still hike up to this historic point, and we also recommend guided walks with a naturalist, to help identify green frogs croaking at dusk, kingfishers or osprey, green sea turtles or the coral reef's annual spawning. You might not need a guide to spot the whales though.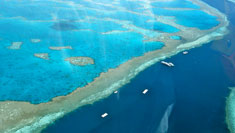 Ribbon reefs
Just when you think the prettiest package ever couldn't get more tantalising, it is decorated with elegant strips of ribbon. There are in fact 10 thin ribbon reefs, all coming up to about 5m below the surface, making for easy but exquisite snorkelling and diving. As well as fish such as barracuda, giant cod and whitetip reef sharks, each ribbon seems to have a story, with names like Steve's Bommie and Temple of Doom.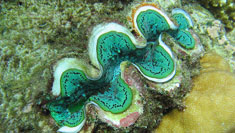 Thetford Reef
A 2km reef that is popular with divers and snorkellers because of its prolific isolated coral bommies and great diving walls. Creating varied marine-scapes that boast giant clams, butterfly fish, damsels and angelfish, as well as colossal coral constructions including staghorn and plate coral. And when your fingers get wrinkly, head to the sunny, sandy and totally sublime Sudbury Cay nearby to dry out. And bliss out.