Best time to visit the Great Barrier Reef

In July there were reams of minke whales migrating through the ribbon reefs, making it the most perfectly wrapped package.

There are two seasons here: wet and dry, with rains falling Dec-May, humidity at a high, and river run off sometimes clouding the water. However, boat trips take you out to where the waters are clear, and rain usually only falls early mornings and at night. Most boat operators start their season in June, the best time to go to the Great Barrier Reef, when temps and humidity are less hard hitting and waters are calm. Temps around the GBR don't usually dip below 26°C. For the best time to see whales, minkes start appearing in May in the north, with humpbacks joining the carnival July-Sep.
The Great Barrier Reef Weather Chart
Things to do on & around the
Great Barrier Reef
Things to do on Great Barrier Reef…
The Great Barrier Reef is a place to go with the flow, and there's no better way to start than on a small ship cruise. Luckily, these waters are not accessible to the giant floating hotels that take over other precious seascapes around the world. On a small ship cruise, sleeping around 40 people on boats 35m long, you float around the channels and cayes, islands and hidden idylls day and night, allowing you to fully imbibe the immensity of it all. Travelling with skippers who take their responsibility as stewards of the ocean very seriously, they will navigate you to precious spots such as Hinchinbrook Channel, Pelorus Island or the Ribbon Reefs. Onboard, naturalist guides will share their knowledge, hiking through rainforest on Dunk or Lizard Islands, or sharing their infectious passion for reef life over aperitifs as the sun sets. Binoculars at the ready for whales, turtles, dolphins or porpoises.
Snorkelling or scuba diving are, of course, a must and responsible holidays on the reef come with responsible dive or snorkel instructors. For those don't enjoy being right in the water, glass bottom boats definitely do the trick. Opt for one with a marine biologist on board to fill you in on the panoply of prettiness, so that you can tell your spangled emperor from your giant trevally or hump-headed Maori wrasse. You are in reef land now; it speaks a whole other language.
Things not to do on the Great Barrier Reef…
Take it upon yourself to feed the fish. It is permitted by the Marine Park Authority, but must only be carried out by tourism operators with a licence to do so, as there are strict rules. Such as not feeding them around people who are in the water, only using raw fish or approved fish pellets, and never hand-feeding fish.
Ignore jellyfish warnings. They are serious about their stinging in this part of the world, and some can even be fatal. Holiday companies will all be au fait with how to protect against them, the norm being 'stinger' suits to cover the body when diving or snorkelling. The main stinger season is November-May, when they breed close to the shore, and spread out into the seas. Beaches have zones enclosed by stinger nets, and vinegar is everywhere to be found – an emergency treatment for stings. But always get medical support immediately if you are stung.
Take coral for granted. Sticking to the coral code is vital with over a quarter of coral reefs worldwide having been damaged irreparably. Most important is not to touch the reef or to collect any coral. And don't even think about buying souvenirs made of it either. Always use a holiday company with a responsible tourism policy, ask to see their waste policy, and watch what you're putting into the water, such as the notorious microbeads and toxin laden suncreams. Always seek out an eco option.
Our top trip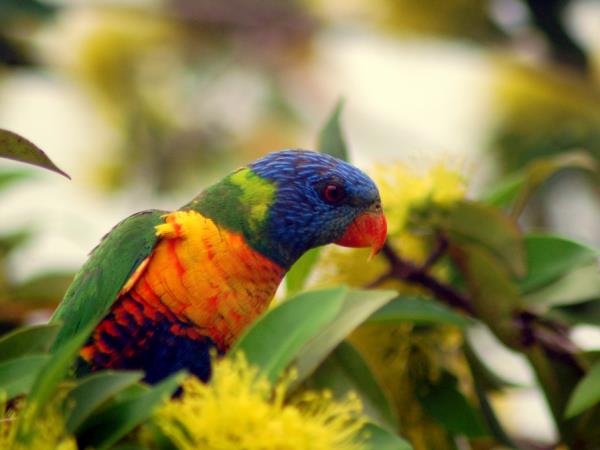 Queensland Reefs & Rainforest Wildlife watching holiday
From
£5995
17 days
ex flights
Tailor made:
This trip can be tailor made throughout the year to suit your requirements
If you'd like to chat about Great Barrier Reef or need help finding a holiday to suit you we're very happy to help.

Great Barrier Reef travel advice
Itinerary tips
Powell Ettinger, Director of our leading Great Barrier Reef holiday supplier, The Small Cruise Collection:

"The Great Barrier Reef is huge, and it isn't just an underwater phenomenon. There are many fantastic islands to visit, with glorious beaches, so don't think it is just an underwater realm. Even for those that don't swim much, glass bottom boats can show you a lot of the best of the underwater reefs. Most people will only visit once, so if you have the chance to stay a week you should. It is possible to take in a lot in thee to four days on and beneath the surface."
"When visiting Cairns, try to make time to pop into the Botanic Gardens (free entry). The flora is spectacular and the fauna even better – 170 species of birds, spectacular arrays of butterflies and wallabies are often seen."
Advice on when to go and packing
Advice on when to go
"You can visit all year round, though the rainy season (January-March) tends to be hotter and with lower visibility due to run off from the rivers. The calmest seas tend to be June to November. Humpback whales migrate from Antarctica spend winter around the Great Barrier Reef from May to September where they give birth."
Packing tips
"Always pack a wide brimmed hat, sandals, swimwear & sun lotion."
Responsible tourism tips
"Never touch coral, whether with your hands, flippers or anything else, and be careful if walking on a reef. And definitely don't buy any souvenirs of coral or any other flora and fauna products."
More Great Barrier Reef articles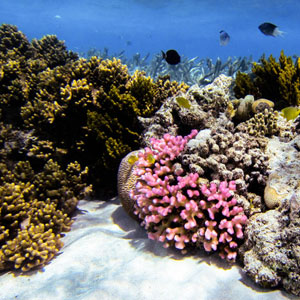 Welcome to the unique kingdom of the reef, and all its national parks and desert islands.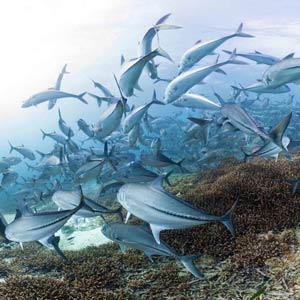 This vast living structure, the largest in the world, is starting to die.