Who didn't get confused at school about Greenland not being green but actually mostly white, given that 80 per cent of it is made up of ice sheet? In fact, there is quite a lot of confusion around Greenland. Do people actually live there? Yes they do, about 55,000 Greenlanders live on an island the size of Mexico. Is it an actual country? Well, it has autonomy, but in the hands of the Danes when push comes to shove.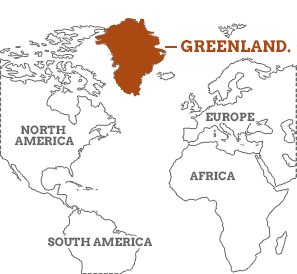 One of the most wonderful things about hiking in Greenland was that I felt like a total explorer, but didn't need Alpine skills or athletic prowess. Just a love of walking in wilderness

This Greenland travel guide aims not only to unravel the confusion but also show that with superb responsible tourism operators ready to take you hiking along ice fjords or mountainous tundra terrain, sailing across the biggest national park in the world, staying in ancient Inuit communities, sea kayaking around glaciers or snowshoeing to see the Northern Lights, it is also most gorgeously green.
Greenland is...
the world's largest island, with the world's largest national park and world's largest living creatures. Big, then.
Greenland isn't...
all about water and ice. There are superb hiking, snowshoeing and wildlife expeditions to be had, with feet firmly on terra firma.
Our top Greenland Holiday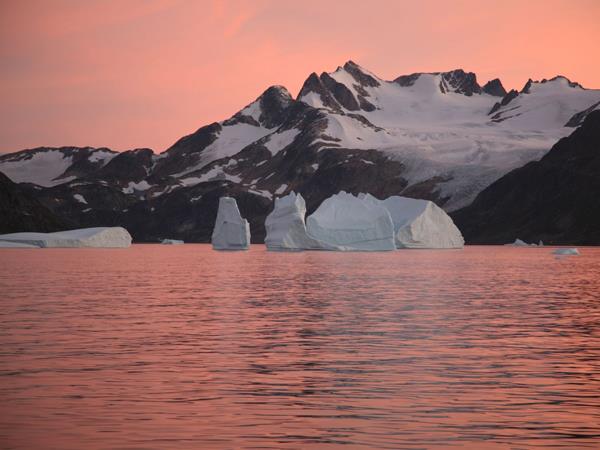 The world's longest fjord & spectacular Aurora Borealis
From
€4250

to

€13005
9 days
ex flights
Small group travel:
2024: 31 Aug
If you'd like to chat about Greenland or need help finding a holiday to suit you we're very happy to help.

Greenland map & highlights
If any place merits the 're' prefix, it's Greenland. The all encompassing Arctic air is rejuvenating. The hiking terrain that proffers prolific views over never ending glaciers or icy peaks revives not only the explorer within, but also our faith in nature. Both the midnight sun and the Northern Lights are re-energising. The unspoiled-by-tourism way of life and genuine welcome within the Inuit communities is wonderfully refreshing. And when a blue whale emerges from turquoise waters, and we have that inexplicable joy of nature move us to tears, well that is quite simply when life is for rejoicing.
1. Denmark Strait
Also known as Greenland Strait depending on your perspective, the only perspective you want is that of breaching, lobtailing or spouting. Because this powerful, deep channel, that has a huge influence on the world's movement of water, is home to blue whales. Although blues are rare, Greenland is home to 15 species of whale in summer. You may also spot polar bears, seals, walrus and, with luck, narwhal.
Ikaasaalap Llinnera hiking trail
2. Ikaasaalap Llinnera hiking trail
Aka the Iceberg Trail, this is one of the world's wildest (although not too challenging) treks you can hope for, following an old dog sled route along iceberg dotted coast, over rocky cols and ridges to viewpoints such as the one between Sofia's Fjeld and Polhelm's Fjeld. Cross tundra terrain to wild camp in dramatic locations, such as the Amitsivartiva Fjord . Where, all around, Arctic flowers burst into bloom.
3. Ilulissat
Located 350km north of the Arctic Circle, Ilulissat is Greenland's third largest town. An old harbour town on Disko Bay, its name translates simply as 'icebergs'. So, you get the picture. As does UNESCO, which has given its ice fjord and vast Jakobshavn Glacier World Heritage Status. In fact, it deserves out of this world status really. It's also home to the northernmost four star hotel. Cool on all levels then.
4. The East
Ittoqqortoormiit

This is the wild, mountainous east and the island's most remote settlement, home to Inuit who came from Ammassalik Island in 1925. With a population of around 500 living in colourful, wooden houses overlooking the water (or ice for nine months), it's a great base for sailing around the icy inlets of this, the world's largest fjord system, and hiking in the foothills of Liverpool Land, popular with serious Arctic climbers.
5. Scoresby sound
Aka Scoresbysund, the longest fjord in the world, when you sail here you feel as if it goes on forever. Watch icebergs calving from mother glaciers float past in this stupendously serene seascape. Visit former Inuit settlement Denmark Island where early science explorers based themselves in winter. Or Bear Island for top hiking. All part of Northeast Greenland National Park, a fjord fest if ever there was one.
6. Sermermiut
An ancient Inuit settlement, now empty as the last resident moved to Ilulissat in 1850. Its magnificent icebergs are part of the Ilulissat World Heritage site now, but this location is a fine one to take in the white greats as they float down the ice fjord. With archaeological remains of communities dating back as far as 2400 BC, this is a thought provoking, barren, if beautiful place to take in the world.