Icebergs in Disko Bay, Greenland
Ilulissat is a picturesque old harbour town on the rugged western coast of Greenland, the world's largest island. In Greenlandic its name translates simply to 'icebergs', and if you had somehow just arrived here, 350km north of the Arctic Circle, entirely by chance, then it wouldn't take you more than a few moments to understand why.
This busy fishing port dotted with colourful houses and where the residents are almost outnumbered by sled dogs sits on Disko Bay, at the western end of the 40km-long Ilulissat Icefjord, a UNESCO World Heritage Site. At the fjord's eastern end is the gigantic Jakobshan glacier, which is considered one of the most productive in the Northern Hemisphere, and calves off over 35 billion tons of ice ever year. It's thought that it was a Jakobshan iceberg that sank the Titanic. If you're extraordinarily lucky, you may even get to witness a
calving display
during your stay.
A dream for photographers
The icebergs are often so immense – some of them up to a kilometre tall – that they can't actually float down the fjord, and will remain in the shallower areas for years on end. Consequently Disko Bay can at times resemble a wondrous frozen city: white arches that gleam in the sun, thick blue walls of ice reaching up like water-bound skyscrapers – and the fact that you can be out on the terrace of your hotel having your morning coffee with this scene in front of you is simply mind-blowing.
Since Disko Bay is one of the most popular destinations in Greenland for a holiday, many trips are based in Ilulissat. From here you can explore the bay by kayak or in a traditional wooden sailing boat, on a whale-watching tour or even on a scenic small plane flight. Itineraries naturally place significant emphasis on photography, and there are many superb viewpoints around the town and the surrounding tundra. You can visit offshore islands such as Disko Island, where the fishermen bring ashore crates of halibut, crab and seal; the ancient settlement of Sermermiut ('place of the glacier people'), or the valley floor, sprinkled with beautiful Arctic flowers in spring. Small ship cruises aboard expedition vessels also operate, enabling you to get a look at the wider region. These ships are comfortable and well-equipped, and you'll have a cabin with a porthole to take in the views. Cruises are often bookended by time in Iceland to explore its rocky volcanic landscape.
"It was all memorable but if I had to pick one thing it would be the boat ride to the Icebergs. I'm not too keen on boats but I was persuaded to go and was stunned by the majesty of the area... words cannot describe the sheer beauty of the place." – Janet Burdon in a review of her West Greenland holiday

"Probably wise to know how to use your camera before you arrive in Greenland, where the weather conditions make it less favourable to learn the basics of photography." – Natasha Moody in a review of her Greenland winter tour
Our top trip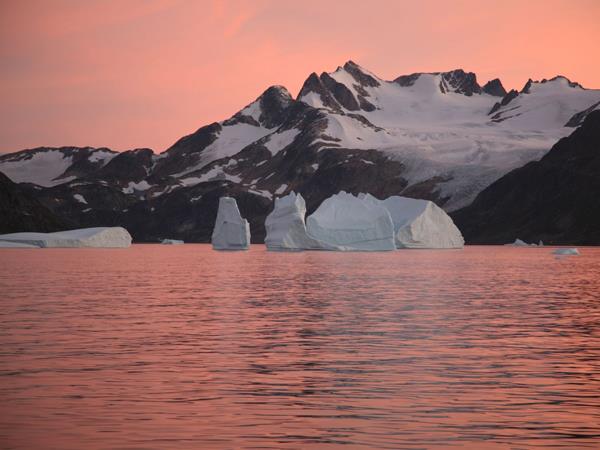 The world's longest fjord & spectacular Aurora Borealis
From
€4250

to

€13005
9 days
ex flights
Small group travel:
2024: 31 Aug
If you'd like to chat about Greenland or need help finding a holiday to suit you we're very happy to help.

Best time to visit Disko Bay & Ilulissat
Ilulissat is just a three-hour flight from Reykjavik. Most people choose to visit in the Arctic summer between June and September when the weather is warmer and the days are longer. The autumnal light from September is magnificent, bringing a kaleidoscopic effect to the tundra which is framed against the pastel pinks and blues of the sky. The sun sets in late November, heralding steep drops in temperature, and doesn't rise again until the middle of January.
If you wrap up against the cold, then late February to mid-March may be the best time to visit Ilulissat and Disko Bay. The low light on the winter landscapes makes for dramatic photography, while the dark Arctic skies are perfect for admiring the Northern Lights.