Guatemala map & highlights
---
make the most of your time
It's a fascinating destination in itself, but Guatemala's convenient location, sandwiched between Mexico, Belize and Honduras, means it is most commonly explored on Central America overland trips. This is also more convenient for flights, which can take you direct to Cancún. Tours arriving from Belize will cross the border at San Ignacio and head for Tikal, and those from Copán in Honduras will head to Antigua. Expect some long travel days due to the road conditions and moving between high and lowlands, though fortunately most towns and cities can easily be explored on foot. You can also travel by boat (on the lakes or along Río Dulce to Livingstone) as well as by canoe, to mix things up a bit.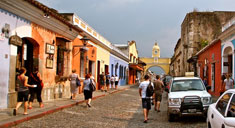 Antigua
Possibly the most beautiful spot in all of Guatemala, the colonial capital of Antigua was almost destroyed during a volcanic eruption in 1773. Happily, its multicoloured, tile-roofed buildings have been beautifully restored, and this UNESCO site is a great place to lose yourself for a couple of days as you explore markets, meet Mayan women in traditional dress, visit ornate churches and enjoy the fresh, highland air.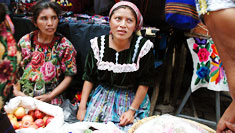 Chichicastenango
"Chichi" is a quintessential Mayan village, complete with red-tiled roofs and cobbled streets against a mountain backdrop. Its history as a trading centre persists today through its vibrant textile and food markets each Thursday and Sunday, attracting Mayans of all ethnicities as well as tourists. Don't miss the 400-year old church of Santo Tomás, where shamans perform a fusion of indigenous and catholic rituals.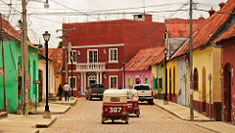 Flores & Lake Petén Itzá
On an island in the middle of Lake Petén Itzá, Flores is reached by a causeway. It's a convenient base for visiting Tikal – but also worth exploring in itself. This tiny town has a glorious plaza, Spanish church and well preserved colonial buildings, and you can walk around the whole island in around 15 minutes. Canoe or go for a swim in the warm waters, or seek out characteristic local woodcarvings.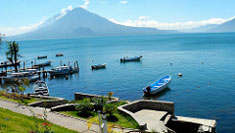 Lake Atitlán
This stunningly beautiful lake sits at the foot of conical volcanoes, and is ringed with indigenous villages where life has changed little over the centuries. Explore the thriving market town of Panajachel, swim or kayak in the lake hike to San Pedro Volcano or cruise across the waters to San Pedro Laguna. Visit women's textile cooperatives, Mayan painters' studios and learn how mats are woven from reeds.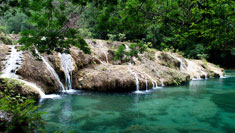 Lanquín
Overlooked on many standard Guatemala itineraries, the coffee growing region of Lanquín, located in a deep valley, offers plenty of treats for those who venture out here. Tube or whitewater raft on the Lanquín River, head to the caves (grutas) to see bats emerge at dusk, or make the short drive to Semuc Champey – a series of tiered, limestone pools, deep in the jungle, in brilliant shades of turquoise. Pack your cossie!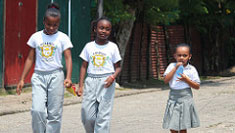 Livingston
A world away from the rest of Guatemala, little Livingston can only be reached by boat. It is home to the Garifuna people – the descendants of African slaves and indigenous Arawaks from the Caribbean islands. Amid the stupor-inducing heat you can explore this unique culture through the African-style punta music and dance, seafood coconut stews called tapao, and the unusual sounds of the creole language.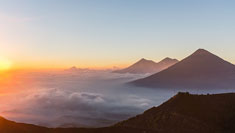 Pacaya Volcano
The 90 minute hike up this active volcano is suitably unpredictable. Paths through the subtropical forests that line Pacaya's slopes are buried beneath ash, and summiting may not always be possible if volcanic activity is heightened. Once you emerge above the treeline, there are stunning views as a reward, even as far as Guatamala City on a clear day. The vast lava field is surreal – especially if glowing molten rock is visible.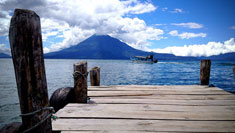 Panajachel
One of the busier spots on the shores of Lake Atitlán, "Pana" is the region's tourist hub – attracting both foreigners and holidaying Guatemalans. While parts of the town can feel somewhat fake and touristy, it is possible to swim in or kayak on the lake, take boats (lanchas) across it to surrounding villages, rent a bicycle, take a coffee tour or hike up to San Pedro volcano, making it worth spending a day here.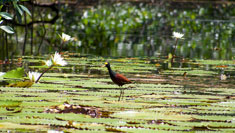 Río Dulce
Once something of a frontier town between the more developed regions of Guatemala and the jungle-clad province of El Petén, today Río Dulce is the leaping off point for boat journeys down the eponymous river to Livingston. Explore the rainforests that surrounds this Caribbean town – including a surreal hot springs waterfall, head out in search of manatees, or explore the impressive San Felipe fort.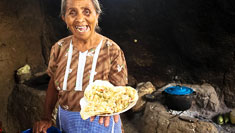 San Jorge La Laguna
Few experiences will immerse you as fully in the local culture as a homestay. San Jorge La Laguna is a traditional Mayan village overlooking Lake Atitlán, whose residents have opened their doors to tourists without the village losing its quiet, indigenous character. Share a meal with your host family, discover how to make traditional tortillas, and learn a few words of Spanish – or Kaqchiquel Mayan.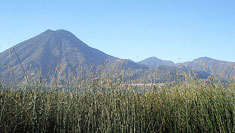 San Marcos mountains
There are many treats in store for those who hike these mountains. The proximity to Atitlán promises shimmering lake views, while the tiny Mayan villages dotted around the slopes offer a glimpse into local life. Camp overnight here if you want to summit Pico San Marcos (2,800m), trekking along a dramatic ridge past a sacred Mayan cave, used for rituals, with panoramic views of the volcanoes once at the peak.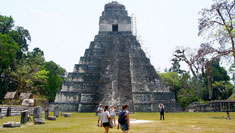 Tikal National Park
Tikal is the largest excavated site in the Americas. The thick Guatemalan jungle has tried to reclaim this ancient Mayan city – but climbing to the top of one of the five enormous granite temples takes you above the canopy for a toucan's-eye view of the ruins, which once covered 16 sq km. Expert guides reveal the fascinating history – as well as helping you spot coatis, macaws and howler monkeys.


Sample travel times
---
San Ignacio (Belize) to Tikal National Park: 4hrs by private minibus
Flores – Rio Dulce: 5hrs by public bus
Río Dulce – Livingston: 1-2.5hrs by boat
Río Dulce – Antigua: 8.5hrs by private minibus
Antigua – Chichicastenango: 2.5hrs by minibus
Chichicastenango – San Jorge La Laguna: 1.5hrs by minibus
Antigua – Pacaya Volcano: 1.5hrs by road
Sample Guatemala itineraries
---
Mexico, Belize & Guatemala (17 days):
MEXICO: Playa del Carmen ► Tulum ► BELIZE: Caye Caulker ► San Ignacio ► GUATEMALA: Tikal ► Flores ► Río Dulce ► Livingston ► Lake Atitlán ► Chcicastenango ► San Jorge La Laguna ► Panajachel ► Antigua

Guatemala & Belize (14 days):
GUATEMALA: Antigua ► Lake Atitlán ► Flores ► Tikal ► BELIZE: Caracol ruins ► ATM caves ► Ambergris Caye