Best time to go to Honduras

Hot, humid and hurricane prone; be sure to pack light layers and waterproofs for your Honduran holiday.

The best time to visit Honduras is in the dry season from December to April. Remember – this is a tropical country, so heavy downpours can still occur at any time. Temperatures throughout the year hover between around 27 and 32°C, though this can feel pretty uncomfortable due to the high humidity, particularly during the wetter summer months. The highlands will, of course, be cooler, and the coasts can offer refreshing breezes. Honduras sits squarely on the Caribbean hurricane belt, so keep up with weather updates if visiting between soggy August and October.
Honduras is an ideal place to escape the northern hemisphere winter, as December, January and February are the driest months here. Humidity is a little lower at this time, too, making the heat more bearable. These are peak months to travel to Honduras, so accommodation will book up fast, and prices may be higher. Book as far in advance as you can if travelling at this time. Late November can be a good time to travel for slightly drier weather, but before the arrival of peak crowds and prices. The Caribbean coast in particular can still be pretty soggy though. The Easter Holy Week, Semana Santa, falls in March or April. This is a colourful celebration across the country, and many Hondurans will be holidaying at this time, particularly on the Bay Islands. If you're heading to Roatán Island, April is also the time to participate in the Punta Gorda Festival, held on 12th. This celebrates the arrival on the island of the Garifuna people, of African and indigenous Carib origin. Expect plenty of energetic drumming and dancing. May to September are the best months to see whale sharks off the Caribbean coast. May and June are the wettest months across the country, although this tends to fall in short, monsoon-style bursts each afternoon. While hurricanes can occur as early as June or July, late August, September and early October are the peak of the hurricane season. A somewhat weirder weather phenomenon is said to occur each May or June in the village of Yoro – where it allegedly rains fish. While scientific evidence is sketchy, local residents claim it is an act of God, who provides fish to the impoverished residents of this landlocked village. The highlands, including Tegucigalpa, are pleasantly cool all year round. You'll need warmer layers at night here.
Our top Honduras activities
What to do in Honduras…
It's difficult to imagine how Spanish sailor Diego García de Palacio must have felt when he stumbled across Copán in 1570. Excavation work didn't begin until the 1940s, but even a cursory glimpse at the remains of this Mayan city would be enough to know he was onto something quite incredible indeed. The site was abandoned around 1200, following over 2,000 years of occupation, and today we know plenty about its history and inhabitants thanks to the detailed glyphs which cover the ruins. There are some 1,800 symbols carved into the staircase alone, making this the longest Mayan inscription in the world.
Central America is a cluster of colourful nations, with shared histories and languages but many important differences, too. We recommend taking advantage of their compact size, and signing up to a small group overland tour, which will zigzag between Caribbean and Pacific coasts, via colonial cities, gently puffing volcanoes, bird filled cloud forest and Maya and Aztec ruins.
Bring your cossie. And your mask, and fins, and waterproof camera… Honduras's Bay Islands offer marine adventures aplenty, being perched beside the world's second longest coral reef, and lapped by warm, clear Caribbean waters. You can see plenty of vivid marine life with just a mask and snorkel, but as this is one of the cheapest destinations for scuba diving, including PADI certifications, why not go a bit deeper?
What not to do in Honduras…
While thousands of tourists visit Copán and Roatán each year without incident, Honduras is unstable and demonstrations can kick off at any time. Its cities, most notably San Pedro Sula, have the highest murder rates in the world. Organised tours won't visit the most dangerous areas, and your tour leader will keep abreast of planned demonstrations, but please take warnings seriously and don't wander around cities alone. The risks are very real. Overpack. Most people visit Honduras as part of longer overland trips, so expect to be moving around a lot. Maneuvering a heavy backpack or oversized suitcase is not going to be fun, especially in 30 degree heat. Internal flights to Roatán may also have luggage weight restrictions, so check with your holiday company before departure. Best pack light and do laundry en route. Honduras offers phenomenal wildlife encounters, from seeing macaws flit around the ruins of Copán, to swimming with dolphins off the Bay Islands. However, animal welfare is not always guaranteed, especially if you book local excursions separately from your tour company. It goes without saying, but don't feed or handle wildlife, and report any guides who encourage this. If swimming with dolphins, ask questions about local regulations and guidelines, whether you'll be accompanied by marine experts, and how the boat drivers ensure the dolphins are not negatively impacted. The most enjoyable trips – for you and the wildlife – are always the ones in which the animals don't feel threatened, and are allowed to behave naturally.
Our top Honduras Holiday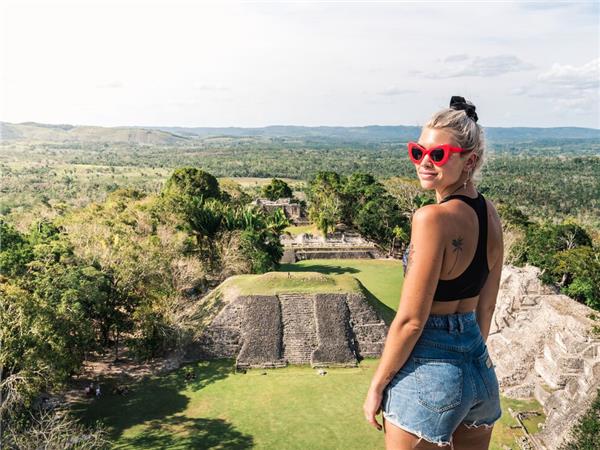 Epic Central American journey from Mexico to Costa Rica.
From £2475 to £2940 33 days ex flights
Small group travel:
2023: 20 May, 3 Jun, 24 Jun, 8 Jul, 11 Jul, 22 Jul, 5 Aug, 26 Aug, 23 Sep, 30 Sep, 17 Oct, 21 Oct, 28 Oct, 4 Nov, 11 Nov, 14 Nov, 18 Nov, 25 Nov, 28 Nov, 2 Dec, 5 Dec, 12 Dec, 30 Dec
2024: 6 Jan, 13 Jan, 20 Jan, 27 Jan, 3 Feb, 6 Feb, 10 Feb, 24 Feb, 27 Feb, 2 Mar, 9 Mar, 16 Mar, 23 Mar, 30 Mar, 6 Apr, 13 Apr, 20 Apr, 27 Apr, 4 May, 18 May, 25 May, 1 Jun, 15 Jun, 22 Jun, 29 Jun, 6 Jul, 13 Jul, 20 Jul, 3 Aug, 24 Aug, 21 Sep ...
If you'd like to chat about Honduras or need help finding a holiday to suit you we're very happy to help.

Honduran highlights
Carmel Hendry, from our leading Central America holidays supplier, Explore, shares her top advice for travelling in Honduras:

"Copán is one of the best preserved Mayan Sites, with an amazing collection of carvings and temples. I really loved it compared with other sites in Central America, because it's just so quiet. There were about three other people there when I went, so you really feel like you're exploring and discovering something for the first time. Don't miss getting into the countryside and doing some hiking too, there are great volcano and jungle hikes that really should be done!"
Why choose a small group tour?
"Organised tours are great ways to travel to multiple countries without worrying about changing money, organising accommodation in multiple countries and making sure that the timings work etc. Border crossings can be a bit of a nightmare in many Central American countries, sometimes quite intimidating and always long and laborious. Again, this is much easier if you're travelling with a tour leader so that you don't have to think about it!"
How safe is it?
"In general, I'd avoid the big cities in Honduras, particularly the capital Tegucigalpa and San Pedro Sula, and especially at night. If you want to visit Tegu, I'd have a local guide to do a city tour. In general Explore (and me, personally) are quite adventurous and like to get off the beaten track, but in Honduras I'd only really recommend this on an organised tour. The beauty of Honduras is that it is still (with the exception of the Bay Islands) really quiet as it doesn't get a lot of tourism. We have a driver and a tour leader (from Guatemala) throughout our tours, and customers are travelling in a group. This in itself is a great preventative measure, but we also avoid travelling at night, and we avoid the big cities. Copán and the Bay Islands are absolutely safe, and travellers should just make the usual safety precautions of not flashing jewellery and expensive goods etc."
Honduras tips from our holiday reviews
At Responsible Travel, we think the best people to advise our travellers are often... other travellers. They always return from our tours with packing tips, weather reports, ideas about what to do – and opinions about what not to.
We have selected some of the most useful Honduras travel tips that our guests have provided over the years to help you make the very most of your holiday – and the space inside your suitcase.

Tourism is an infant business in many parts of Central America so the income is of great benefit to local economies.

"Tourism is an infant business in many parts of Central America so the income is of great benefit to local economies, provided that said income is correctly directed to the good of the people of that area and not misdirected into other things that will not benefit either the local people or the environment... Try and learn some basic conversational Spanish - I wish I had learnt more!" – Douglas Newlands

"Bring US dollars for currency exchange - at every border crossing A Man with a Hat and a Serious Wad of Cash appeared (seemed legit...!), so you can easily exchange USD or offload leftover currency… Try and eat at street stalls or local "comedores" to keep food costs down. If lots of locals are eating there, it's a pretty safe bet! Take probiotics with you in case you do have tummy troubles. Bring a dry bag for your valuables - there's lots of boat travel, and you and your belongings are likely to get wet. If you're worried about the water, drink bottled beer!" – Laurie Munslow

"I thought the trip was terrific and I have wonderful adventures, memories and friends that will be with me for a lifetime. Trip was fabulous… Roatan was by far the best stopover on this trip. The people on the tour were fabulous as well… Be wary of the long travel days. The dossier online makes each stop seem like a destination spot which is not the case. This tour would benefit from adding some flights from like Roatan to Managua to avoid 12 hour travel days, of which there are many in this tour." – Angie Watson, on a Central America tour

Trip was fabulous… Roatan was by far the best stopover on this trip.

More about Honduras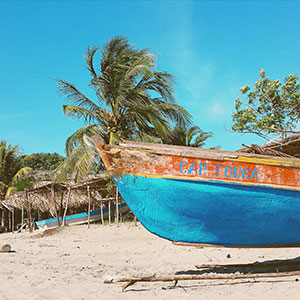 Our Honduras travel guide dives into one of Central America's most underrated travel destinations. Beset by conflict and rebellions, Honduras has earned a rough reputation over the decades. But kick back on one of its tropical island beaches, snorkel over rainbow coloured reefs, marvel at Mayan relics or sip locally grown coffee in a colonial village, and you're sure to find a sense of peace.