India doesn't just have the Big Five of Africa, it has the Big Eight! But sadly, most people think of it only as a tiger destination.

Looking beyond the eye of the tiger
The tiger may have the greatest fan club, but India's wildlife earns its stripes in so many other ways, with some of the most fantastic fauna striding or sauntering through deserts, jungles, mountains or savannahs. Even the names of wildlife in India sound like an ancient Rumi poem: chinkara is the Indian gazelle. The chital is another word for spotted deer. Nilgai are magnificent bull bulls and chausingha are four horned antelopes. And we haven't even started on the bird names yet, which are pure poetry in motion.
Snow leopard
These elusive beauties choose only the finest catwalks to stroll along: the mountains of Ladakh's Hemis National Park. You may not have heard of it, but it is in fact the largest national park in India. Go on one of the wildest and most wonderful trips into its Zanskar Range of the Himalaya to track these spotted stunners. WWF believe that populations of snow leopard have depleted by 20 percent in two decades, due to both poaching and climate change. By supporting snow leopard treks, we are adding more ethical value to the existence of these exquisite creatures. The best time to come is in late winter, around February and March, when the mountains are accessible enough to trek in, and when the snow leopard comes down from the higher frozen peaks in search of food. They aren't alone, of course, with gems such as the ibex, wolf, blue sheep and lynx all claiming territory in these magnificent landscapes.
Asiatic Lion
Unique to the state of Gujarat, where that spectacular fusion of desert meets coast just tickles many a wildlife watcher's fancy, the Asiatic lion, or Indian lion is top of most wishlists. Gir National Park marks out their now protected terrain, with over 500 of these magnificent creatures, which differ from the African lion by having a less abundant mane. They are growing in number and, in fact, there have been studies into the possible reintroduction of these cats to other parts of India, where they also once thrived. Also known as the Persian lion, they have migrated over the years from the Middle East.
On Gujarati safaris, you will also be able to see chital, sambar, nilgai, chinkara, striped hyena and leopard if you are lucky. Although the lion must surely bring the most luck of all.

The peacock is the national bird of India: a bird of paradise in a natural nirvana.

Bird watching
One of the most underrated countries when it comes to bird watching, you can go on a veritable ornithological odyssey here. Such as in Ranthambore National Park' s jungles, home to over 250 species including parakeets, hornbills, shrikes and sand grouse. Rajasthan is also home to the wonderful wetlands of Keoladeo Ghana National Park and National Chambal Sanctuary. And Kerala's Western Ghat Mountains boast 24 endemic species.

'Sundarban' translates from Bengali as 'beautiful forest' – and when you see a Bengali tiger emerge from the undergrowth to drink at the river bank, you can see why.

The Sundarbans
Although only 2.5 hours from Kolkata, the Sundarbans National Park in West Bengal, also shared with Bangladesh, is far off the tourist trail. And yet this is one of the most far out in terms of wildlife. With the largest mangrove forest in the world, there are over 500 tigers living in a tangled web of waterside roots and branches, as well as primates, crocodiles, Gangetic and Irrawaddy dolphins.
Our top trip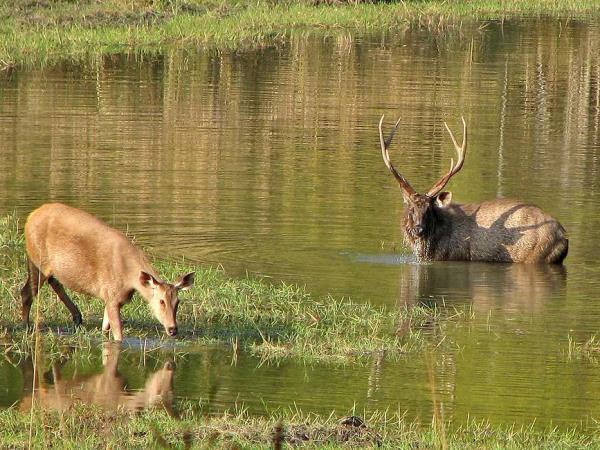 Brilliant experiences including Tigers and Temples
From
£1199

to

£1299
11 days
ex flights
Tailor made:
This trip can be tailor made throughout the year to suit your requirements
If you'd like to chat about India wildlife or need help finding a holiday to suit you we're very happy to help.

Other India wildlife tips
Shanane Davis, Director of our supplier, True Luxury Tours, specialising in Rajasthan:
"As well as Rajasthan, I highly recommend Pench and Tadoba National Parks where they have tight controls over the numbers of jeeps allowed in per day, and they don't have minibuses like in Ranthambore. The mangrove forests of the Sundarbans are also amazing of course."
Valerie Parkinson, Ladakh and snow leopard tracking specialist at our supplier Exodus:
"The snow leopard is one of the most elusive animals on the planet. Ladakh in winter is cut off by road from the rest of the world – the only way in is to fly over the Himalaya to Leh – one of the best mountain flights on earth. After that, you have to be on foot to have any chance of seeing a snow leopard – there are no roads (and sometimes hardly a footpath). The mountains of Ladakh are some of the most beautiful on earth. One of the most exciting things about the trip is knowing the snow leopards are there somewhere and seeing their pugmarks early morning around camp knowing they were close. When one of the spotters sees a snow leopard, we all gather round the scope and wonder how on earth he spotted the animal in the huge mountain landscape."
More India wildlife articles