Best time to visit the Indian Ocean
---
TEMPERATURE & RAINFALL
The Indian Ocean is one of those places that, if you had a magic carpet, you would want to swoop over, dip in and out of, skim along endless beaches, and island hop from one idyll to another. Because it is packed with not only eclectic marine marvels, but also myriad cultural experiences. Which means that, when it comes to choosing the best time to visit the Indian Ocean, there is no one easy answer. From the Maldives to Mauritius, the Seychelles to Sumatra or Mozambique to Madagascar, Indian Ocean holidays take you on a ride through the whole salty gamut of sultry, sublime and steamy seascapes.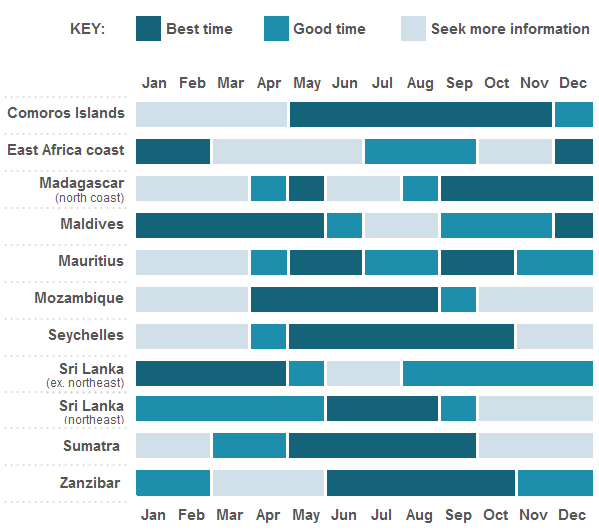 Indian Ocean holiday weather
---
MONTH BY MONTH GUIDE
May is just gorgeous in Sri Lanka, in between both monsoons and also very quiet. Although if you want to combine a beach trip with seeing wildlife in Yala National Park, February until June is perfect, as water levels are low, so wildlife comes out to water holes. The blue whales come to play in March.

The Maldives are at their most heavenly between December and March, although keen marine-o-philes will love seeing the whale sharks between January and April.

Mozambique has a wonderfully long dry season from April-September.

Escape the European winter to those east coast beaches of Kenya and Tanzania, including Zanzibar and Mafia Islands, where the best times for bronzing are December, January and February.

Although many people think it is monsoon season in Sri Lanka in July, August and September, the northeast coast actually has its own monsoon in October to January. It is only the southwest that is hit by monsoon during these European summer school holidays. So head to the northeast during the eternally long 'grandes vacances'.

If you are heading to the north of Madagascar, around Nosy Be, December is definitely the best time to hit the beach, with November usually pretty fine too. Combined with the fact that this is the month when baby lemurs come along too.

Hello.
If you'd like to chat about the Indian Ocean or need help finding a holiday to suit you we're very happy to help.
Rosy & team.
01273 823 700
Best time to visit the Indian Ocean
---
WHERE TO GO
Seychelles
---
It is hard to imagine that there could be a bad time to go to the Seychelles, but you might struggle to see shells in the Seychelles between May and October, due to the seaweed factor on the south coasts of Mahé and Praslin Island. Blown onto the shore by seasonal south-east trade winds. Other weed free beaches are never far away though and, apart from that, December to March is the rainy season, and the rest of the year is pretty much 'died and gone to heaven' beach bliss.
Mauritius
---
Hot and balmy or hot and humid? Take your pick. For the former, the best time to go to Mauritius is from May until October, and for the latter, November - April are the months for basking, baking and sweating. Humidity can lead to cyclones, however, which may happen during January, February and March. So, best to get in there before New Year. The east coast also has a micro climate in July and August, when strong winds can stir up the sea, making swimming and snorkelling less clear and calm than its usual crystalline perfection.
Maldives
---
It is hard to beat a Christmas present of the Maldives in your stocking, because December to March are the best times to visit to avoid monsoons. You will also see marine marvels such as whale sharks, which honour the islands with their presence between January and April. If you want to head here later in the year, April until November will be showery, with the worst of the south-westerly monsoons hitting in July and August. Although it is still warm, and there are few people around. Get in before then to see the manta rays mooching around, as they start to arrive in June and stay around until September, not bothered by monsoons obviously.
Sri Lanka
---
There are lots of reasons to go to Sri Lanka apart from the ocean, but for beach lovers there is a north south divide, with two separate monsoons. The stunning beaches of the northeast have their monsoon October to January meaning that the European summer months of July, August and September are perfect here. And also these beaches are still undeveloped and quiet, as they were closed for years due to territorial conflict. If you are heading to the south west beaches, stay clear of SW monsoon May to July with sunbathing at its best December to April. And if you want to see blue whales (and who wouldn't?) the beginning of March is the best time.
Zanzibar
---
Famously the birthplace of Freddie Mercury, you will enjoy the most rhapsodic weather between June and October with dry, hot days. Apart from that, and just like Mr Mercury, the weather can be complex and a little unpredictable. There is a 'long rains' season, March until May, with tropical rain pelting down in the afternoons, but humid and hot the rest of the day. Then the 'short rains' season during November and December, with lighter rainfall and not as full on. And just to add to the complexity, if it doesn't rain during the 'short rains' season, then January and February may have its wet moments. But as Freddie says, no matter when you go to Zanzibar… it's a kind of magic.
Madagascar (North coast)
---
It's a big island, and so the climate varies greatly, but for those seeking Indian Ocean idolatry, it is usually the north coast beaches that appeal. On the north coast, you are generally talking hot and humid. It can get pretty wet in January, February and March, with cyclones hitting in February. Dry, sunny gorgeousness kicks in for sure around April (can still get some storms) and May, both favourite months with surfers, with the rest of the year pretty much Madagascan life's a beach-ness. Check out the north coast's Donia Festival on Nosy Be in May for top home grown music and carnival action.
Kenyan & Tanzanian beaches
---
One of the best things about the Indian Ocean beaches of Kenya and Tanzania, is that the best time to visit them is exactly when anyone living through the dreary northern European or North American winters wants to escape. December, January, February and March are just perfect in the likes of Kenya's Mombasa, the gateway to the coast and myriad islands. The wettest months are mid-April to May, with June, July, August, September and early October lovely again, followed by a short rainy season from October to November but storms are not too extreme.