Best time to go to Nigeria
---
temperature & rainfall
Our top Nigeria activities
---
what to do in Nigeria, & what not to
Things to do in Nigeria…
---
Visit both urban and rural communities. Chaotic Lagos is perhaps what springs to mind when you think of the country, and a city tour is a fascinating way to start your adventure with the artefact-packed National Museum, the pretty architecture of the Afro-Brazilian quarter and a tour of Lagos Island. But spend time in rural villages, too, to discover a part of Nigeria little touched by the outside world. Meet traders on their way to weekly markets, community leaders, and sleep beneath the African stars.
Discover a long history. Sub Saharan Africa has little tangible history – but Nigeria is an exception. Climb sacred rocks to see Yoruba shrines; visit the abandoned village in the Adanre Hills, and explore the UNESCO-rated city of Oshogbo, packed with carved Yoruba deities. And don't miss the Royal Palace in Benin City, another UNESCO site dating back to the 13th century.
Tourism is – very slowly – growing in Nigeria, but it remains a tough place to travel thanks to its vast size, limited public transport and safety concerns in some regions. Many rural communities speak only local languages, or at best Nigerian pidgin. For this reason, we recommend joining a small group tour. You'll travel in a private vehicle, with a tour leader throughout and local guides joining you at points of interest. This reduces the chances of incidents – and ensures that if anything does happen, there is help at hand.
Things not to do in Nigeria…
---
Base all your perceptions on headlines. Nigeria has a long, complex and fascinating history, and has produced authors, poets, Nobel prizewinners and musicians. Read Achebe's Things Fall Apart for insights into Igbo village life, Adichie's Half of a Yellow Sun to learn about the human costs of the Biafra War, and watch Finding Fela! for a portrait of the hugely influential musician, human rights activist and speaker, Fela Kuti.
We always encourage our travellers to immerse themselves in local culture where possible – but we make exceptions to this when this involves endangered species and poaching. Some souvenirs may be made of feathers, bone or tropical hardwoods. Bushmeat is widely available in Nigeria, and often involves creatures which have been illegally hunted. Some parts of western Nigeria also adhere to Voodoo, with its associated fetish markets. These involve parts of animals such as gorillas, chimps and pangolins; please don't fuel the trade that is threatening so many species with extinction.
Expect luxury. Nigeria is not a tourist destination – that is part of its appeal. Accommodation is designed for Nigerian travellers, and may not be up to the standards expected by foreign tourists; but do remember this is all part of the cultural experience. It will be clean and comfortable with local staff.
Nigeria travel advice
---
tips from our friends in Nigeria

Jim O'Brien is from our leading Nigeria holidays supplier, Native Eye Travel. He has just returned from a trip there, and has shared some valuable advice:
Why take an organised tour?
---
"Nigeria is a vibrant, chaotic but fun country to travel through, but it can be very daunting for the independent traveller as its infrastructure creaks under the weight of an enormous population, poor roads and little maintenance. There is no tourist infrastructure here to speak of. While in Lagos and Abuja you'll find international standard hotels, they are focused on the business market, and once you venture out into smaller towns it can be a little more challenging for independent travellers to find the necessary information needed to plan a trip. It's certainly not impossible, but you need a lot of time, and even more patience, to travel around Nigeria on your own."
Is Nigeria for you?
---
"Nigeria's definitely not the obvious choice for a holiday, and we don't recommend it for first time travellers to Africa, or even first time travellers to West Africa (which tends, as a whole, to be one of the more challenging parts of the continent). However it's an utterly fascinating place to travel through. Wherever you are there is always something to see that provokes questions – what is this, why is this happening etc, and it's really interesting to see a different side of West Africa."
Travel with the right attitude
---
"For the most part, forget romantic notions of unspoiled Africa. Nigeria is busy, modern, urbanised and in many places overcrowded, but if you have the Africa bug and want to see a different side of the continent, then it has a lot to offer. It is not a tranquil place, and after numerous roadblocks your patience with local authorities might be wearing thin, but taking it all in good humour and seeing the absurd and funny side of things is definitely the way to make the most out of your time here. Nigeria has few tourist sites; it is first and foremost about the people and the experiences you have."
Tips on where to go
---
"Two favourite places: the tribal villages of the Kamberi people west of Kontagora, who are largely living very traditional lives in the bush, and the Idanre Hills, home to a hidden, and now abandoned village, on a lush verdant plateau that it a peaceful world away from the town below."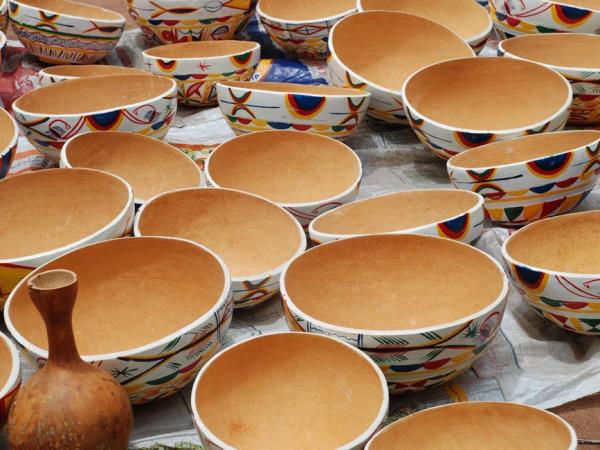 A unique tour discovering the ethnic diversity of Nigeria
From
£2799
12 Days
ex flights