Northern Ireland travel guide
It is impossible not to mention borders and politics when writing a Northern Ireland travel guide, but we aim to play with those concepts a little. What we love about Northern Ireland are its mountains, rivers, dramatic coastlines, islets and lakes. The island as a whole has a worldwide reputation for its gorgeous green landscapes, and when you visit Northern Ireland you will soon realise that this beauty doesnít stop for a border, hard or soft.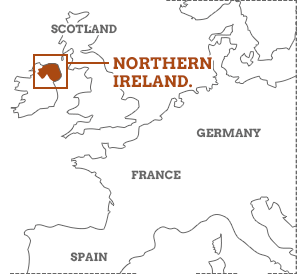 I loved the fact that Northern Ireland was so easy to get around by train and on foot. It was all so easy, especially as the booking and luggage transfers were handled for us.

Tourists have long resisted Northern Ireland for fear of conflict or, naively, because they think it has all been destroyed by years of strife and politics. In fact it's the opposite, as a relative lack of tourism means that so much of the country remains untouched. If we go back to the Greek meaning of 'politics', polis, we'll discover it means 'community'. And after years of strife and nigh on isolation in terms of tourism, all communities throughout Northern Ireland give visitors the finest of welcomes, delighted to share their peaceful and pretty part of the world.
Northern Ireland Is/Isn't
Northern Ireland isÖ
small, meaning that mountains, coasts and glens are all within an hourís reach.
Northern Ireland isnítÖ
laden with tourists. It is laden with controversial history and current affairs though, so do inform yourself before you go. And be sensitive.
NORTHERN IRELAND MAP & HIGHLIGHTS
Even though Northern Ireland is small, there are many little known gems to discover here. We have given you our top recommendations on our map and highlights below, but trust us when we say that the best way to find out where to go is to ask a Northern Irish person. The Northern Irish way is to chat, help you out, point you in the right direction and tell you all their favourite places. You will get a lot of mileage out of a chat with the right person in ĎNorn Ironí. Itís no wonder that the countryís main long distance walking trail, The Ulster Way, is 1,000km long.
1. Belfast
The capital of Northern Ireland, this historic port city has emerged from years of conflict to be a lively, artsy, foodie and chic city. Explore its Cathedral Quarter with St Anneís Cathedral at its heart, the impressive City Hall built in 1906, and the shipyard region, whose Titanic Visitor Experience is a big pull. Donít miss St Georgeís Market in the Waterfront area at weekends for a lively city happening.
2. Bushmills
Bushmills boasts plenty of historic buildings, including a 1600s coaching inn which is now a charming boutique hotel. The main attraction is the 18th century whiskey distillery, named after the village and River Bush which provides the water source for Northern Irelandís most famous whiskey brand. Take a narrow gauge train from here to the Giantís Causeway, daily in Jul-Aug, and on weekends from Sep-Oct.
3. Causeway Coast Way
The Giantís Causeway is famous, but few people realise that there is a 55km walking route leading right past it. Itís one of the most magnificent trails on the whole island, and still very unknown. Stretching between Portstewart and Ballycastle, you have views of wide sandy bays, dramatic cliffs and small coastal villages. As well as the spectacular Carrick-a-Rede rope bridge to take on if you dare.
4. Giantís Causeway
Northern Irelandís giant and folklore filled attraction never fails to impress. A geological great, boasting tens of thousands of polygonal basalt columns that stretch out into the sea, itís hard to believe they are a natural phenomenon. Itís wonderfully open for exploration so you can walk all over the basalt beauties and see The Organ, where basalt columns emerge from the cliff. Take care when slippy, though.
5. Glens of Antrim
Nine valleys sweeping down from Antrim Plateau to the Antrim Coast, creating some of the islandís greenest, most gorgeous emeralds. The Glens are famous among Game of Thrones fans, but walk away from GOT crowds onto myriad walking trails through, for example, Glenariff, with its waterfalls and forest park. The long distance Ulster Way walking trail cuts through the Glens, too.
6. Rathlin Island
Rathlin Island is just a 25 minute ferry crossing from Ballycastle on the Antrim Coast. Take a day trip or, as most of our trips to Northern Ireland are tailor made, stay overnight, especially if you are a keen birder, as Rathlin is an RSPB protected habitat. This wild spot is just 1.5km x 9km in size, home to 140 people and up to 1,000 puffins.
If you'd like to chat about Northern Ireland or need help finding a holiday to suit you we're very happy to help.

More Northern Ireland articles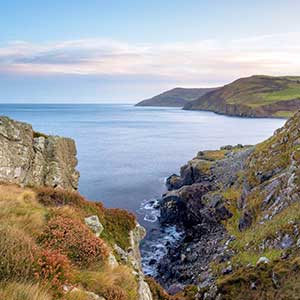 The weather is unpredictable at any time of year, but spring is lovely in the countryside.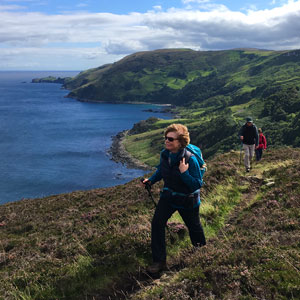 Most visitors to the Causeway Coast miss out by not staying more than a few hours.