Walking in Norway travel guide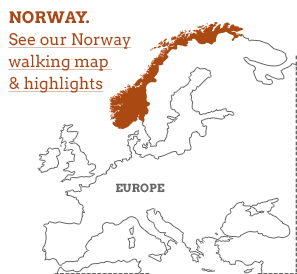 Walking holidays in Norway take you through a dramatic landscape that's begging to be explored on foot, whether it's a short stroll, a rocky scramble or a long distance trek. You'll pass through snow topped mountain ranges, into dense forests, down alpine valleys and across shimmering glaciers, not to mention the fjords – deep blue water channels where the highest mountains rise right out of the sea to scrape the sky.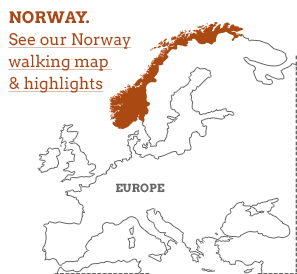 Thanks to glaciers, snow covered mountain tops, alpine pastures and an incredible jagged coastline of fjords and islands, every walk becomes a unique adventure.

Norway's hiking hotspots are less crowded than some similar areas in other countries, but even so, it's away from these crowd pleasers that walking is at its most magical, and you'll find huge stretches of serene, unspoilt landscapes where it's possible to walk for hours without seeing another soul. What's more, there's everything from rustic mountain huts to plush guesthouses in which to lay your head, and the transport networks are among the best in the world. In fact, the only difficulty is deciding where to go. Our Norway walking holidays guide has a few suggestions.
Our Norway walking Holidays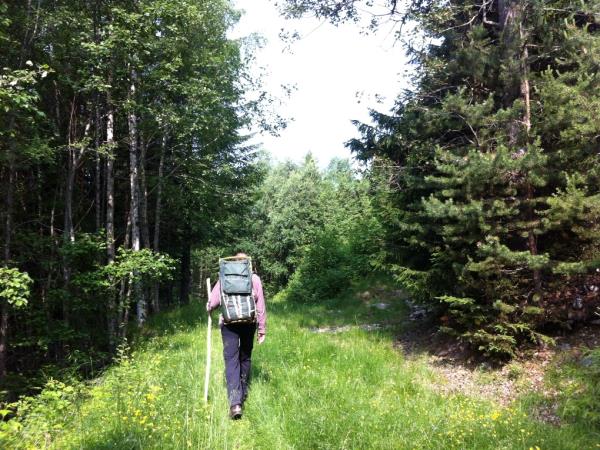 Hiking through Norwegian history
From
NKr8700
6 days
ex flights
What do Norway walking holidays entail?
Tailor made tours
A tailor made walking holiday in Norway allows you to adjust your own itinerary and go at a pace which suits you. These can be either guided or self guided, and there are advantages to both. Guides are usually local, and they'll take you to all the secret spots and provide assistance in case of any mountain mishaps. However, if you prefer to walk independently, an organised
self guided walking holiday
takes care of your accommodation and some meals, plus you'll get maps, suggested itineraries and copious sightseeing tips, as well as luggage transfers and emergency support.
Small group tours
If you don't fancy going it alone and enjoy sticking to a schedule, joining a group of around six to 10 likeminded hikers can take the pressure off. You get the advantages of travelling with a knowledgeable guide who'll ensure things run efficiently and provide a shortcut to cultural and natural highlights, plus there's the camaraderie of sharing not only the stunning views, but also the aches and pains with your fellow walkers.
Small group walking holidays
are also a great option for solo travellers.
Nomadic or centre based
If you like to come home to familiar comforts after a good day's hike then Norway has small group,
centre based walking holidays
where you can take on a different route every day, but return to the same bed every night. This gives more time for walking, without the hassle of packing and unpacking. Alternatively, if you're looking to channel your inner nomad then hiking from one bed to another is your best option. Your luggage will usually be transferred for you, though on the odd trip you might have to carry your bags yourself, particularly in remote areas.
Accommodation
On most Norway walking holidays, you'll sleep in a comfortable lodge or cosy guesthouse at the end of the day, and some may have hot tubs or saunas in which to rest your aching limbs. Most trips will include meals, many based around local, seasonal cuisine such as Norwegian mountain trout, venison and local cheese. However, if you're hoping to walk in remote areas then you'll have fewer options, and may be camping in a tent.
Our top Norway walking Holiday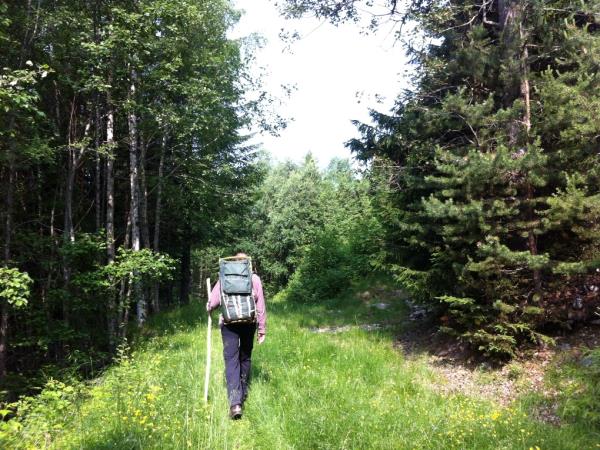 Hiking through Norwegian history
From
NKr8700
6 days
ex flights
Small group travel:

If you'd like to chat about Norway walking or need help finding a holiday to suit you we're very happy to help.

Watching wildlife
As well as wearing yourself out on the trails, you should also get the chance to see some of the country's diverse wildlife, and if you're travelling with a guide, she or he will be able to point you in the right direction. Elk and moose are common and there are myriad birds, such as golden eagles and different species of grouse. If you're lucky you could even spot one of Norway's four large predators – bears, wolves, lynx and wolverines – or perhaps head off on a muskox safari.
Keeping active
A walking holiday in Norway is not just about pounding the trails. There are plenty of other optional activities to get you going. You could, for example, spend a day horse riding or rafting, get the rope and ice axes out for a glacier walk, kayak around arctic islands or on the fjords in search of birds and sea creatures, or partake in some heart pumping downhill cycling. Gentler pursuits include fishing or learning bushcraft.
How tough are they?
Most of our Norway walking holidays are
graded as moderate
, with walks lasting between five and 10 hours a day, often at a steep incline, although you can walk at your own pace on self guided tours. In most cases you'll either be based in one spot, or you'll have your bags transported from one lodging to another, so you won't have to haul around your own gear. In hard to reach areas, however, you might have to sleep under canvas and carry your own backpack, often over difficult terrain. In these instances, a high level of fitness and previous hiking experience are required.
Best time to go walking in Norway

The summer months offer the best hiking in Norway. The weather is warmest, the days are longer and the trails are accessible.

Jun-Aug is certainly the best time to go walking in Norway. It's the warmest season, with long daylight hours and the midnight sun way up north in Jun-Jul, although prices and crowds are at their peak, as are midges. May and Sep are also pleasant, with fewer crowds and, come early Sep, pretty autumn foliage. Bear in mind, though, that the weather is far less predictable outside the summer months, particularly further north, and accommodation and activities can be closed or become inaccessible. Summer is prime moose and brown bear season, with muskox safaris Jun-Sep. Bird watchers will be best served from May-Jul.
More about Norway walking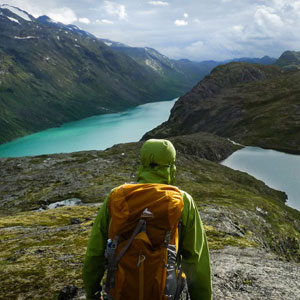 Our Norway walking holiday map and highlights will take you from the Arctic seas and scenic fishing villages of the Lofoten Islands in the north to the mountains of Breheimen National Park in the south.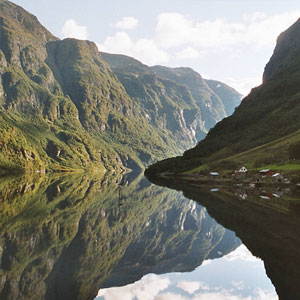 This guide to walking in Norway explores the awe-inspiring region of Fjordland, sculpted by glaciers over millions of years, and fills you in on what to expect while you're there.