Israel is divided from Palestine's West Bank by a 700km wall known as the Separation Barrier. Permanent and seasonal crossing points and military checkpoints provide some, not all, Palestinians with access to Israel, usually in search of employment.

There's not much work in the West Bank and Israel needs the labour force. Almost 50,000 Palestinians have an official work permit, and thousands more don't, yet will make the daily commute illegally. Crossing from east to west requires an early start and can often result in huge queues at the checkpoints.
If youíre visiting these two countries from elsewhere, as part of an organised tour, you wonít have anything like as much trouble crossing between Israel and Palestine, and youíll be joined by a tour leader from one of these countries who is well versed in border crossing procedures. Often, passengers can simply remain in their tour vehicle and might not be required to show their passports. On some occasions, however, depending on which crossing it is and how the guards are feeling, you may need to get out of the vehicle to show your passport, or guards may come on board.

It is possible to walk through a crossing point, too, although the queues can be lengthy and you may be subject to a lot of questioning. Some checkpoints close in the evening and the queues for these are notoriously long.
What does an Israel & Palestine tour entail?
As well as a tour leader, youíll meet up with Israeli or Palestinian guides along the way; conveniently, some Palestinian guides live in Israel and are permitted to guide on both sides of the border. If you are accompanied by a Palestinian guide who lives in the West Bank, itís likely that an Israeli guide will be employed to meet you on the other side.

Itís possible to go back and forth from Palestine to Israel and vice versa on multiple occasions. You can stay in the west of Jerusalem and visit the east for a guided walking tour, for example. Bethlehem is on the Palestinian side of the wall but just a short drive from Jerusalem Ė ideal for day trips. You can also visit one of the West Bankís largest refugee camps before returning to Jerusalem to pay your respects at Yad Vashem, Israel's memorial to the victims of the Holocaust.
Why is it important to visit Israel & Palestine?
Visiting both states encourages a better understanding of the Middle East and the Mediterranean, both in terms of cultural heritage, politics, religion and physical landscapes. Youíll experience life on both sides of the wall and tour a range of historic and cultural settings. If you only visit one state, youíll only get one side of the story. It's like trying to put together a jigsaw but only having half the pieces.
The Tomb of the Patriarchs in Hebron, for example, and the 19th century Abd al-Hadi Palace in the Old City of Neblus are on the Palestinian side of the wall. Nazareth and the Sea of Galilee are in Israel, as is the Holy City of Safad Ė the highest city in Israel (900m) and the centre of learning for Kabbalah, a form of Jewish mysticism.

Staying in Jerusalem allows access to the UNESCO-listed Old City which is recognised by the UN as part of Palestinian territory. Muslim, Christian, Jewish and Armenian quarters sit side by side here within a tiny walled area measuring less than one square kilometre. Stay overnight and wander around by day to get a proper insight into the real lives of the local residents. Itís easy to dismiss one side as a terrorist, or an aggressor, if you haven't listened to views from both camps. When you hear both sides of the story itís clear that life in the Middle East is not always straightforward.
If you'd like to chat about Palestine or need help finding a holiday to suit you we're very happy to help.

Is it safe to visit Israel & Palestine?
Get up-to-date information about visiting
Israel
and
Palestine
from the UK's Foreign and Commonwealth Office (FCO) before departure, and check your travel insurance details to ensure it covers this region; you may need to take out
specialist insurance
if visiting an area which is not advised by the FCO.
Our holidays won't take you into potential conflict zones, such as the Gaza Strip or the Syrian border. However, you might be invited to visit a rural Druze community in the Golan Heights. It would be prudent to check whether this is still a sensible option or what alternatives a holiday company has in place, if an area is not deemed safe at time of travel.
Our specialist travel companies have made the journey here many, many times before, and will keep a close eye on local security issues. Their guides and tour leaders will be able to explain what youíre witnessing, who youíre meeting and the reasons why one area or another has experienced tension and violence in the past.

Do note that certain Arab or majority Muslim countries, including Pakistan, Lebanon and Iran, do not accept visitors with Israeli stamps in their passport. For this reason itís advisable to politely request your Israeli entry stamp be placed on a separate piece of paper, not in your passport. As of April 2019, Morocco, Jordan, Egypt, Oman and UAE do accept visitors with Israeli passport stamps, but be sure to check for updates before travelling to any of these countries.
Find out more...
Find out why you might see the Israeli Defence Force in Bethlehem or around Jerusalemís old quarter, especially around the Islamic shrine, the Dome of the Rock on the Temple Mount. The people that youíll meet Ė travel guides, accommodation hosts, shop keepers Ė may be just as interested in your reasons for visiting as you are in finding out more about them. You might meet Israelis who have settled in Palestine. Are you equipped for having an enlightening conversation rather than standing steadfast to a point of view that youíve cemented over time? Be open to conversation but equally aware that you need to be sensitive to any issues that might be considered off limits or just too complicated to discuss over a cup of mint tea.
Recommended reading, listening & watching
Extreme Rambling: Walking Israelís Separation Barrier. For Fun. (2011) A book by Mark Thomas

The Lemon Tree (2008). A film by Eran Riklis

Five Broken Cameras (2011). A documentary by Guy Davidi

The Walk from 'no' to 'yes'. A TED Talk by William Ury
More Palestine articles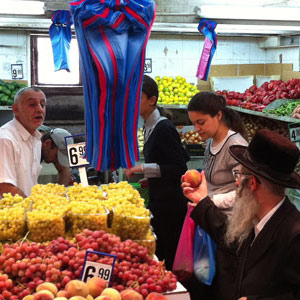 Avoid the hot summer season from June to September, especially if you're here hiking.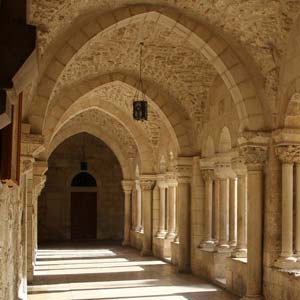 A place that has to be visited to be understood. Meet the people, stay in their homes, and walk their ancient trails.