The Kokoda Track in Papua New Guinea
The history of the Kokoda Track
In 1942, Papua New Guinea was a strategic wartime frontier. For the Japanese, wresting control over this remote land was seen as a key way to cut off Australia, and it was also a potential base for launching attacks. They landed on the north shore in July, and advanced quickly across the tough terrain. The Allied Australian and Papuan forces fought back, but in each brutal battle they were overwhelmed. Battlefield by battlefield, the Japanese proceeded some 100km south towards Port Moresby, reaching within 32km of the capital.
These were vicious conflicts, exacerbated by the jungle surroundings, tropical diseases, lack of planes to provide air supplies and the fact that the Allied forces were ill equipped, as their hefty weapons were considered too cumbersome to lug across the sweltering mountains. There was no real infrastructure, and the logistical challenges bordered on the ridiculous; at one point the Allies were even ordered to construct a road to resupply troops. Kokoda was an eight day walk from the nearest coastal supply point, there was no open, flat ground for planes to land, and airdropped supplies were either damaged or – more frequently – lost.
However, in September, with Port Moresby in sight, the Japanese troops were ordered to withdraw. They were facing American troops in the Solomon Islands, and were unable to support both campaigns. The Japanese began to retreat, while aiming to retain key strongholds, and the Allies pursued them back to the north coast. After months of fighting in the tropics and dangerously low food supplies, the men on both sides were exhausted, and the death toll was high.
Today, there are no battles fought along the Kokoda Track, and supply routes are somewhat more established, but infrastructure is still very limited, the climate is brutal, and this 100km trail remains a physical and mental challenge. For modern day trekkers, including the Australian descendants of those who served here in 1942, this is a fitting way to commemorate those who fought and fell; this expedition really does give a glimpse into some of the hardships they faced. While the dangers are minimised, there is little in the way of creature comforts still; accommodation is in tents or basic village guesthouses, rivers are used for freshening up, and you'll be filling your drinking bottle from water holes.
How to trek the Kokoda Track
First off, this is no simple undertaking. The chances are, you've got a long journey just to reach PNG, and these are not cheap trips. You also need to be fit: this is a solid, eight or nine-day hike covering mountains , jungles, river crossings on foot, and sharp ridges, with the odd swamp if attempting it in rainy season. Each participant is usually assigned a porter, but you'll still need to carry a daypack with food, water, extra layers and so on. Porters carry a maximum of 10kg, so you'll need to pack wisely. One of the biggest challenges is the climate; the extreme heat and humidity are hard to prepare for, and exhausting.
However, Papua New Guinea is one of the world's least explored destinations. Its Pacific island location has allowed its unique fauna and flora to flourish, undisturbed, alongside a fascinating culture. Most Papua New Guinea holidays skim around the edges, to areas easily accessible by boat or air, sticking close to towns or heading to the offshore islands. Trekking the Kokoda Track is a rare opportunity to venture inland, far from civilisation, and to explore a primal landscape as beautiful as it is brutal.
Sample Kokoda Track itinerary
Itineraries vary from day to day, but given how far you need to walk, and the options for sleeping in guesthouses or campsites, they are all fairly similar. Here is a sample itinerary.
After flying into Port Moresby, a 35-minute flight takes you northeast to Popondetta, which is a further five to six hour drive – over paved and dirt roads, and across creeks – to Kokoda itself. This is a great introduction to the region's history, as you can visit the Kokoda Memorial and War Museum. Some itineraries also run the opposite way – starting from Owers' Corner and heading north to Kokoda before flying back. On some expeditions, a free day in a village is factored in halfway through.
Day 1: Kokoda The first section of the trail is relatively populated, and you'll trek through commercial plantations, quiet villages and choko fruit gardens, before heading up a steep trail into the Owen Stanley Range. Spend the night in a village. Day 2: Templeton's Crossing II Today, you'll reach your first battlefield at Isurava, with an Australian memorial to those who lost their lives here. You'll pass more villages, but also walk through rainforest. Take a well deserved break at Iora Creek, where you can take a dip in the cool waters. Camp beside the creek, or stay in a community run guesthouse at Templeton's Crossing, surrounded by iron rods marking where soldiers fell. Day 3: Digger's Camp & Myola Today involves a challenging climb up to the 2,200m summit of Mount Bellamy, with gorgeous views from the top. The trail onward to Digger's Camp is through slippery mud, but the tranquil campsite here, surrounded by jungle, is worth the effort; alternatively, Camp 1900 offers a particularly refreshing night thanks to the altitude. Take a walk to Myola – the flat grassland which was the only place supply planes could land during the 1942 campaign. Day 4: Efogi I & II This section involves descending from Mount Bellamy, through open grassland which leaves you exposed to the hot sun. Stop off at the village of Efogi I where you can stock up on locally grown fruit, then continue downhill to Efogi II, home to around 400-500 people, plus a cooperative guesthouse. Day 5: Mission Ridge & Menari Ascend again today, this time to Mission Ridge, where you can look back out towards Efogi I and Mount Bellamy. After a tricky descent, you'll trek up to the village of Menari. This is known as the home of the 'Fuzzy Wuzzy Angels' – Papuan soldiers who carried wounded Australian soldiers back along the track to safety. Their descendents live here today. Stay in the village, or in a comfortable campsite. Day 6: Menari Ridge & Nauro Valley A 90 minute hike takes you to the top of Menari Ridge, before descending down into the Nauro Valley. Cross the Brown River to reach Old Nauro, and your guesthouse for the night. Day 7: Nine False Peaks, Ioribaiwa & Uaule Creek Three hours of strenuous ascents take you to the top of Maguli Ridge, with a rest in a local village. Descend to Jap's Ladder, followed by Ofi Creek, and finally Ioribaiwa, which was the scene of the final battle before the Japanese withdrew. The challenge continues as you trek through nine creeks, before setting up camp by Uaule Creek. Day 8: Imita Ridge & the Golden Staircase You are reaching your goal, but there is still one long trek to go, and it's a tough one. If your boots are still soggy from yesterday, don't worry; there are a further 14 creeks to cross today. You'll then head up Imita Ridge, and descend via the 2,000 wooden steps of the 'Golden Staircase' which was built by Australian Troops. Imita Ridge was the final natural barrier before reaching Port Moresby, so troops were ordered to hold back the Japanese here – or die trying. Owers' Corner marks the end of your expedition, and a vehicle will collect you to take you onward to Port Moresby, where a comfy hotel bed and a shower await.

On the way, you might stop off at the Bomana Cemetery, the final resting place of 3,600 Australian soldiers, and a poignant place to end your trek.
The practicalities
Most days involve walking anywhere between five and 10 hours, depending on the ascents, fitness, weather conditions and distance. Accommodation will be in campsites – often in picturesque settings beside creeks or in jungles – or in guesthouses run by local communities. This is not luxury travel, but you're sure to be tired enough to enjoy a deep sleep each night, and you'll be up close to the stunning natural landscapes as well as learning about community life and meeting Papuan families.
You'll be joined by a bilingual guide who will keep spirits up and share stories about local culture, traditions, wildlife and plants – as well as the all important history of the trail. Your trekking company will provide you with recommended training schedules – best attempted with a full backpack – to ensure you get the most out of your expedition.
Our Papua New Guinea Holidays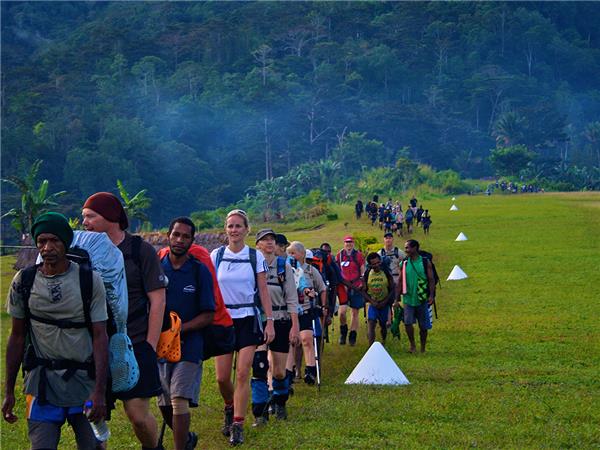 The ultimate Papua New Guinea trekking holiday
From
£2496

to

£3245
10 days
ex flights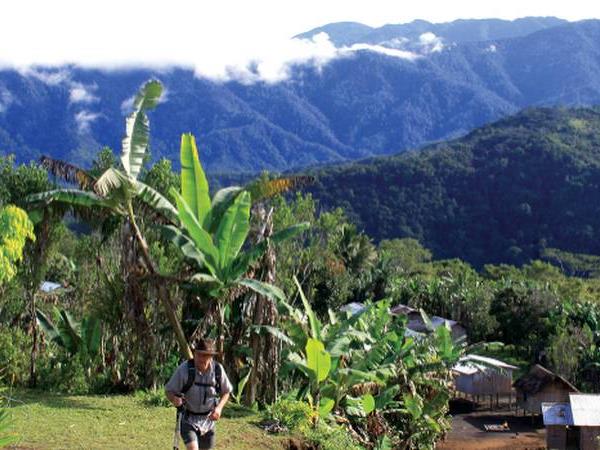 Trek across the geographical heart of Papua New Guinea
From
£2590

to

£2650
11 days
ex flights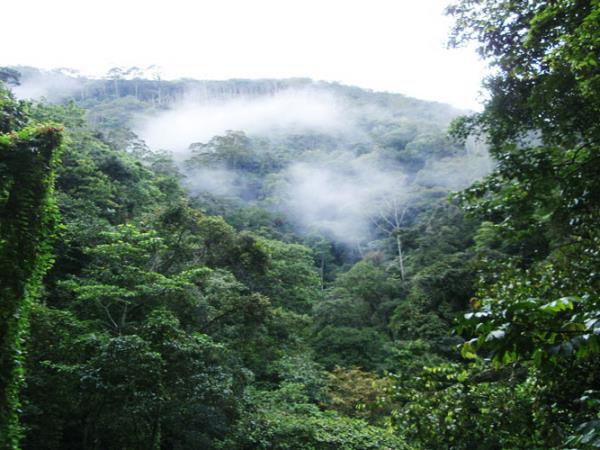 Papua New Guinea, The Kokoda Trail
From
£2595
11 days
ex flights
If you'd like to chat about Papua New Guinea or need help finding a holiday to suit you we're very happy to help.

Packing for the Kokoda Track
Trekking companies supply comprehensive equipment lists. Top items to pack include resealable plastic bags and dry sacs to keep everything dry, a bumbag (fanny pack) for items you might need to access regularly without having to rummage around in your backpack, and a large water bottle – preferably with a filtering system like LifeStraw – so that you can fill up at water points along the way. Consider swapping a heavy DSLR for a lighter point and shoot, or even a decent camera phone, and as there is unlikely to be charging points along the way, spare batteries are essential.
Quick drying clothes are a must, as are light waterproof layers, bathing suits, and plenty to protect you from the sun – including sun screen, sunglasses and a hat. Bring a head torch, a quick drying towel, a properly fitted daypack and basic medical supplies – you are a long way from help. And don't forget to take out comprehensive travel insurance, including emergency repatriation.
Responsible tourism on the Kokoda Track
Supporting local communities
The cost of your Kokoda Track holiday includes an official permit. Around 25 percent of this goes towards maintaining the track, with a further 25 percent paid to communities situated along the route. Some trekking companies also run their own community development projects, and include additional donations to these in the cost of their trips. These may support health programmes, where doctors and nurses are flown over to treat conditions several times a year. Many responsible companies only hire PNG nationals; some may be descendants of the Papuan troops who fought in 1942.
Responsible tours here give as much back as possible to the residents of Kokoda, including staying in community run guesthouses and campsites and buying food from markets. In areas where food is scarce, it may be airlifted in to ensure local supplies are not depleted.
Hikers are encouraged to meet and interact with villagers as much as possible; fortunately, many local people have a basic knowledge of English, but of course your local guide can help you to communicate, too.
Supporting the environment
Interestingly, the growth of tourism along the Kokoda Track may well have benefitted the local environment. Communities who once saw the forests and rivers as a resource to be exploited now benefit financially from the trekkers. They understand that for this to continue, the landscapes must be kept as pristine as possible, and wildlife is no longer hunted for food.

Responsible trekking companies will carry all plastic, metal and glass back out with them to Port Moresby. Drop toilets have been installed along the track to reduce human waste, and some companies have built eco toilets along the route to further protect the environment.
We recommend bringing water filtering bottles, such as those produced by LifeStraw, so that you can fill up from creeks and rivers as you walk, and reduce the use of plastic bottles. Also look out for eco friendly sun screens and toiletries, as you will be bathing in a lot of rivers.
More about Papua New Guinea