Kenu & Kundu Festival, Papua New Guinea
If you think that rivalries run deep at the Oxford and Cambridge boat race, then you haven't seen the Kenu and Kundu Festival in Papua New Guinea. Boats (kenu) and drums (kundu) are the pillars of this celebration, when the Melanesian tribes from the 600-plus islands of Milne Bay Province come together to dance, sing, trade and – most importantly – race.

Boats and drums prop up society in Papua New Guinea. They frame rituals and ceremonies of a nation long dependent on the whims of the South Pacific.

The canoe race is far and away the highlight of the Kenu and Kendu Festival. These traditional vessels, with their leaf-shaped paddles and animal carvings, aren't any old showboats. Each canoe is a representation of the identity of the community that glides in on them. When you look at it that way, it seems rude not to celebrate them.
The Kenu and Kendu Festival lands on the first weekend of November each year. It all goes down in Alotau, a coastal town a 50-minute flight north of Port Moresby that slumbers under the guise of a fishing town the other 364 days of the year. This far-flung festival might seem out of reach, but with the help of a Papua New Guinea holiday specialist it's closer than you think.
Our Papua New Guinea Holidays
Canoe races
There aren't many festivals in the world that participants would sail across 250,000km² of ocean to get to. But the canoe race at Kenu and Kundu is a celebration of community and expression of identity topped off with a deep rivalry that brings together tribes spread out over the 600-and-then-some islands of Milne Bay Province. No wonder 1,000 spectators turn up to cheer them on.

Papua New Guineans might be Christian in name, but their canoes tell the real story. Each is hewn in a way that will appease powerful, pre-colonial gods.

Canoes like works of art arrive in their dozens. The colours and patterns tell tales about the community they're from: white-tipped Huhu Lopo war canoes from Milne Bay Province; shell-speckled Kula trading canoes from the Trobriand Islands; blue-sailed canoes from the Louisiade Archipelago. Many come loaded with warriors in feathery finery, and a kundu drummer that keeps pace like a heartbeart.
Sing-sings
Back on shore, communities from all over Milne Bay Province take to an arena to execute their tribe's speciality moves. The jumps and shouts in the dance might have different meanings depending on the tribe, but each dancer has one thing in common – a deep knowledge of how to dress up to the nines. Exquisite feather headdresses, conch shell jewellery and elaborate face paint are all par for the course.

The sing-sings are when the 'kundu' in the Kenu and Kundu Festival comes into its own. Like the boats, each whorl and stripe on these elongated drums tells a tale.

Although the dances and songs might be centuries old, the idea of a sing-sing is thoroughly 20th century. It was a 1950s peace project that aimed to gather disparate tribes and counteract intertribal wars. And it's not just for the indigenous peoples. Other Papua New Guinea residents offer up dances from their own heritage: Chinese lion dances to bring good luck, gospel singing from Fiji, and acoustic sessions channelling South Pacific tunes from the 1950s.
Food exchanges
You've got hundreds of hungry warriors and dancers on your hands – so what are you going to do? Make sure there's enough food and drink, of course. The food exchange stems from the old market economy, when tribes would trade by swapping items. Introduced from the Americas around 400 years ago, yams are the ultimate marker of wealth; sailing in with a pyramid of yams is the Papua New Guinea equivalent of arriving with a horde of gold.
Our top Papua New Guinea Holiday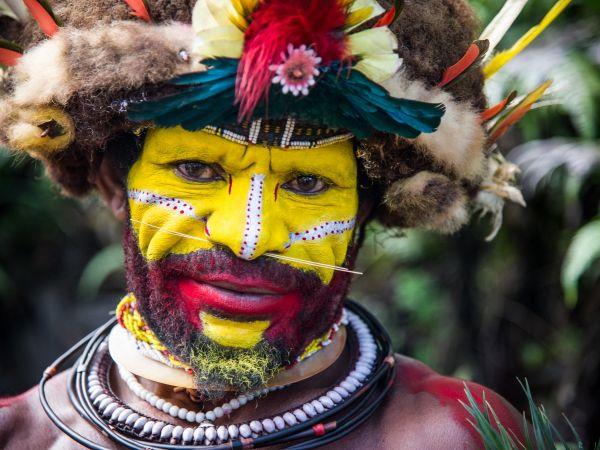 Stay with tribes and visit a festival in Papua New Guinea
From
£10295

to

£10995
16 days
ex flights
Small group travel:
2024: 28 Jun, 7 Aug, 4 Sep
If you'd like to chat about Papua New Guinea or need help finding a holiday to suit you we're very happy to help.

How to visit the Kenu & Kundu Festival
You can't see the Kenu and Kundu Festival without a guide. Well you could, but you wouldn't get a slip of insight as to what the races, sing-sings and exchanges are all about. Every dance and canoe has a tale to tell. Every piece of clothing is worn for a reason. And there's no point going to one of the most multifaceted nations on the planet if you end up getting just half the story.

An adventure organised by a Papua New Guinea holiday specialist will have your transport and accommodation arranged to time perfectly with the Kenu and Kundu Festival. They'll also match you up with a guide who'll lead you through the carnival of rituals and races.

Most trips use the festival as a grand finale to a small group tour. After 12 days or so of exploring the complexities of the island communities and colonial history of Papua New Guinea, you can put all that newfound knowledge into action. After all, in its simplest form the Kenu and Kundu Festival is a celebration of the astoundingly diverse people of this multi-island nation.
More about Papua New Guinea