Best time to go to Paraguay

Tours run throughout the year, but travel in September to early December, or April to May, to avoid temperature extremes and busier religious holidays.

With no real rainy season or tourist boom, there is no best time to go to Paraguay. December to February are the hottest months, with daytime temperatures in the low to mid 30°Cs, while July to August are the coldest. Days are still pleasantly warm; nights can drop to 10°C in Asunción. Consider avoiding pricier flights over Easter, Christmas and the July-August holidays (Paraguayans are also vacationing over Easter), although Asunción Day on 25 August is a lot of fun, as is the pyrotechnic-filled San Juan festival on 25 June.
Iguazu Falls
are fullest from Dec-Feb, although rain can cut off surrounding rainforest trails.
Our Paraguay Holidays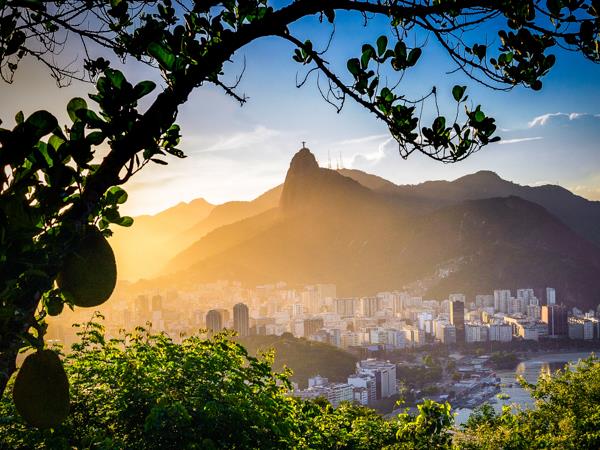 Epic discovery journey across South America
From £4226 19 days ex flights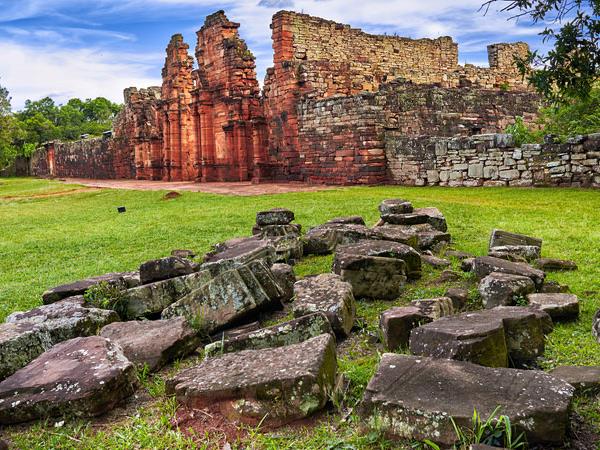 Ancient Jesuit missions and the remote Chaco region
From £3399 to £3649 12 days ex flights
Things to do in Paraguay...
They may have been expelled in the 1760s, but the Jesuits still have the power to convert: their ruined missions, known as reductions, continue to lure travellers to Paraguay to admire their gorgeous Spanish-Moorish inspired architecture, intricately carved churches and colonnaded plazas. Follow the Ruta Jesuítica through cattle country to towns such as Yaguarón, with its pretty Franciscan church, and Santa María de Fe, whose museum houses dozens of wooden statues which the Guaraní were taught to carve by the Jesuits.
Bring your binoculars. And your bird book. The Chaco covers over half of Paraguay with landscapes ranging from wetlands and dry forest to cattle ranches and cacti-dotted plains. Wildlife is abundant, including pumas, tapirs and armadillos, although in this vast landscape, it's hard to spot. You'll have better luck with the birdlife; some 500 species inhabit the Chaco, including the ostrich-like rhea, crowned eagles, roseate spoonbills and – from April to October – flamingos fleeing the Chilean winter.
It's no Rio, Buenos Aires or Cuzco, but that is all part of Asunción's appeal. The Paraguayan capital was founded in 1537, and its inhabitants are enjoying their newfound peace and freedom since brutal dictator Alfredo Stroessner was overthrown in 1989. Crumbling colonial buildings are being restored, the thriving municipal market sells everything from vegetables and counterfeit clothes to herbal medicine, and trucks at the nightly food market serve up Paraguayan beef and Sajonia craft beer. Discover the city's darker side at the Museo de las Memorias, housed in what was the detention and torture centre during the Stroessner years.
Things not  to do in Paraguay...
Expect everyone to speak Spanish. Paraguay is the only South American country with an indigenous language as one of its official languages; Guaraní is spoken by some 90 percent of the population, including many non indigenous Paraguayans. Most people do, of course, also speak Spanish, but learning a few words in Guaraní will really enhance your experience. We admit it's not easy though – the morning greeting is Mba'eichapa ndepyhareve? In addition, over a dozen other native languages are spoken here, and in the Chaco town of Filadelfia you'll find a clutch of blond-haired, blue-eyed, High German-speaking inhabitants – descendants of Russian Mennonites. Attempt the Trans Chaco Highway alone. Things have improved a lot since 'the world's worst road' was paved in 2007, before which its swampy conditions snagged vehicles for days on end. However, the 800km long 'highway', aka National Route 9 from Asunción to Bolivia, remains fraught with dangers, as gaping potholes rip through the asphalt and lorries churn up dust, drastically reducing visibility. Travelling at night is best avoided, and as much of the road passes few communities and is traversed by just a handful of vehicles, a breakdown can be disastrous. Best travel here with an experienced driver and bring plenty of supplies, even then. Spend your whole holiday in Paraguay. The 'heart of South America' combines well with regional overland tours, as a convenient bridge between Argentina and Bolivia. Even if you are focusing on Paraguay, it's still worth hopping over the Argentinean border to Iguazu Falls – an easy drive from Asunción.
Our top Paraguay Holiday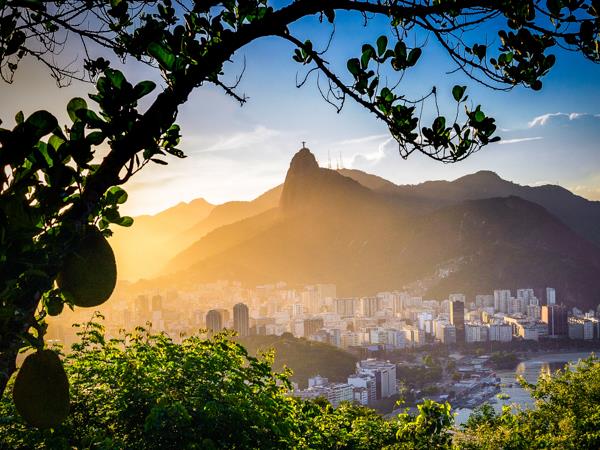 Epic discovery journey across South America
From £4226 19 days ex flights
Small group travel:
2023: 3 May, 7 Jun, 2 Aug, 20 Sep, 18 Oct, 13 Dec
2024: 17 Jan, 27 Mar, 1 May, 5 Jun, 7 Aug, 18 Sep, 16 Oct, 11 Dec
If you'd like to chat about Paraguay or need help finding a holiday to suit you we're very happy to help.

David Nichols, from our leading supplier of Paraguay holidays, Journey Latin America, shares his tips for travelling in the country:
Why visit Paraguay?
"We find there's always an appetite to explore new horizons, and Paraguay has always attracted a tiny trickle of keen travellers who have already ticked off the key destinations in Latin America and are curious about Paraguay. In recent years we've spent much time exploring and researching Paraguay to open it up to a wider audience, not just adventure-seekers. For example the Jesuit Missions Route of south-eastern Paraguay is a perfect add-on to a visit to the Iguazu Falls on the Brazil-Argentina border."
The Chaco
"The Chaco is likened with the Brazilian/Paraguayan Pantanal because it is rich in wildlife and a great destination for birders. However these are different ecosystems; much of the Chaco is semi-arid, a dry savannah and it does not flood seasonally like the Pantanal. The Chaco also lacks tourism infrastructure, and you won't find quality eco-lodges in the wilderness, purpose built for international travellers. Instead you stay at local inns in the Mennonite towns of Filadelfia or Loma Plata and drive to the best spotting locations. So rather than just as a wildlife destination, the Chaco is best seen as a multifaceted experience of Mennonite culture and history combined with an element of wildlife and birding in an unusual, beautiful landscape of bottle-shaped trees and house-sized cacti. And you may find you're the only tourist in sight."
Paraguayan culture
"Wherever you go, Paraguayans are friendly and, with few non-South American tourists, they are often curious about why you decided to visit their country. Spending the night in the formerly Jesuit settlement of Santa Maria is a great way to immerse yourself in authentic village life. In the Chaco, engaging with Mennonites and learning about their history is a fascinating aspect of a visit to Paraguay. Although the popular image of Mennonites is of shy people who wear quaint costumes, travel by horse and cart and conform to strict codes, the Mennonites of the Paraguayan Chaco are inclusive, modern and prosperous and wear 21st century dress. They like to chat with outsiders and tell their remarkable story and how much they love their utopia in the Chaco."
More about Paraguay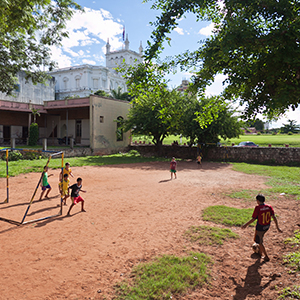 The little 'heart of South America' has its own unique pulse. It is blanketed in dry forest and swampland interspersed with patchwork-square cattle ranches, and scattered with the ruins of Jesuit missions. Ignored by tourists for decades, there is a sudden curiosity in this quiet nation. Read our Paraguay travel guide to find out why.