Best time to visit Iguazú Falls

December through February are when the heat, the rain and the humidity spike – but so do the falls, which reach their roaring peak, soaking everyone in sight with spray.

It's hard to have everything at once, so when choosing the best time to go to Iguazú Falls, you'll need to consider if the most powerful water, clear skies or access to the island and walking trails are your priority. In the rainy southern summer, San Martin Island and the rainforest trails may be unreachable. Jan, Feb and Easter bring holidaying locals, and can get extremely busy; midweek is also quieter than weekends. The April-Jun dry season is lovely; sunlight brings butterflies and rainbows in the spray. Aug-Sep are also dry but much cooler, this is great for more active hikes or bike rides. Visit in the early morning when the sunlight catches the spray.
Iguazú falls Weather Chart
THINGS TO DO IN IGUAZÚ FALLS
Things to do in Iguazú …
Get out on the water. Laura Rosales, from our supplier Say Hueque, explains more: "If you would like to be more adventurous, you can take the 'Gran Aventura' boat ride that will take really close to the falls and where you will get fully wet, an amazing experience! You can also kayak on the wonderful rivers of this national park and experience nature and the falls from a different angle." If you didn't get wet enough on the boat, you can always take a dip at the tranquil base of the 30m-high Arrechea Waterfall. It's reached on via the 7km-round Macuco Trail, which means few tourists stray this far.
Five nights a month, you can experience Iguazú Falls by moonlight. Guided tours depart during the late evening when the moon is at its fullest, with flash photography and torches banned to preserve the magical atmosphere. Plenty of mosquito repellent is advised! You can also book a late dinner as part of the tour.
Forget about the wildlife. An astounding amount of creatures inhabit the surrounding rainforest. Many of the 430 species of birds and 70 species of mammal are pretty elusive, but more common species include toucans, electric blue morpho butterflies, lively capuchin monkeys and friendly, raccoon-like coatis. Early morning is the best time to try and find puma or tapir; you'll likely hear the growl of the howler monkeys reverberating through the canopy too.
Things not to do in Iguazú...
Cuddle the coatis. These raccoon-like creatures look incredibly cute – but they come with a serious bite and can carry rabies. What's more, they're unafraid of humans, and can snif out food from a mile away. There are plenty of warning signs around Iguazú but tourists still can't resist photographing, feeding and stroking the coatis – often with dangerous results. Pop in. Iguazú Falls are a long way from anywhere – it's not the kind of place you can pop in and out of. There are also two sides to visit - the Argentinean side which comprises around two thirds of the park, and Brazil which covers the remainder. The Brazilian side needs at least half a day to explore – with Argentina worthy of at least a full day – or longer if you want to walk the nature trails, take a boat ride and see how the cascade changes with the light at dawn and dusk. Worry about your wheelchair. The trails around Iguazú have been designed to be as accessible as possible. The kilometre-long boardwalk leading right into the Devil's Throat is flat with no steps – meaning pushchairs as well as wheelchair users can easily reach the falls. The Bird Park is also fully accessible.
Our Iguazu Falls Holidays
If you'd like to chat about Iguazu Falls or need help finding a holiday to suit you we're very happy to help.

Iguazú Falls travel advice
Laura Rosales, from our leading Argentina supplier Say Hueque, shares her Iguazú travel advice:

"Both Argentinean and Brazilian sides are beautiful! But there are some slight differences. The Argentinean side of the falls cover 70 percent of both parks, so you will need a full day to visit this side. You will find that the park has different levels that you can walk and discover as well as an ecological train that covers a major part of the circuit of this park. The Brazilian side can be done in half a day, as the circuit is shorter but from this side you will get amazing panoramic views of the Argentinean side and also get up close to the famous 'Devil`s Throat'."
Packing tips
"When you visit the park, it is always good to carry extra clothes and a towel. The strength of the waterfalls makes a constant mist! Also sunglasses, hat and sunscreen. It can be very hot during the day. If you decide to walk all the paths in the Park, at the end of the day will have walked 7 km, so make sure to wear adequate footwear. Not flip flops! Carrying insect repellent on all tours is very important; have it handy to use after sweating or getting wet."
Advice on when to go
"Iguazú Falls is a destination that you can visit all year round. Our best recommendation is going during mid-season (from July to October and from February to April); during this period the weather is great and the park is not too crowded with tourists. November, December and January is peak season; sometimes the paths of the park could be a little bit crowded and you`ll have to do queue for everything."
Learn about the culture
Yamila Barba, tour leader for our supplier, Intrepid Travel:

"I really recommend you see The Misson. It's a film from 1986 that explains what happened to the native people in the area of the waterfalls - the Guaraní. The film has really special music when they show all of the waterfalls. It doesn't really have a happy ending, but it's nice to understand what happened when the Spanish came to this area - and especially to South America. What happened when they met the native people and the fight between the Portuguese empire and the Spanish empire, fighting for the land... The music won a lot of different awards – it's perfect music for the waterfalls."
Iguazú Falls HOLIDAYS TRAVEL ADVICE
At Responsible Travel, we think the best people to advise our travellers are often... other travellers. They always return from our tours with packing tips, weather reports, ideas about what to do - and opinions about what not to.

We have selected some of the most useful Iguazú Falls travel advice that our guests have provided over the years to help you make the very most of your holiday.

I fulfilled a childhood dream of seeing the Iguazú Falls from both sides. Plenty of water in the river (4million litres per second!) and managed to fly over them in a helicopter and experience them up close in a Rib boat...

"I fulfilled a childhood dream of seeing the Iguazú Falls from both sides. Plenty of water in the river (4million litres per second!) and managed to fly over them in a helicopter and experience them up close in a Rib boat. At Iguazú, make sure you are the time to visit the Itaipu dam on the Brazilian side. Not without controversy in the 1970s when it was built, it is an engineering marvel and we were lucky enough to see one of the spillways open with 10 million litres/ sec of water shooting out. Above all, take your time and try not to do too much in one trip." – Roland Cherry

"The most memorable or exciting part of my holiday? Probably viewing Iguazú Falls. There are totally "wow"... I have never seen such amazing falls and just didn't want to leave even though I viewed from the Argentina and Brazilian side..." – Gillian Mason on a South America coast to coast tour

There are totally "wow"... I have never seen such amazing falls and just didn't want to leave even though I viewed from the Argentina and Brazilian side...

"It would have been nice to know when taking the Grand boat trip at the Iguazú Falls that you're going to be wet all over. Nobody told us and we didn't have any changing clothes or at least swim suits with us. So the rest of the tour we had to proceed in wet clothes which made it a little awkard." – Nadja Weidmann

"One day at the Argentinian side of Iguazú Falls and only a few hours in the Brazilian side is sufficient. Would recommend to spend a bit more on hotels in… Iguazú Falls as the standard varies." – Linda Hoffmann
More about Iguazu Falls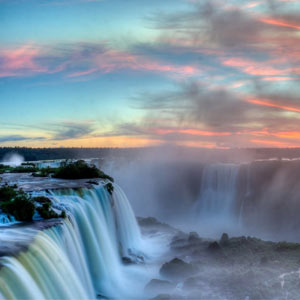 Our Iguazú Falls travel guide offers all the information you need on visiting one of South America's greatest natural spectacles.