Papua New Guinea rainforest holidays
"My best memory of Papua New Guinea? Early morning, sailing into the shores of Bougainville island, with the volcanoes erupting under the rising sun."
Aaron Russ is the co-owner and leader of our expedition cruise specialists Heritage Expeditions, which has pioneered travel to the South Pacific islands off the east coast of
Papua New Guinea
– remote and rugged islands covered in tropical rainforest.
Shirley and Rodney Russ, a biologist with the New Zealand Wildlife Service and Aaron's dad, established the
expedition cruises
in the 1980s as a way to share the natural history of the world. Rather than wanting to hide endangered wildlife away from tourism, Rodney sought to invite and engage with people, hoping that by educating travellers they might become ambassadors for wildlife.
Expedition voyages are personalised, immersive and engaging. Groups are kept to a maximum of 50 travellers on board, which is an ideal number for visiting the small rural communities and villages. On a tour to the extremely isolated Arnavon Islands and Northern Solomon Islands, you will quite literally be the only visitors coming through in any given year, meaning your cruise leaders have built up a rapport with the communities over time.
"The people are a big part of the story when you're travelling through Papua New Guinea," says Aaron. "Because, whether they're the purpose of your visit or not, it's a peopled landscape. Being able to travel in harmony with the local communities is a fantastic way to discover the areas and the forests and wilderness that we visit."
If you want to see evidence of evolution, then forget the Galapagos – Papua New Guinea is the place to be. There are more – and more complex – examples of evolution here than anywhere else in the world, and all found in the fantastic tropical birdlife. Each island even has its own speciation, where birds have evolved to become distinct species, so there will be new birds to spot wherever your tour takes you.

The highlight for travellers on the mainland of Papua New Guinea are the birds of paradise, but once you venture out into the outer islands you'll find species like rails, silvereyes, honeyeaters, parrots and kingfishers, all of which have evolved to the unique habitats that each of the islands presents.

Typically, there will be educational opportunities throughout a tour, whether it's formal lectures, evening discussions or shore excursions. Specialist small groups mean that you know you'll be alongside equally fascinated travellers looking to learn more, and you won't disturb the wildlife in the rainforests and on the beaches.
Tours are led by guides who each have their own unique knowledge and skills, whether that's a specialist in birdlife, a marine biologist who leads snorkel excursions, or someone who has experience and expertise with the communities and can help guests communicate with the people they meet.
"We're often joined by a guest lecturer," says Aaron. "In recent years we've had Professor Tim Flannery, the author and conservationist, join a number of our voyages as guest lecturer through Papua New Guinea and the Solomon Islands."
The rainforests of Papua New Guinea definitely have challenges ahead, including significant environmental issues such as mining and tropical hardwood logging for furniture. Tourism brings in direct benefits like financial contributions to local communities and conservation projects. But simply exposing travellers to the situation and raising awareness of the challenges faced by those parts of the world has results, whether it's reconsidering purchasing decisions or getting personally involved in environmental protection.
"One of our guests to the Solomon Islands went home and established a fundraising body that's raised tens of thousands of dollars for a conservation project that they really connected with during one of our voyages," says Aaron. "The money they have raised as a result has boosted that conservation project to the next level."
Our top trip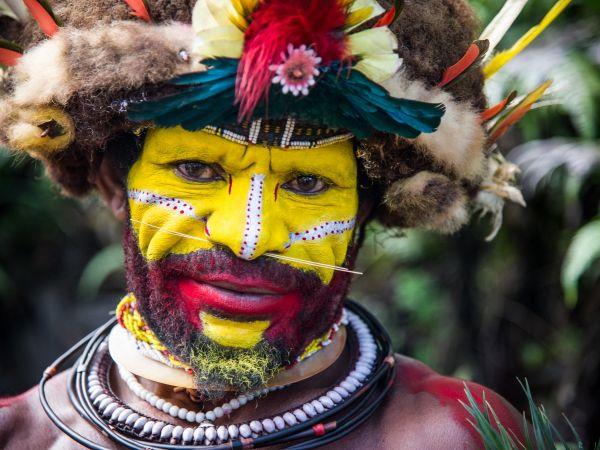 Stay with tribes and visit a festival in Papua New Guinea
From
£10995
16 days
ex flights
Small group travel:
2024: 7 Aug, 4 Sep
If you'd like to chat about Rainforest or need help finding a holiday to suit you we're very happy to help.

What does a holiday in Papua New Guinea rainforest entail?
Bird watching
Birding doesn't get much better than in Papua New Guinea – home to 780 bird species of which 76 are endemic. Twitchers can book specialist birdwatching tours, but the
spectacular birdlife
will appeal to any travellers here. In the rainforested Mandang region, colourful avian inhabitants include sulphur-crested cockatoos, rufous-bellied kookaburras and red-capped flowerpeckers. Along the Sepik River, you'll spot typical waterbirds like terns and egrets alongside hornbills, and on the many surrounding islands you might encounter rare and endemic species like super pittas, Meek's pygmy parrots, blue-faced parrotfinches and coconut lorikeets.
Cultural tours
Remote, isolated and with relatively little tourism, Papua New Guinea is an island nation where traditional tribal life is alive and flourishing. It's home to around 750 tribes, each with their own beliefs and customs, where large festivals and elaborate costumes remain popular. The Baining tribe perform a fire dance, part of a rite of passage for young men, wearing headdresses shaped like animal faces, while the Asaro tribe – the "mudmen" – wear clay masks covered in pigs' teeth and shells. Arrive in September for the
Goroka Show
which attracts more than 100 tribes for a display of songs and dance.
Hiking the Kokoda Trail
Following in the footsteps of Australian servicemen who were fighting Japanese soldiers, the
Kokoda Trail
is an iconic route that appeals to history lovers who love to hike. Classed as similar to a long trek in the Himalayas, it's a challenging trip – except that this is a jungle trek, with the hot, humid and difficult rainforest environment to factor in. As cross-country treks go, however, this one offers very different cultural experiences, led by highly trained historical specialists and trekking guides.
Small boat tours
Melanesian
small ship expedition cruises
are the best way to see Papua New Guinea and are the only way to access the surrounding islands that most travellers don't normally see. Tours will take you along the island's longest river, the Sepik, before reaching the Bismarck Sea and setting sail towards the remote and rarely visited islands of Manus, Mussa, Nissan and Bougainville, and even the Solomon Islands. Sleeping on board every night, you'll wake up each day on the beach of a new island. Thanks to their isolation, these islands have retained both their astonishing biodiversity and their very traditional, tribal ways of life.