The rise of specialist tour operators
---
Think local, not global
Following merger after merger, the UK tourism sector is now dominated by enormous companies, who continue to buy up rivals (sometimes only to shut them down) and take ever greater shares of the market. As of 2011, the three biggest three companies alone controlled
more than half of all package holidays
; they create holidays in destinations across the globe and each even has their own airline – meaning 100 percent of travellers' holiday cash stays within the company.
But is this really what consumers want? And can a global behemoth really be better than a small, specialised tour operator?
In 2004, Responsible Travel carried out a survey to find out what UK travellers though about mass tourism, and the results were clear. 76 percent of people reported that they didn't like the way mass tourism damages the local environment and culture, with 52 percent of people feeling that mass market tour operators didn't offer the most interesting holidays.
There are obvious advantages of travelling with a smaller, more specialist operator: the traveller will usually receive a more personal service from smaller operators who have a real passion for the destination. In addition, these operators are experts on their destination and can give detailed (often firsthand) advice; several of the operators either grew up in or have since moved to their destination of choice, meaning they know it far more intimately than a global travel company. And aside from this, specialist operators also tend to care more about people and the environment, and strive to minimise the negative impact from their holidays.
This is one of the reasons why Responsible Travel has 400 smaller specialist tour operators on our site, making it the first place to look for a more interesting and authentic holiday that minimises impacts on the environment and culture.
Our Holiday Helpdesk team know that every holiday is special. They are experts at matching up specialist operators with each traveller's needs – so give them a call or send them an email and they'll get back to you with their top trip recommendations. Some of our specialist operators are small and hard to find online – so our Helpdesk can connect you with the holiday companies that would otherwise take a long time to track down.
Hello.
If you'd like to chat about our specialist tour operators or need help finding a holiday to suit you we're very happy to help.
Rosy & team
01273 823 700
Here are a few of the specialist categories that we have on our site:
Wildlife specialists
---
Wildlife is a key highlight of many of our tours – from the classic African safari or Antarctic expedition, to the jungles of Borneo or even tracking wolves in Europe. A wildlife specialist operator will ensure you travel with expert, naturalist guides. As well as increasing your chances of viewing the sometimes elusive wildlife, they also ensure you learn about its behaviour and watch it safely – minimising any danger to the traveller – and to the animals. Specialist operators also frequently work with local wildlife initiatives; they may donate part of their profits to research or conservation projects, or visitors may be actively involved in the projects (submitting photos of whales, for example, helps with identification and monitoring, while tracking leopards and casting their prints also provides valuable information for researchers).
See our specialist wildlife holidays
here
.
Safaris
---
The most important thing you'll learn from any specialist safari operator is not how a lion stalks its prey, or what to do if you come face to face with a hippo – but how people living in the safari destinations are just as important as the animals. Involving local people in tourism – as lodge staff and managers, tour guides, drivers, and during village tours – deters them from poaching and ensures the benefits of safari tourism are felt well beyond the borders of the national parks. Many communities may have been evicted from their lands in the name of conservation, so it is essential that they can get something back from the preservation of the Big Five. And the tourist gains too – who better to accompany you on a bush walk than a Maasai warrior? Or to paddle your canoe on the Okavango Delta than a local villager?
Specialist operators will have responsible tourism policies in place to ensure no wildlife is disturbed – they may also work in private reserves to offer unique experiences such as bush walks, nighttime game drives and river cruises.
See our specialist safari holidays
here
.
Destination specialists
---
Responsible Travel promotes tours to 190 countries around the world, and most of these have specialist operators who are either from the destination or who work there exclusively. These operators offer unparalleled insights into these countries; they won't just show you the big sights, they'll take you to the hole-in-the-wall café that serves the best mint tea, visit a local tailor who can make you a suit or invite you for lunch at their aunt's house – you don't get that with Thomas Cook! A number of specialist operators across Africa and Asia were created by former driver-guides who got to know their country so well they went on to form their own travel companies to share their experience. Other quirky specialist operators on our site include a Transylvanian Count, a husky breeder in Lapland, a UK policeman-turned-Hungarian birder and a dive master who runs specialist marine conservation holidays on a tiny Belizean cay.
Choose your destination
here
.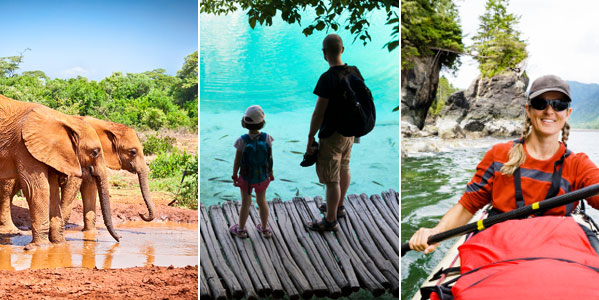 Family specialists
---
Of all the specialist operators on Responsible Travel, family specialists are probably the most important to our customers. They tread a fine line between immersive activities that are way over children's heads – and kids clubs which fail to connect with the destination in any way.
What specialist family tour operators understand is that children can be every bit as fascinated by the natural world, new cultures and outdoor activities as adults; they just need to be able to explore them in more manageable chunks, and with specialist tour leaders who can explain things in a way that will fire up their imagination – not leave them running for their iPad. What appeals to an adult may not appeal to a child, but that doesn't mean they need to be left out. An operator in Peru found her nine-year-old daughter was left unimpressed by Machu Picchu – yet was delighted enthralled by the Quechua women dying alpaca wool in the Sacred Valley below. Our family specialist operators get this – and more.
See our specialist family holidays
here
.
Walking & cycling holidays
---
Walking and cycling holidays each come with their own special requirements, whether you're on a small group tour or a tailor made trip, travelling from point to point each day or basing yourself in one location. Self guided holidays need experienced specialists to provide adequate maps and instructions – as well as ensuring you have 24/7 backup should anything not go to plan. Small groups cater for a range of travellers – from those who think triathlons are "fun" to the first-time-on-a-bike-in-20-years types – and ensure that each gets a sense of enjoyment and achievement from the trip. As walking and cycling is their thing, they understand the importance of a support vehicle for the big hills, plus the convenience of having your luggage carried from guesthouse to guesthouse. Cycling specialists will perform maintenance checks and can fix busted bikes – while walking operators understand that walking 10k is not the same at sea level as at 3,500m altitude – or in 35 degree heat, and can plan your itinerary accordingly.
See our specialist
walking
and
cycling
holidays.
Activity holidays
---
Holidays are increasingly seen as a time to try something new – or to develop existing skills. You may be a keen kayaker who wants to use your paddling proficiency to explore new regions – or perhaps you've never sat in a kakak before, and want to spend a day or two trying it out, without having to commit to the full two weeks. Horse riding too can be a way to cover ground or just learn something new. Our activity holidays are as diverse as the specialist tour operators that run them – from cross country skiing and snowshoeing in Scandinavia to rafting in Costa Rica, via sailing in Spain and mountain biking in Madagascar. Each is run by experts, with highly qualified and experienced guides – ensuring you are in safe hands, and will be able to learn at your own pace.
See our specialist
activity holidays here
.