RURAL ACCOMMODATION IN ANDALUCÍA
Although coastal carbuncles, from golf to grotesque hotels, have scarred many parts of Andalucía, there are many rural spots that score a hole in one when it comes to responsible tourism. The bad news is that 59 percent of Andalucía's coastline is built up. And up again. The good news is, and we do like to focus on the positive side of things at Responsible Travel, that 41 percent is not – and neither is much of the beautiful and surprisingly empty, rural interior, which is so often overlooked by sun seekers. The antithesis of the develop-or-die attitude, our rural accommodation owners are people who sustain and nurture, and also invite you into the real Andalucía where you will see traditions such as harvesting olives from the trees with large sticks. You'll savour foods such as cold salmorejo soup on a hot day, and serrano ham with a chilled sherry as the sun sets.
Our Rural accommodation Holidays
A finca in Almería
Just saying the words 'we are escaping to a finca in Almería' is evocative enough, and it really does live up to all expectations, if enjoying the peace and tourist free ambience of the Sierra de Los Filabres Mountains appeals. And yet, this finca accommodation in the village of Lubrín is just 45km from the coast, one of the nearest spots being Mojácar. Just an hour's drive from Almería airport takes you to this village dating back to prehistoric times, as you can see at the Cave of Bats which has displays of ancient rock art and carvings.
Lubrín's Moorish history is, perhaps, more obvious, with traditional architecture and the remains of a fort nearby. The village then developed in the 1500s around an aristocratic estate with workers living in the village, and it still has a very small community feel to it. Our finca accommodation on the outskirts of the village captures this perfectly, and it is close enough to walk along a quiet track into the butcher, baker and walking stick maker. OK, we are making the last one up – but we like the fact that you can pick up a natural walking stick just about anywhere here, with plethora of pretty walking trails right on your doorstep.

This handsome, whitewashed finca with its red tiled roof is self catering, so do time your visit to include market day in Lubrín on a Wednesday to stock up on local goodies. You can also enjoy the bars and cafes in the village, one of the most celebrated being Los Molinos for its tapas, perfect after a day on the hills. As is the finca's swimming pool and terraces where you can watch the sunset with a glass of chilled, local sherry in hand. You will have plenty of those (sunsets, not sherries) as Almería, Andalucía's easternmost province, bakes under 300 days of sunshine a year. With log burning stoves to warm you up in the evenings, you can even enjoy this one at Christmas.
"The most memorable part of my holiday? The sound of the scops owl at night. Finding a local natural water source and enjoying the pleasure of taking an impromptu swim!" - Helen Jenkins
"Bring stout shoes for walking along the tracks, torches for walking back to the house after dark (one is provided by the property). Hiring a car would make it possible to visit surrounding villages but we enjoyed the locality so much we gave up this idea and had a couple of nights in Almeria at the end of the holiday." - Tricia Evans
A cave in Castilléjar
First: put the words dark and dank out of your head. "Souterrain style" are words more suited to the cave dwellings in the mountainous environs of Castilléjar de los Ríos, with some of the most dreamy and dramatic scenery all around. Or just "cool", because while the rest of Andalucía bakes for many months of the year, the caves remain a constant, pleasant temperature all year round, while whitewashed walls and minimalist, traditional décor make them feel open and yet cosy.

Less cosy is the surrounding 'altiplano' countryside, which has stunning walking trails at every turn through barren and stunningly beautiful terrain. The caves' owner is an expert and knows the tracks and trails like the back of his hand. Located between the verdant valleys of the Barbatas and Guardal Rivers, there are not only many trails to adventure out on, self guided or guided, but also some wonderful wild swimming spots.

Some of the recommended walks out through the region's ascents and descents, peaks and plateaus can be found in Castril Sierra and Cazorla Natural Parks, around the of Negratín and San Clemente Lakes and the famous Baza Natural Park.
Castilléjar de los Ríos is in the province of Granada and, not surprisingly, it has a wealth of cultural heritage going on. Like many parts of Andalucía it has been populated since prehistoric times, although the more recent Moorish influences can be seen in Castilléjar itself which grew around a fortress to protect invasions from Murcia. Tucked up in your own little cave fortress you will never feel more at peace, however.

There are two caves to choose from here, one with three bedrooms and the other with just two. Both are self catering, with a Saturday market in the village for stocking up on local goodies plus several small shops and cafés. The views from the terrace at sunset are not even something we will attempt to put into words as cliché alarms will go off. Watching golden eagles soar elegantly on thermals is far from a cliché, however. It's quite simply a wonderful feature of these mountains. And when that mountain chill kicks in during autumn or winter you can light the wood burning stove and peek outside from time to time to see the explosions of stars all around.

"Staying in a cave house was great fun and a life saver in the baking summer heat. We slept really well as it was so cool and peaceful. The surrounding countryside is stunning – rugged mountains and vast plains, crossed by well maintained and empty roads made it a pleasure to drive to the local sights. There were plenty of interesting birds (bee eaters, eagles, hoopoes and golden Oriels) plus lots of history, bustling markets and good eateries in the close vicinity. The swimming options were also stunning - in lakes, rivers and the pristine pools that every local town seemed to have... We were frustrated to have forgotten our binoculars for the amazing bird watching" - Deborah Pole
Our top Rural accommodation Holiday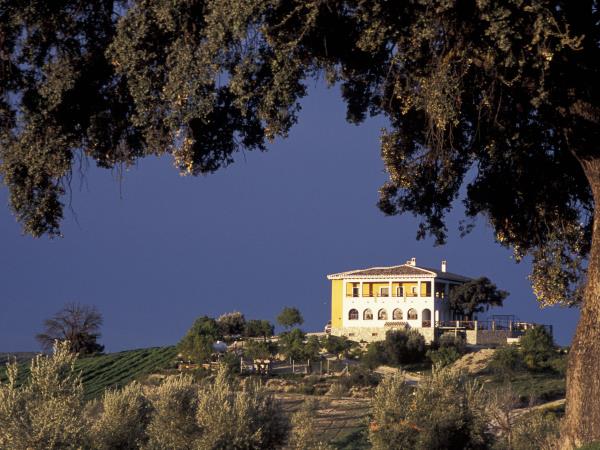 Off-grid hotel in spectacular unspoilt rural Spain
From
€54

to

€105
per room per night
Accommodation
If you'd like to chat about Rural accommodation or need help finding a holiday to suit you we're very happy to help.
A community of cottages
A small community of six cottages, these traditional, whitewashed cosies are tucked into the mountains around Periana, in the province of Malaga but a million miles away from the less salubrious sides of Costa del Sol. They are firm family favourites, surrounded by mountains and with elegant gardens, a play area with trampoline, and an all important (fenced) swimming pool. Although the cottages have kitchens, there is also a restaurant on site. For that all important day at the beach, however, the nearest one is only 25 minutes' drive away at Torre del Mar, a big old stretch of sand. There are smaller bays to be found, but we are going to keep those treasured secrets inside the walls of the cottage community! Lake Viñuela, just a 20-minute drive away, is also a wonderful swimming spot.

Outside of school holidays the Periana cottages are favourites with hikers and wildlife watchers, particularly birding enthusiasts as the surrounding valleys proffer thermals in abundance for resident birds of prey. In spring, its subtropical Mediterranean climate ensures a fiesta of all things flora, from wildflowers to almond and orange blossoms. The surrounding hills are a favourite with olive, orange, avocado, asparagus, pomegranate and peach producers. So, as you can imagine, Saturday market is a delicious place to be. In August there is even a Festival of Peaches in the village. Oh yes, Periana is peachy.
"The restaurant has a beautiful view, the service is excellent and the food is very good. The paella is well worth ordering, the best I've ever tasted. The kids' menu was great and all the kids facilities excellent...You definitely need a car. It's quite remote. The closets good beach is about 45 mins away but the location is fabulous...ideal for families with small kids. The pool is secured." - Deborah Sigsgaard
More about Rural accommodation