Umbria rural accommodation
In the medieval city of Gubbio, one of the oldest in Umbria, citizens can earn themselves a certificate of madness. Not 'pour gravy down your trousers and leave your life's savings to a pet ferret called Nigel' madness, but madness signifying that you are a passionate idealist, and deeply wedded to traditional values. It's a title, perhaps, that Gino Martinelli, owner of our Umbria rural accommodation La Cerqua Agriturismo, might wear with pride. "This farm has been in my family for generations. We aim to follow traditional methods; only growing organic crops, following ecological principles, staying as close to nature as possible. We're not really a commercial farm. We usually only produce food for our family and our guests, who we consider family too."
Guests at this idyllic rural accommodation in Umbria, which Gino runs along with his wife, Silvana, are encouraged to immerse themselves as deeply as they want in the farm's operation and principles. Between day trips to attractive cities such as Gubbio, activities including horse riding and archery, or just sunbathing beside the acorn-shaped pool, you can wander marked trails through the family's woods, learn how to shoe a horse, and get a hands-on lesson in pasta making from Silvana.
Accommodation is in a restored 14th-century farmhouse, thought to have once been a monastery. Nearby is the Pietralunga forest and the wider Carpina valley, with the Adriatic Coast just an 80km-drive away. Perugia, and the nearest airport, are an hour away. The farm's buildings of ancient stone, wood and terracotta are powered by solar panels in keeping with the family's commitment to environmentally friendly ways of life. Meals are organic, follow the 'slow food' tradition, with ingredients either locally sourced or homegrown, and the woods are managed sustainably.
Our top Rural accommodation Holiday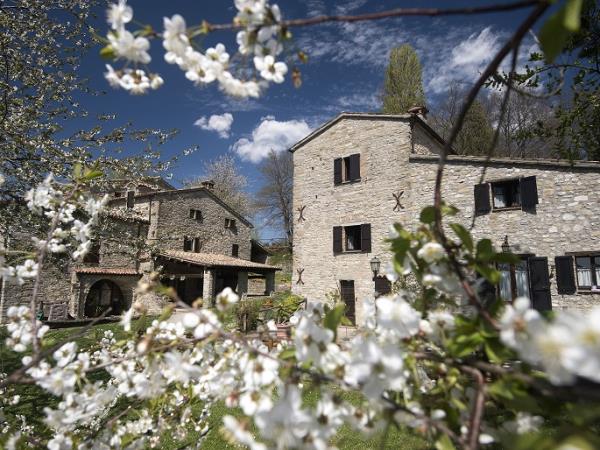 Bio Hotel in Pietralunga Forest, Umbria, Italy
From
€70

to

€110
per accommodation per night
Accommodation
If you'd like to chat about Rural accommodation or need help finding a holiday to suit you we're very happy to help.

Things to do
Leaf-peeping, racing saints, birdcage cable cars, crossbow competitions and a wizard's garden – staying in this region of central Italy feels a little bit magical. It's the kind of place that Terry Pratchett might easily have sought inspiration from for his Discworld series.

"Something we love to do with our guests here is what's called 'leaf-peeping'," says Gino. After all, if you've got your own woods, it would be a shame not to show them off. "In America they admire the foliage during the fall. Here we try and do something all year-round. For instance, in spring we look at the plants flowering. Every season has its own colours, its own interesting things going on."
As for the 'wizard's garden', it's a small natural oasis with a lake and a handful of walking trails through it, a kind of laboratory of ecology. There are signposts throughout detailing the flora and fauna you're observing, and you can explore on foot, by bike or on horseback. "The forest is of central importance to our farm," says Gino, "so we're deeply connected to it and like to educate our guests about its importance." As well as offering an idyllic rural retreat in the Umbrian countryside, Gino and Silvana operate a teaching farm, inviting groups and schools to learn about traditional techniques – a big highlight for families is learning how to make fresh ravioli or tagliatelle with Silvana.
Having a car at your disposal is recommended. You have Urbino (birthplace of the artist Raphael), Assisi (birthplace of Saint Francis), and Perugia all within a short drive. Gubbio, half-an-hour away, is another lovely place to spend a day. For those with the nerve there is a cable car going up to the mountaintop Basilica di Sant'Ubaldo, a stand-up contraption that resemble a cross between a birdcage and an iron maiden torture device, though more fun than being stuck in either. The Bargello Palace, meanwhile, has a little museum dedicated to the crossbow – on the last Sunday in May every year, costumed archers demonstrate their target-shooting prowess. In fact May is a fantastic time to stay here – the 15th sees the annual Corsa dei Ceri, a famous folklore event in Gubbio when three teams, each carrying a statue of their saint on a wooden platform, race up the mountain to the basilica.
Gino can also issue you with a Carpina Valley card: "The various accommodations in this region created an association to encourage responsible tourism. It's your passport for locally owned restaurants, organic local foodstuffs such as olive oil and cheese, and handmade crafts shops."
Your accommodation
The accommodation at Le Cerqua takes the form of guest rooms and studio apartments, usually in the main farm building. All are furnished with rustic charm, some with their own open fireplaces. On-site, you've got a restaurant as well as a bio-café with a veranda, where Silvana and her team serve up delicious homemade fare based on traditional peasants' recipes, and using seasonal produce as far as possible.
There is also lots to do on-site, with riding stables and several bridle paths nearby, an archery site for anyone nurturing a Robin Hood fantasy, guided nature walks through the wizard's garden and an outdoor pool. You don't have to be mad to enjoy a stay here, but you'll definitely come home seeing the world through different eyes.
More about Rural accommodation