Guide to small ship cruising holidays in Scotland
You need to engage with a whole other language before embarking on one of our Scottish seafaring sojourns. Places like the Kyles of Bute, the Gaelic word for the narrow channel of water between the mainland and the Isle of Bute. Or a mull, which is a headland, most famously the Mull of Kintyre or the Isle of Mull, the second largest of the Inner Hebrides and with a mountainous centre. You have locks and lochs, and canals that link up lochs with locks. Such as the Caledonian Canal, which takes you on one of the most stunning shortcuts from the northwest coast to the northeast.

At night, I sat on deck and read Ring of Bright Water to my granddaughter, one of my favourite books, set on Skye. I had read it to my daughter as a child, but to do so on the shores of its heavenly location was as idyllic as it gets

And then there are 'sounds' everywhere, meaning a strait of water. The Sound of Mull, Sound of Jura or the Sound of Bute. Most importantly, these trips encapsulate one sound that we all crave from time to time: the pure and unadulterated sound of silence.
Our Scotland cruising Holidays
Is a small ship cruise in Scotland for you?
Go on a Scotland cruising holiday if…
… you want to explore both the Highlands and islands. These cruises aren't just far out at sea; the inland lochs are just as idyllic.
… you love the idea of exploring the Scottish islands but don't want to be surrounded by lots of other guests. These Scotland small cruise ships usually sleep approximately eight to 12 people.
… you are a keen wildlife fan. From warblers to whales, dolphins to deer, puffins to porpoises Scotland's waterways are not short on wildlife wonders.
… you are looking for something different for a family reunion. Sleeping around twelve, there is room for all ages. Although for safety on board, the minimum age is usually seven.
Don't go on a Scotland cruising holiday if...
… you want guaranteed sun. This is Scotland, not Swaziland. However, the Western Isles or Hebrides do enjoy the effects of the Gulf Stream, and so they do have their own unpredictable and often gorgeous microclimate.
… you like a fixed itinerary. The captain is in charge on these trips and his/her boss is always the weather. So best go with the flow and see where the winds take you.
… you like space, man. Part of the joys of these small cruises is that they really are small, with sometimes only six cabins. So although you get that feeling of solitude and tranquillity out on the water, you will have people sharing the deck and dining table with you.
…you have very young children. To really make the most of these trips, and enjoy the wonders of marine wildlife, the recommended age is around seven, and ideally when children can swim.
Our top Scotland cruising Holiday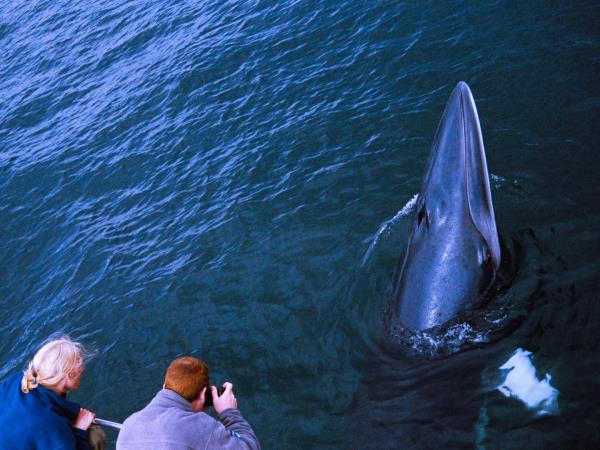 Spot whales, otters and eagles on Isle of Mull, Scotland
From
£575

to

£790
5 days
ex flights
Tailor made:
This trip can be tailor made from late April to the end of September
If you'd like to chat about Scotland cruising or need help finding a holiday to suit you we're very happy to help.

What does this trip entail?
How big is a 'small' cruise ship?
On average, these small cruise ships accommodate no more than about 12 passengers. Their small size allows them to navigate their way around the lochs, inlets and tiny bays or harbours of remote, uninhabited islands. The boats are sometimes converted working vessels such as traditional fishing boats, or wooden 'ketch' boats with two masts and rigging. You can even voyage on a converted Norwegian rescue vessel. All are beautifully restored with indoor lounges and observation decks, too. There is nearly always room on deck to store additional equipment that you might want to bring such as fishing rods, bikes, canoes, windsurf or surfboards.
What are the cabins like?
These really vary according to the boat, but there is usually a mix of double and twin cabins with ensuite bathrooms although sometimes toilets are shared with other guests. Some boats also offer single berth, but your tour operator will give you all the details.
Can I travel solo?
If you are travelling solo and there are no single cabins, you usually have two choices: Pay around a 50 percent supplement for your own double cabin, or choose to share a twin cabin with someone of the same gender, at no extra cost. If the cruise is not fully booked, you may be lucky and end up with your own double cabin without paying a supplement, but there are no guarantees.
Can I travel with my children?
Because the boats that cruise around Scotland's islands are another world from the giant bruiser cruisers, they are perfect for family reunions, inter-generational holidays and so on. Children love being on board, and parents love the fact that they don't have to cook, and in many cases the kids are encouraged to help with mealtimes, by fishing or filleting for example. The skippers and crew love having families on board, as well as sharing their knowledge of marine life, conservation, navigation or even those divine night skies.
What about meals?
Most small ship cruises in Scotland include all meals in the price, and are fully committed to showing off the underrated wonders of Scottish produce. If you thought Scotland was all about haggis, chips and deep fried Mars bars, think again. This is the land of Aberdeen Angus Beef, Scottish mussels and oysters, Scottish salmon and world class game, after all. There will also be plenty of opportunities to fish or throw down lobster pots for your dinner too and we know for a fact that one of the skippers dives for scallops himself. The food on these trips is legendary.
How are they responsible?
Small ship cruising holidays in Scotland aren't like bruising behemoths that cruise around other parts of the world and have been known to take over ports of Edinburgh and Glasgow, for example. They are a bit like the fine malt whisky of cruising. You will have plenty of comfort without the crowds; local knowledge with no local exploitation. And the boats are, in most cases, owned by the skippers not big multinational companies. These are Scottish companies that really get and are proud of Scotland, are passionate about marine conservation, wildlife and supporting small island communities. Many of them are also specialist wildlife cruises, where you will have a naturalist or wildlife expert on board.
More about Scotland cruising