Great white shark conservation holidays in South Africa
That's conservation by the way, not conversation. Great white sharks aren't known for their small talk. If you ever bump into one at a party just compliment its teeth and suddenly remember a prior appointment so you can make your excuses. Because great whites seem to have a reputation as Planet Earth's deadliest predators, fearsome dead-eyed feeding machines that never sleep. Like the Terminator with fins.

However, despite the unwholesome reputation they've acquired since 1975's Jaws, great white sharks actually pose very little threat to humans. Statistically you stand around a 1 in 3,700,000 chance of being killed by a shark, rarer still a great white, and rarer even still when you consider that shark numbers are falling globally every year, due to overfishing, habitat loss and poaching for their dorsal fins. The species currently teeters on the border between vulnerable and endangered.
The truth about great white sharks
Rather than chomping through everything in their path, sharks actually play an essential role in the survival of many species. The presence or absence great white sharks can have dramatic effects on an ocean ecosystem, threatening its stability, since they play a pivotal role as apex predators. One of the largest populations of great whites is found in the warm waters off South Africa, which in 1991 became the first country to give them legal protection. Here they are known for spectacular aerial leaps that draw amazed gasps from spectators, but these acrobatics are being seen less and less.
It's thought there are between 500 and 1,200 great whites off South Africa, and their numbers are in decline as they are threatened by overfishing of their prey species, habitat loss and becoming fatally entangled in fishing gear. Another reason some give for diminishing populations here is an increase in orca pods – these marine mammals prey on the sharks for their livers, where they store the fat that enables them to swim vast distances.
Sharks mature slowly and have few young, so they can take many years to recover from decline. For that reason conservation efforts are incredibly important. One organisation leading the charge is
The Great White Shark Research and Conservation Project
, based in the fishing village of Gansbaai near Cape Town, which seeks to preserve sharks while educating fishermen, dive operators and the public, by gathering data and correcting negative misconceptions.
Our top trip
Swim with possibly 20 species of sharks on this diving tour
From
£7495
13 days
ex flights
Tailor made:
This trip can be tailor made throughout the year to suit your requirements
If you'd like to chat about Shark diving or need help finding a holiday to suit you we're very happy to help.

What does a shark conservation holiday entail?
Great white shark conservation holidays with this project focus heavily on cage diving, so you will be out at sea for a lot of the time. You'll be involved in hands-on tasks that range from preparing bait to packing the boat, cleaning equipment and interacting with ecotourist passengers. A lot of your time will be spent on field research and data collection such as by observing shark behaviours both from the boat and underwater (yes you will be getting in the cage frequently). The aim is to contribute to a growing body of data on great whites, that will assist and improve conservation practices.

Naturally in such an environment you will also learn basic seamanship skills, from boat maintenance to anchor positioning, how to deploy the cage safely and also, of course, knot-tying. Essentially, you will come away with buckets of real life experience that will potentially be very useful for further studies or career progression. There will also be lectures covering topics such as shark biology, shark attacks, research techniques and conservation efforts.
Practicalities
Great white shark conservation holidays in South Africa run between March and November, and last a minimum of two weeks, and a maximum of 12. Volunteers are accommodated in a comfortable backpacker hostel a short walk from the Gansbaai harbour.

Regular boat trips are weather dependent. Dives take place in a secure (good to know!) five-man steel cage, and you'll be no more than one metre below the surface at any time. From the cage you'll have close-up views enabling you to record observations such as sex, size and markings of the sharks swimming within touching distance – but no touching please. Free time is built in, so that you might explore nearby vineyards or a penguin colony.
There are over 440 species of shark. Around 100 million are caught each year, while on average fewer than six human beings are killed worldwide by sharks. The great white can grow to 6.5 metres, weigh more than 2,000kg and swim at up to 70km/h. The great white, bull and tiger sharks are responsible for most attacks. There were 101 recorded shark attacks around the world in 2018, 75 of them involving injury. The great white shark is protected in South Africa, Australia and California The largest number of shark attacks occur in the USA, with half of these off the east coast of Florida.
More Shark diving articles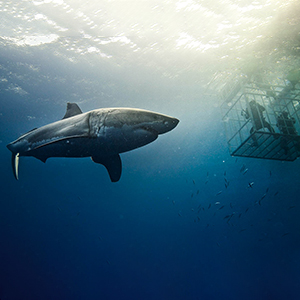 It's definitely an adrenaline-seeker's dream, but is it ethical? Here's some information about the practicalities of shark cage diving holidays for you to chew on.