Best time to visit Shetland
Winters are long and dark in Shetland, which is why locals brighten them up with a bang in Jan at the Up Helly Aa Fire Festival, with dancing 'til dawn. Summer days are long if not exactly warm, averaging 15°C in Aug. Shetland gets half the amount of rain as mainland Scotland, and the driest months are Apr-Aug. The Apr Folk Festival is an archipelago-wide event, the moors are covered in wildflowers in May, Jun brings almost no darkness, known as 'simmer dim' and seals deliver their pups in autumn. If you are really lucky, you may see orcas passing through in May-Aug.
Shetland islands Weather Chart
Things to do in Shetland...
It doesn't get much wilder than Shetland, and so wildlife watching is what many people come here for. In particular bird watching, with prolific colonies of puffins, storm petrels and skuas, known locally as 'bonxies'. Travel on land with an expert birding guide, or take a marine safari to see other marine wonders such as seals, porpoises and dolphins, as well as orcas between May and August, if you are very lucky. And Shetland ponies are everywhere, but not actually wild. They are owned and cared for by local crofters but given freedom to roam.
Shetland's other natural wonder is the otter, with around 1,000 of them swimming between these islands. Unlike other parts of the UK, they can be seen during daylight hours. Like all Shetlanders, they aren't shy; but best seek them out with an expert local wildlife guide just the same.
Shetland's heritage is ancient, with evidence of human settlements going back 5,000 years. Visit the prehistoric cairn at Shetland's highest point, Ronas Hill, or Mousa which is the world's most complete 2,000-year-oldbroch, And moving on through its prolific Viking heritage, the island of Unst has over 50 remains of longhouses. For many visitors, the highlight is crawling into a souterrain chamber at Jarlshof, a settlement that grew through Neolithic times, Bronze and Iron Ages to finally become a Norse farmstead.
Things not to do in Shetland….
Board one of the giant cruise ships with thousands of passengers now berthing at Lerwick. The industry has grown from 26,000 passengers in 2006 to 93,000 in 2017. The population of Lerwick is 7,500. At Responsible Travel, we don't believe that Shetland needs a bigger boat; read more of our views on large cruise ships here.
Seek out wildlife without qualified, licensed guides, especially in RSPB reserves and if you are going in search of otters. It is important to hike responsibly too, as a lot of Shetland is protected land for good reason. On Noss Island, for example, stick to the coastal route only. Don't mess with skua birds either, especially in breeding season. They dive bomb anyone they consider a threat! Similarly don't mess with any ancient stones at cairns, etc.; Viking ghosts dive bomb too, apparently.
Assume that just because Shetland has a very independent position geographically, it is all about independence politically. During Scotland's 2014 independence referendum, 63 percent voted to stay in the UK, one of the highest in Scotland. Also, many people see themselves as Shetlanders, with Norse roots, rather than Scots.
Our top trip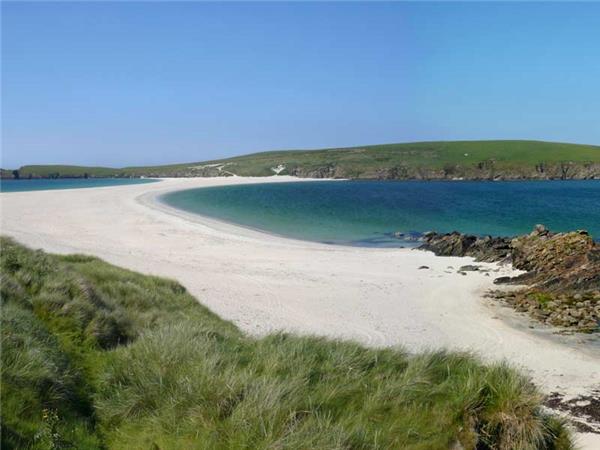 Guided wildlife tour of Shetland Isles
From
£2595
7 days
ex flights
Small group travel:
2024: 27 Apr, 11 May, 18 May, 25 May, 15 Jun, 6 Jul
If you'd like to chat about Shetland Islands or need help finding a holiday to suit you we're very happy to help.

Itinerary tips
Robert McKinlay from our leading Shetland holidays supplier, McKinlay Kidd, shares his Shetland travel tips for those heading north:

"With its painted wooden houses, sea-carved landscape, long boats and sometimes wild climate, Shetland provides a taste of Scandinavia, but you're still – just – in the UK and everyone speaks English! Go even further north – experience the strong identity and history of the far-flung islands of Yell and Unst and bag a whole list of 'Britain's most northerly'… castle, lighthouse, gin, tearoom etc."
Getting there & around
"Regular flights from Edinburgh, Glasgow, Inverness and Aberdeen take just over an hour, providing a much quicker way to arrive than the overnight ferry, though you may have less of a feeling of the distance travelled. Shetland is larger than you might think, so do allow plenty of time to explore; public transport is quite limited so ideally you need to hire a car or book day tours with a guide."
Accommodation tips
"Accommodation is welcoming but on the simpler side – you won't find any luxury spa hotels!"
Background reading
"Get in the mood for a trip by reading Ann Cleeves' books, upon which the BBC TV series "Shetland" was based. The descriptions of the place and even some of the local characters are very true to life. Fortunately, though, the grizzly crimes are figments of imagination!"
Best time to go to Shetland
"My favourite time to visit is in late June for the Simmer Dim, when it never really gets dark. Or, in complete contrast, the midwinter fire festivals are spectacular."
At Responsible Travel, we think the best people to advise our travellers are often... other travellers. They always return from our tours with packing tips, weather reports, ideas about what to do - and opinions about what not to.

We have selected some of the most useful Shetland travel tips that our guests have provided over the years to help you make the very most of your holiday - and the space inside your suitcase.

If you are wanting to see the puffins, dolphins etc. go before September. It was fantastic to see the contrast in both isles and to see the nature, unspoiled beauty....

- Moira Parker on our Orkney and Shetland self drive holiday
"For the time of year we went, which was mid October, make sure you have got warm, thermal clothing. If you are wanting to see the puffins, dolphins etc. go before September. It was fantastic to see the contrast in both isles and to see the nature, unspoiled beauty. The wealth of wildlife and to see them in a nature environment. The wealth of history and to see how the areas have evolved throughout the years. Also the possibility of seeing the Northern Lights." - Moira Parker on our Orkney and Shetland self drive holiday
More Shetland Islands articles
Our Shetland travel guide doesn't cover all 100 of these islands, just the highlights; think of it as our starter menu - we hope it whets your appetite.