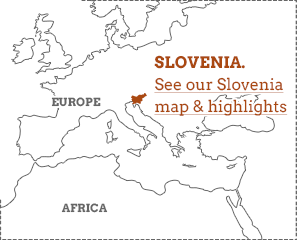 Slovenian folklore taps evocatively into the natural wonders of this European jewel. Tales flaunt two dozen expressions just to describe mountain passes in the Julian Alps, the spectacular pinnacles named after early admirer Julius Caesar. The Milky Way is celestial straw spilled by a mythical peasant. Paradise is a flower meadow surrounded by high rocky ridges on the epic Mount Triglav. Seventeenth-century yarns weave magic around secluded lakes in the Kocevje bear forests. But the wonder is how close reality seems to the imagined.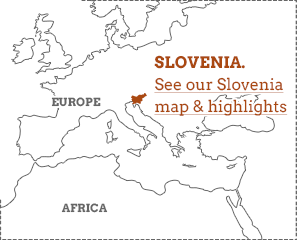 Slovenia is an exquisite miniature, swooping from its own distinctive Alps to its own distinctive Adriatic.

Holidays to Slovenia revel in this richly storied diversity: Italianate coastal resorts, lush forests, emerald-green lakes, rushing rivers and snow-capped peaks, all in a landscape sprinkled with fairytale castles and ancient towns. Beneath ground, Europe's largest cave systems give up spectacular archaeological finds. And any Slovenia travel guide should also mention the excellent wine.
Slovenia is...
a secret gem encapsulating Europe in miniature.
Slovenia isn't...
just another troubled bit of former Yugoslavia.
What we rate & what we don't
Local nosh
Slovene cuisine blends Italian and Balkan influences – deliciously filled ravioli, schnitzels and goulash – with rustic produce like locally-cured ham (prsut). Snack on savoury pastries (burek) and kranjska klobasa (spicy sausages), or tuck into fresh fish (riba) and shellfish from the coast. For pud, try fruit dumplings or the local cheesecake prekmurska gibanica.
Photography
Wintry Slovenia is spectacular for photographers – frozen waterfalls, misty lakes with island churches, clifftop castles, snowy peaks changing colours in low sunlight. In the Julian Alps, snap gorges, rushing rivers and moody WWI remnants – or grab a shot of the elusive Alpine ibex. Autumn spreads Technicolor from coast to mountains. And under dark rural skies, capture galaxies and star trails. Human life is a great subject too, in the picturesque villages.
Castles
Its castles are today atmospheric repositories of Slovenia's lively historical past. The 11th century Bled Castle is a cliffside setting for a fine history museum, while Predjama is linked to underground caverns – and tales of witchcraft. Witness medieval dancing at lovely Celje Castle, admire fine art at Kromberk near Nova Gorica. Žužemberk and Soteska are impressive fortresses too, while Ljubjana castle, with its dramatic hilltop setting, dominates the city skyline.
Caves
Limestone geology has given Slovenia some of the world's finest cave systems. Standouts include the UNESCO-listed caverns at Skocjan, home to the world's largest subterranean canyon, plus the 20km of passages, galleries and chambers at Postojna, Europe's most visited cave system. Archaeological treasures found beneath Slovenia include the world's oldest musical instrument, the 55,000-year-old Divja Babe flute.
Ljubljana
Founded 2,000 years ago as the Roman town of Emona, Ljubljana is a leafy atmospheric beauty cradled in a bend of the Ljubljanica River. Take in grand views from Castle Hill, then hit an old town of 19th-century wooden shops and medieval marvels laced with atmospheric courtyards and cobbled lanes; it's not hard to imagine why it was crowned the 2016 Green Capital of Europe. The prettiest area is around Stari trg and along the river.
Mount Triglav
Mount Triglav (2,864m) is Slovenia's highest peak, and a Slovene icon with its striking triplet of summits. There are over 20 ascent routes, but most folk take the trail from the Pokljuka Plateau near Bled. Experienced climbers can get up and down in 12 hours, but it's wiser to spend a night in one of the huts close to the summit. The mountain is protected within Slovenia's only national park – and one of Europe's oldest.
Lakes
Bled and Bohinj are a dynamic duo in the Euro lake stakes – and at just 25km apart it's easy to join the heated debate over which is best. Some give Bled the edge for jaw-dropping looks, others say Bohinj has more charming low-key beguilement. As well as swimming, there's kayaking, cycling, climbing and horseback riding, plus lovely lakeside settlements and a wildflower festival. Bled offers watersports and laid back rowing.
Wine
Slovenia's 300 vineyards make it an oenophile mecca, with the eastern Podravje region in particular being the most celebrated; wines has been known here since prehistoric times. The world's oldest vine is found in Maribor – and still bears fruit after 400 years. Savour Merlot and Pinela from Vipava on a jaunt around its Wine Road. Look out for wines made from Malvazija and Refošk, plus whites from Brda – and good sparkling. The word for wine, by the way, is vino.
Triple Bridge, Ljubljana
While the surrounding riverside architecture thrums with sophisticated capital life (bars, cafes and markets), some folk are underwhelmed by Ljubljana's famous Triple Bridge itself once they get past the fact that it has three walkways. "Fairly small and made of concrete" and "I expected something more grand" are among the online comments.
Tito souvenirs
Like Red Army stuff in Berlin and Mao memorabilia in China, souvenirs of Slovenia's long-time communist ruler Marshall Tito are on sale. But rather than buying a 'quirky' T-shirt, take time to delve into the complexities of a man who fought superbly against Nazism and campaigned for admirable global causes. He is credited with unified Yugoslavia – but arguably through his opposition of democracy – and was a staunch Marxist, yet beloved by Hollywood celebrities of the day.
Cruise ship crowds
Inevitably, Ljubljana and Lake Bled are increasingly popular daytrips for 2,000-passenger cruise ships. It's well worth checking the
cruise ship schedule
at Kopor (just an hour's drive away) and getting out of town when the hordes are due to arrive. If
you
fancy the cruise, don't be dismayed – you can visit Slovenia on a responsible small ship voyage that carries just 50 seafarers. Better for you, the environment and Slovenia.
Fish food
Forget don't feed the bears – it's a case of don't feed the fish on Lake Bled. Believe it or not, one of the biggest water pollutants here is...fish food. Fishermen and tourists throw it into the water like confetti to reel in king-size carp, but it bleeds extra nutrients that kick up phosphorous levels and bacteria.
Eating & drinking in Slovenia
As well as a wide variety of excellent local wines, Slovenia has varied flavours of cockle-warming schnapps, like borovnica (blueberry) or viljamovka (pear).

Dried meat products are a Slovenian speciality, particularly fine ham (prsut).

Italian influences include succulent stuffed Slovenian ravioli.

Popular street snacks include savoury pastries (burek) and spicy sausages (kranjska klobasa).

The world's oldest musical instrument – the Divje Babe flute – was found in a Slovenian cave, dating back 55,000 years.

Our top Slovenia Holiday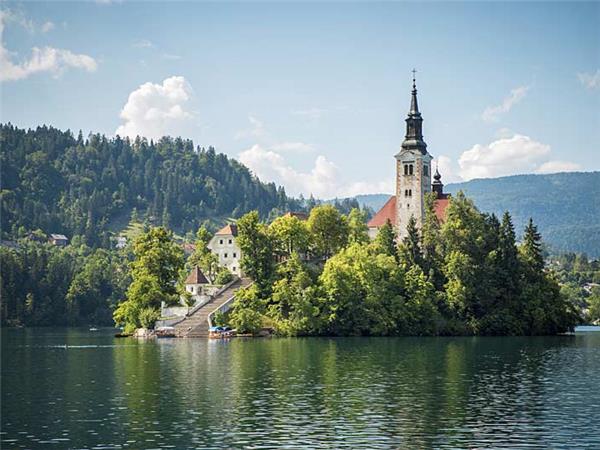 Beautiful walks, lakes and mountains
From
£1599

to

£2299
8 days
inc UK flights
Small group travel:
2023: 10 Jun, 24 Jun, 22 Jul, 26 Aug, 2 Sep
2024: 1 Jun, 8 Jun, 22 Jun, 29 Jun, 24 Aug, 31 Aug
If you'd like to chat about Slovenia or need help finding a holiday to suit you we're very happy to help.

People & language
In its communist days, Slovenia was considered the most open of the former Yugoslavia's regions, and its people remain keen to show off their English skills talking about their country.

Impress locals by mentioning 19th century poet France Prešeren – Slovenia's most famous writer, whose poem Zdravljica (A Toast) forms part of the anthem. Also praise architect Jože Plecnik, who almost single-handedly transformed Ljubljana with his elegant buildings and remodelled river banks.

Don't confuse the Slovene language with the very different Slovak!
Gifts & shopping
Slovenian wine is excellent and hard to find elsewhere; many of the country's 300 vineyards offer tastings to help you choose favourites.

The local pear schnapps (viljamovka) is not only fine stuff, but many bottles come with an entire pear mysteriously set inside.

Bag beautifully crafted wooden gods from Ribnica

Lace from Idrija is justly renowned and easy to pack.

The snow-white Lipizzaner horse used at Vienna's famous Spanish Riding School first originated in the Slovenian village of Lipica (Lipizza in Italian).

How much does it cost?
Three-course meal for two at
mid-range restaurant: £27

Bottle of Slovenian wine: £5

Average cost of museum entry: £6

Bicycle rental for one day: £10

Train ticket from Ljubljana
to Maribor: £9
A brief history of Slovenia
Like other European countries, Slovenia has endured austerity in recent years, prompting strikes and street protests during 2012 and 2013. Corruption was another cause of public anger, with then Prime Minister Janez Jansa being found guilty of concealing assets, and being sent to prison. Thankfully, Slovenia's economy is now recovering, and the country is once again something of a beacon among the former communist countries.
Read more