Sri Lanka cultural highlights
---
MAKE THE MOST OF YOUR TIME
There are six cultural UNESCO World Heritage Sites in Sri Lanka, three of which make up the well trodden tourist trail known as the Golden Triangle. They do not disappoint, especially if you get to the likes of Sigiriya for sunrise, or watch the sunset over the ocean in the historic city of Galle. In between all of these are the glorious hill stations and tea plantations, as well as heritage railways such as the stunning journey through the highlands from Colombo, or the coast line to Galle. This was famously featured in Paul Theroux's hit travel journal, The Great Railway Bazaar, in 1975 – a must read before you go.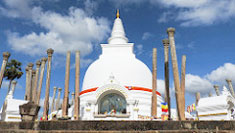 Anuradhapura
This ancient city is revered as the capital of Buddhism and, therefore, a very sacred site. You also instantly feel how majestic it was two millennia ago with the Brazen Palace where 1,600 stone columns still stand. Dotted with monasteries, pilgrims also come to honour the only living shoot taken from the sacred Bo tree under which Buddha was enlightened. Its leaves are represented on the national flag.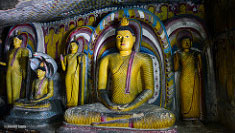 Dambulla
A sacred network with 80 documented caves forming a temple complex dating back to 1st century BCE. Now there are five open to the public, where you can see their collection of Hindu and Buddhist statues as well as royal treasures. With beautiful hand painted walls, they were also where a Sinhalese king hid from Tamils. Visit them in reverse order, with 1 and 2 the most impressive.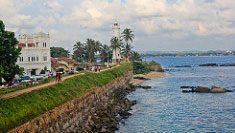 Galle
Many people come here via the iconic coastal train journey from Colombo, and this old fort and port town was put on the map by the Portuguese in the 16th century. It is now a cool, waterside hub of funky hotels, restaurants and artisan shops. One of the country's most atmospheric places to stay to get to grips with Sri Lanka's cornucopia of culture, rightly rewarded with UNESCO World Heritage status.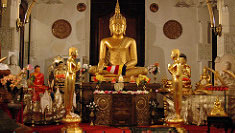 Kandy
On a very crowded day it isn't so sweet, but time your visit right to enjoy this former capital ruled by the Kings of Kandy since 15th century. Although it fell to British colonists in 1815, it is still a cultural beating heart. And a sacred one too, with its famous Temple of the Tooth, containing a sacred tooth belonging to the Buddha (so Kandy isn't bad for teeth, then).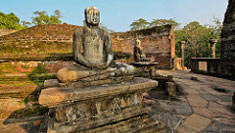 Polonnaruwa
This collection of 10th century temple and palace ruins was constructed by the Chola Kings of southern India who had a penchant for Polonnaruwa. It took over from nearby Anuradhapura as capital. Compact and accessible, it presents a good idea of how grand life was for these ancient nobles with their royal baths, monasteries and temples. This is a point of pilgrimage for many to see the Buddha rock carvings.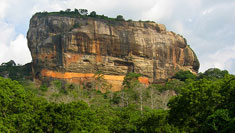 Sigiriya
This stunning citadel sits atop a humungous, 200m-high rock, known as Lion Rock, as it was thought, way back, that lions inhabited the caves around it. There are no lions nowadays, sadly, but there are plenty of monkeys jumping over this great UNESCO site, once King Kasyapa's fort overlooking the jungle plains below. The climb takes you past ancient frescoes, and the views from the top paint a pretty picture too.



Hello.
If you'd like to chat about Sri Lanka culture or need help finding a holiday to suit you we're very happy to help.
Rosy & team.
01273 823 700
Sri Lanka cultural holidays travel advice
---
TIPS FROM OUR FRIENDS IN SRI LANKA
Beach tips
---
Liddy Pleasants is Managing Director at our supplier, Stubborn Mule Travel: "If you are going to Sri Lanka for a cultural holiday but want to have a few days at the beach at the end, choose your beach carefully. On the southwest coast a lot of the beaches look idyllic in the pictures, but are actually crammed full of charter beach trippers, and completely in contrast with the rest of your time in Sri Lanka."
Family travel advice
---
Liddy Pleasants, from our supplier Stubborn Mule Travel: "The main thing for families is to not overdo it. I would advise them to spend three or four nights in one place and then move on to the next. So, for example, go to the Cultural Triangle, and just stay put for a few days seeing everything from there. We give our guests a local driver to take them around, who will do things like stop at lovely fruit stalls along the way and you can try all sorts of tropical fruits you haven't heard of before."
Tipping in Sri Lanka
---
John Beswetherick, Managing Director of our supplier Tikalanka (UK) Limited: "Sri Lanka is a tipping culture, and it's naïve of Westerners to go out there and get indignant about being asked for money all the time. You just have to accept it, and be pleasant about it if you don't want to give a tip, or use a service. 99 percent of the time the person will then go away. Yes, a lot of them are trying to get an extra buck from tourists, but some of them are also on the breadline. So, I just like to educate people that this is the way of life, so just be relaxed about it."
Best time to go
---

Ishara De Silva Managing Director of our supplier Srimal Plantation and Ayurveda Hotel:
"Don't worry too much about the monsoon season, because it is summer all year round anyway. Sometimes it can rain nonstop for the month of May, but other times it might just rain in the evening. Anyway, the monsoon transforms villages into a whole other way of being, and we are used to that. Often our visitors love it too. So, for example, we lose electricity sometimes, but it doesn't faze anybody, going back to candles and oil lamps. We do yoga with oil lamps instead of lights, and our guests love that".
Best time to go
---
John Beswetherick, Managing Director of our supplier Tikalanka (UK) Limited: "Everyone knows about the Esala Perahera Festival in Kandy, but the Navam Perahera in Colombo at the full moon in February is not so touristy. The other one is the big Hindu Kataragama Festival in July and August, near the Yala National Park, which is a great experience."
Responsible tourism in Sri Lanka
---
Ishara De Silva Managing Director of our supplier Srimal Plantation and Ayurveda Hotel: "There is a lot of antique smuggling going on, so be very careful when buying antiques as it is illegal to take these things out of the country. If you buy a reproduction, the sales person you are buying it from must give you a document from the Archaeological Department of Sri Lanka, to show that it is not, in fact, an antique and therefore fine to take abroad."

"Sri Lankans are sensitive and emotional people so be wary of talking about the war. You can talk about it, but be prepared that it might get heated and to walk away from the discussion if needs be. But generally a lot of people have moved on from it."
Sri Lanka cultural holidays travel advice
---
TIPS FROM OUR TRAVELLERS
At Responsible Travel, we think the best people to advise our travellers are often... other travellers. They always return from our tours with packing tips, weather reports, ideas about what to do - and opinions about what not to.

We have selected some of the most useful Sri Lanka cultural holiday travel advice that our guests have provided over the years to help you make the very most of your holiday – and the space inside your suitcase.
"Travel light. 7 hotels in 10 days (all offer 12 hour laundry service). Carry a good water bottle you can refill from a communal 5Ltr flagon rather than using new plastic bottles every day." – Andrew Jackson on a small group tour in Sri Lanka

"Seeing all the historic sites and Buddhist temples with a guide is interesting, but can be very lengthy and extremely hot! If walking, there are leeches but nowhere near as scary as advised on other sites...just wear long thick socks sprayed in deet and leather walking boots...they got other people in trainers, but not us in walking boots. We went in August and mosquitoes were few and far between." – Emma Collver

"Sigiriya was superb and not to be missed but I would recommend getting there as early as possible to avoid the crowds. Later on, 4ish, I would highly recommend climbing the adjacent rock, Pidurangala, far less touristy with phenomenal views and more of an untamed feel. Descend to the white Budda to enjoy the sun set at about 6pm (July)... White water rafting on Kelani river was great fun. Exciting without being frightening." – Katy Lee

"Be prepared for the incredible humidity around Colombo and the south coast. If you are a history buff like me then you can arrange a car and driver for the day through Hotel Sigiriya and spend time at Anuradhapura and Mihintale instead of doing the cycle ride at Giritale. Please note that they are now going straight from Kandy (500m) to Nuwara Eliya (nearly 2,000m) and this can be a problem for those susceptible to altitude sickness like me – I was fine again as soon as I got down to Bandarawela. Don't rely on it being dry in the dry season – come equipped for anything!" – Elizabeth Devery

"Go with an open heart, palate and hope to have Priyantha Balakrishnan as your guide. Remember that 3 star hotels are not what they are in Europe, most hotels in this range are older and may or may not have been renovated." – Naomi Day on a food adventure in Sri Lanka

"Make the most of any opportunities to look around, take part in things, talk to the local guide to tell them what you are interested in. For instance we talked about food, and ended up spending an evening at a cookery demonstration, which was very interesting. Also be aware that entrance charges (including national parks) are not cheap, and tipping adds up." – Christine Cook