Sri Lanka walking highlights
One of the secrets of walking holidays in Sri Lanka is to look at the Sinhalese place names. They sum up the natural heritage better than any map. The Knuckles Mountains are Dumbara Kanduvetiya, meaning 'Misty Mountains'. Sri Pada is the local name for Adam's Peak, meaning 'Sacred Footprint', and Horton Plains are known locally as Maha Eliya Thanna meaning 'Great Open Plain', rather than the ruling colonist governor's name. Sinharaja Forest Reserve translates as 'Lion King', based on the legend that Sinhala people are descendents of a union between a lion king and a princess. Disney missed a trick there. And not forgetting the name Sri Lanka itself, translated simply as 'Resplendent Island'.
1. Adam's Peak
Also known as Sri Pada, meaning 'Sacred Footprint', which sums up this conical mountain. At 2,243m it is where Buddha is said to have stepped and left his footprint in an iconic rock. Consequently, Buddhists take on this four-hour pilgrimage, but worshippers of nature will revel in its glories too, especially at sunrise. It gets busy during pilgrimage season, between the poya in December and Vesak in May.
2. Belihuloya
Gateway to a few glorious treks including the Bogawantalawe Trail, which takes you across the Belihuloya River, through tea plantations and into wildlife filled jungle. Also the Kinchigune Trail, with more river crossings that take you up to Samanalawewa Reservoir and through real rural Sri Lanka, paddies and small farms. Camp in rural spots, wake up to a cacophony of birdsong and shower under waterfalls.
3. Ella
A sleepy village that turns to dreamy terrain for hikers, as it is the gateway not only to Adam's Peak but also trails up to Ella's Rock and Little Adam's Peak. Always have your swimsuit in your backpack around here, with dips in the likes of Ravana Ella Falls. It's accessible on the most stunning train ride with lots of small Sri Lankan guesthouses dotted around the hills, too.
4. Golden Triangle
Some walking holidays steer clear of cultural sites, others ensure that the ancient artery of Sinhalese civilisation is included, such as the vast palaces of Anuradhapura, Polonnaruwa ruins and Sigiriya Citadel, AKA the famous Golden Triangle. Another must see is Dambulla's collection of caves with preserved paintings and statues of Buddha. There is always plenty of walking to do at these sites too. They are massive!
Horton Plains National Park
5. Horton Plains National Park
Horton Plains boasts stunning hiking terrain through grasslands, mist shrouded forest and meadows where sambar deer roam. The highlight for many is the 9km loop trek to 'World's End' and if the end of it looks like this, then it will be paradise. One of Sri Lanka's most stunning viewpoints, there's birdlife galore en route and Baker's Waterfall to lift the soul even more than it has been already.
6. Knuckles Mountain Range
In the northern section of the Central Highlands, you can walk for days here and hardly meet a soul. Follow walking trails through deep gorges and over exquisite escarpments such as Manigala Top at 1,115m, surrounded by several peaks over 1,800m. Take on a couple of days trekking here, camping en route, so that you can cover the mix of plantations, villages and rice paddies.
If you'd like to chat about Sri Lanka walking or need help finding a holiday to suit you we're very happy to help.

TIPS FROM OUR FRIENDS IN SRI LANKA
Why go slow in Sri Lanka
Andrew Appleyard, from our supplier Exodus, shares his top tips for walking holidays in Sri Lanka:
"It's 6.30am on a rather overcast morning and although I almost feel as if I'm in Scotland on the moors, the soft pug mark of a leopard in the damp sand reminds me that I am actually in Sri Lanka on Horton Plains. Many people tend not to think of Sri Lanka as a trekking or hiking destination, but with Adam's Peak rising to 2,243m and miles of jungle tracks and incredible tea plantations, the diversity is fantastic."
Kandy tips
Andrew Appleyard, from our supplier Exodus:
"Walks around the lake at Kandy are best done in the early evening, but beware of the fruit bats returning to roost. If you want to see the Tooth Relic there will be long queues of local people – however, the interaction is wonderful as locals come from all over the country to see it."
Weather & packing tips
Responsible Travel's Lisa Joanes, who travelled to Sri Lanka in November:
"It was colder than I thought it would be walking in Horton Plains National Park. We did get wet, which I expected but because we were high up I also felt the cold. So do bring waterproofs and waterproof boots, but also dry layers to keep warm."
And some good advice from our traveller reviews
Alastair Francis:
"Take protection from the heat. Make sure you cover up your shoulders as a woman in the temples to avoid any stares or the wrath of the locals. Always take the time to say hello to those helping you as they are very friendly people and try to tip well in local restaurants. You should not be too worried about crime, but remember to be firm to those who are trying to sell you trinkets if you do not want them to. Once you have made it clear, they will leave you alone unlike other countries."
More Sri Lanka walking articles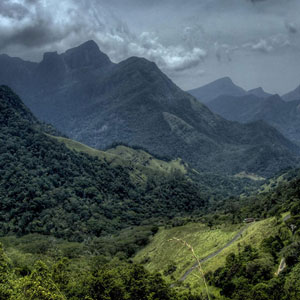 Discover waterfalls, gushing rivers, tropics and rich wildlife along with plateaus proffering panoramic views...