There is no need for a weather forecast in Sudan, really as it's just always hot. Especially in the North, where most holidays take place.

The best time to visit Sudan is when it deigns to cool just a tad, the lowest temperatures being in Jan, averaging 30°C. However, temperatures can halve at night during Dec-Feb, making travel a lot more bearable. In the desert itself, temperatures can dip a lot, with cold winds whipping your fleeces and down jackets out of your bag in an instant. Rain falls between May-Sept, and the Nile can start to fill its floodplains during that time, but tour companies tend to avoid these times, as transport can become very difficult.
Things to do...
Pyramid perfection is what so many people come in search of in Sudan, for those who have woken up to the fact that it is not only Egyptians who built these necropolises for their royalty. In fact, there are more pyramids in one small section of the northern Sudanese desert than in the whole of Egypt. The Meroe Pyramids boast over 200 ancient wonders, about 200km north of Khartoum, on top of a dune draped hill, while the Nuri Pyramids are part of the ancient Nubian city of Napata. Both are UNESCO sites; both are magical.
The wilderness wonders of the desert landscapes are what dominate and delight on all trips to Sudan. Where nomadic life is still the norm, and men on camels will stop to greet you like long lost cousins, ask if you want to buy a camel, or indeed a wife. The contrast of ancient archaeological ruins, pyramids appearing across the parched plains like mirages, and traditional dwellings of the Bisharin nomads in the Nubian Desert, proffers a landscape that is far from culturally arid. It is oozing out of every oasis.
Camp out under the stars to immerse yourself in a world where astronomers and archaeologists can die happy. Or where all travellers can bask in the warmth, not of the desert itself, with its bleached out beauty, but of the people. Who like to shake hands in between each question that they ask you. Because each answer is valuable when you meet someone in the desert and so all precious exchanges must be shaken upon.
Things not to do in Sudan…
Most visits are trouble free, however terrorism is sadly a reality of travelling in these times. Sudan has had fewer terrorism incidents than other African countries, thankfully, however there has been significant civil unrest. Consequently, many areas are out of bounds for tourists, such as the five Darfur states where violence is not uncommon between rebels and government forces. Travel near the Sudan-Libya border is also not advised.
Always get up to date information at the Foreign and Commonwealth Office (FCO) travel advisory department before travelling to Ethiopia and also ensure that your travel insurance covers your trip. Read more details on FCO and insurance here.
Take photos wherever you like. And we don't just mean respecting people's privacy and ensuring to ask permission. Even in certain places, such as the bridge over the confluence of the Nile in Khartoum, where taking photos is banned. And people have been arrested (a pretty extreme measure to banning selfie sticks, has to be said). On a serious note, visitors are meant to have a permit for taking photographs and videos. Ask you tour operator for details.
Compare the pyramids with Egypt. These ones are of a different time, they are Nubian and, most importantly, they are in Sudan. And the Sudanese are rightly proud of the them, and dislike being compared with Egypt, especially given the fact that that the two countries have a troubled history.
This is the desert. So don't forget to drink. The recommended amount is 5 litres per day, usually sourced from wells, but your tour operator will also make sure it is purified, just to be safe.
Homosexuality is illegal in Sudan and has, in some cases, been punishable by death. But all other punishments are vile and, of course, major issues in terms of human rights.
Sudan is an Islamic state and it observes the rules of Sharia law, so alcohol and drugs are illegal. Dress conservatively, including men who should wear long trousers, not shorts, And never show images of prophet Muhammad, or take the name in vain in any way. Remember the story about the English teacher who allowed a pupil to call a teddy bear by this name? Yep, that was Sudan.
If you'd like to chat about Sudan or need help finding a holiday to suit you we're very happy to help.

Weather advice
Ralph Foulds, Director at our leading Sudan supplier, Encounters Travel

"We don't run trips to Sudan between May and September. It is too hot and there are dust storms. The start of the season, mid-October, is cheapest."
Food & drink advice
"There are lots of fresh fruit and veg on offer. And for veggies, there are plenty of different beans, such as 'Ful medames', which are fava beans, falafel and so on. There is no booze, although there is alcohol free 'Bavaria' beer, which is OK if you are desperate."
Photography advice
"Don't take photos in public places, although security staff are generally friendly and aren't going to rip your camera off you. However, expect other people to want to take their pictures of you when you take photos of them – this can be great fun."
Packing tips
"Don't take your best clothes. It will be dusty everywhere – you're in the desert, it can't be avoided. Take a wide brimmed hat – it will be bright."
Shopping tips
"Sudan is NOT a touristy place. You'll hardly see any other tourists around and frequently will be the only people at the sites you're visiting. This is great, as you can wander around at leisure, without getting hassled. There aren't any souvenir hawkers hassling you which does mean that not many souvenirs are available. So, if you want to bring things home, then local sweets, snacks, nuts & seeds – things you'll have eaten and seen in the local shops, are good options."
What to see
Katherine Tory from our supplier, Exodus Travels, shares her Sudan travel tips:

"For me nothing can beat spending a few days exploring the Western desert by 4WD; it is tough these days to travel to somewhere really remote – no phone signal, no light pollution, fabulous night sky's, exploring huge sand dunes. Perfect!"
Cultural tips
"I believe it's important to be respectful of the culture no matter where you travel to, and this certainly goes for Sudan. Women should wear long skirts/trousers and have their shoulders covered. If entering mosques women will also be expected to cover their head. Men can wear knee-length shorts but may prefer to wear long trousers."
Tips from our holiday reviews...
At Responsible Travel, we think the best people to advise our travellers are often... other travellers. They always return from our tours with packing tips, weather reports, ideas about what to do - and opinions about what not to.

We have selected some of the most useful Sudan travel tips that our guests have provided over the years to help you make the very most of your holiday.

...The most memorable part of my journey in Sudan was the Sudanese people, I have never experienced just a warm welcome in my life

"You don`t need loo rolls or torches if you are on the 8 day trip as all accommodation has it all with no squat loos. Take a fly whisk as there are many flies in the countryside especially by the Nile. If you are into history and archaeology and don`t mind piles of stone ruins, you will appreciate all the other sites, which are fantastic. Don`t expect to see fossils, because there are not fossils other than fossilized trees… when you stay in the Nubian rest house, you are in for a treat. Beautiful and peaceful and if you have a chance, then climb the big rock opposite at sunset. It is worth the effort for the view and history at your feet" - Geoffrey Hermsen

"Just book it, don't ponder about it and worry about safety, I never felt as safe and for me it was a trip of a lifetime……The most memorable part of my journey in Sudan was the Sudanese people, I have never experienced just a warm welcome in my life, it will forever stay with me." - Cathal Murphy
More Sudan articles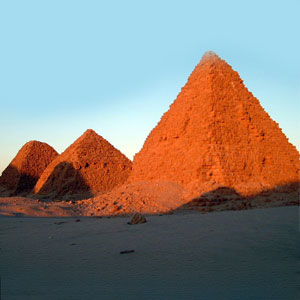 Our travel guide explores this vast nation - and discovers that the Sudanese smile is even warmer than its desert...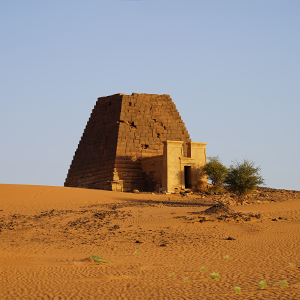 Its pyramid construction outlived that of ancient Egypt by centuries, yet Sudan's Meroe Pyramids get very few visitors.