Sudan is one of those countries that you have to dig out your atlas to check exactly where it is, with vague memories from school that the Nile, Red Sea and Sahara cut through it. As well as civil war, that has been a feature here for almost 40 years, with names like Darfur still sending shivers down our spines. Although peace now prevails, with the exception of certain regions such as Darfur which is about 800km from the Sudanese sites visitors are vying for.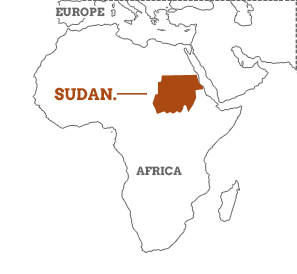 People wear hearts on their sleeves in Sudan. And welcomed us into their hearts and homes too. In fact, the omnipresent Sudanese smile will always be imprinted on my mind.

But Sudan is a place where you have to look beyond both the atlas and media archives. Instead look out into the vastness of its deserts, back into the history of its Nubian people and their ancient civilisations, at its nomadic tribes and now predominantly Arab population. Each proud stewards of the most extraordinary landscapes, from the black basalt, volcanic mounds that rise up out of the Bayuda Desert to the proliferation of pyramids, which segue in and out of the sands like magnificent mirages. All real and all terrifically untouched by tourism.

Read more in our Sudan travel guide
Sudan isÖ
dichotomous. First, it is devoid of tourists, but yet it has more pyramids than Egypt. Second, it has had centuries of civil strife, and yet the people are forever smiling and welcoming.
Sudan isnítÖ
for you if desert exploration, long journeys and wild camping arenít your thing. Oh, and if you crave an ice cold beer. Not for you either. All alcohol is illegal.
Our top Sudan Holiday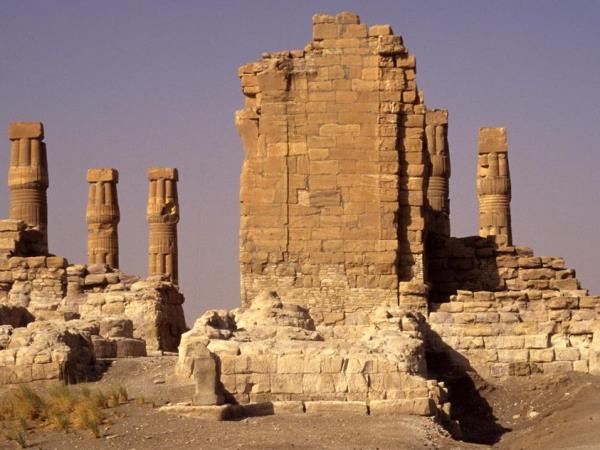 Explore some of Sudanís little known ancient monuments
From
£4025
15 days
ex flights
Small group travel:
2023: 17 Nov, 22 Dec
2024: 9 Feb
If you'd like to chat about Sudan or need help finding a holiday to suit you we're very happy to help.

When you are in Sudan you will hear a lot of talk about cataracts Ė the word used to describe the shallow sections of the Nile that create white water on red sand. However, the wonderful thing about Sudan, the third largest country in Africa, is that its wide expanses mean that little is clouded from view. The Pyramids of Meroe glisten in the sun, the white robes of nomads sparkle in the Bayuda desert, the elegant, domed Muslim shrines create the most beautiful silhouettes in Old Dongola. And the night stars over the desert make pupils almost pop out of our eyes. And everywhere there is eye watering beauty.
1. Khartoum
Sudanís capital is where the Blue and White Nile join forces to make the mother of all rivers. Khartoum is also a meeting place of ancient, British colonial and oil funded modern architecture. Sites include the National Museum and Presidential Palace, where the changing of the guard takes place every Friday. Also the day for whirling Dervishes, dancing ritualistically around the big mosques at sunset.
2. Pyramids of Meroe
Now youíre talking. Rising out of the desert, this isnít a mirage, it is Meroe. Where over 200 ancient Nubian pyramids remain in the sand, forming the Meroe Necropolis. The first great ancient city this far south in the Sahara, built to benefit from the flood plain of the Middle Sahara, stay in tented camps in the desert, taking time to absorb the magnificence and significance of such wonders by sunrise and sunset.
3. Bayuda Desert
This stunningly beautiful desert landscape, on the west bank of the Nile, is peppered with black basalt volcanic mounds evoking surreal images of ancient volcanic explosions in the already searing hot desert. Tucked into a loop of the Nile, this is still the land of Bisharin nomads, who lead traditional lifestyles, living in temporary huts around sporadic wells, and trading goats and camels.
4. Old Dongola
Now in ruins, this medieval Nubian city is a site to behold with eclectic, ancient architecture, from Christian temples, beehive shaped Muslim shrines to Nubian houses. Unlike some archaeological wonders, here lie, quite simply, extraordinary remains with sand being dusted over and blown away daily. Stay in traditional rest houses in nearby Nubian villages, or modern town of Dongola, further down the Nile.
5. Jebel Barkal
It may only be 98m high, but Jebel Barkal Mountain strikes quite a pose in the middle of the desert and has, not surprisingly, long been used as a landmark by desert caravans. A UNESCO World Heritage Site, along with the ancient city ruins of Napata which awaits at its foot, after a trek across the desert to get here, this striking site was home to 13 temples , three palaces and a royal graveyard.
6. Nuri Pyramids
More pyramid perfection including the great Taharqa. Although 10km from Jebel Barkal, these remains, almost mirage or movie like in their greatness, also belonged to the ancient Nubian city of Napata and are the burial places of the royal family of Kush. These pyramids, along with Jebel Barkal are UNESCO sites. But actually, so remote and tourist free, it just feels like an honour to be there. UN or no UN.
More about Sudan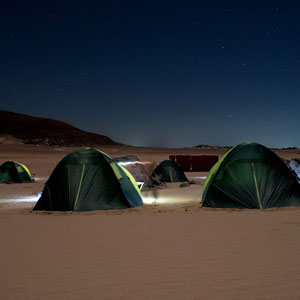 Sudan is very, very hot, and very, very dry; the best time to visit Sudan is in December to February, when temperatures "drop" to around 30įC, but nights can be around half that - which is a welcome relief. May to September are simply too cauldron-like, although there are bargains to be found in October. Our Sudan travel experts share their top tips with us - from what to eat, what NOT to drink, what to pack and shopping for souvenirs.