BEST TIME TO VISIT TAJIKISTAN

The higher you climb, the cooler you'll be – head for the mountains in the summer and drop down into the cities in late spring or autumn.

If you're heading over the Pamir Highway, the best time to visit Tajikistan is from late May until late September; you're going over very high mountain passes, so outside of that period it's potentially snowbound and inaccessible. Hot and sunny July is peak time to head for the mountains, while down in Dushambe it's stiflingly hot. If you're going to combine mountain trekking with some culture in the cities below then late April to May is spot on – it's colder at night as you climb higher, but it won't be like a furnace on the ground making museums a much more comfortable experience.
THINGS TO DO IN TAJIKISTAN
Things to do in Tajikistan...
Release your inner mountaineer, or jump on your bike for the ride of your life – the Pamir Highway is known locally as the… M41, which is such a mundane anti-climax, that we'll just leave it there. Nothing like a motorway, it is the second highest highway in the world, loomed over by 7,000m peaks and encased by spectacular scenery, with a glorious colourscape that alters in every direction. Not for the faint hearted, climbing, or riding this mammoth track is incredibly challenging, but you can traverse most of it in a trusty 4x4.
Tajikistan can be easily combined with Afghanistan should you wish to explore life on the outskirts of civilisation – no matter how you wave your mobile about, you'll find no reception and in most cases, no electricity either. What you will find is 'back to basics' at its most liberating and a very warm welcome. You can combine Tajikistan with Kyrgyzstan too, but consider how much travel you can handle on these roads before you take the plunge.
Tajikistan is about experiencing life outside your comfort zone. Tourists live as the locals do, so if you're imagining a homestay with heating, a nice en suite and perhaps a bit of room service, think again. The toilets will often be holes in the ground; food is simple; people still ride donkeys and most rural houses are made of mud. Remove all of your ideals about comfort and luxury, and embrace the adventure – it's much more about that than it is about daily showers and thread counts.
Things not to do in Tajikistan...
Expect to dine on delicacies. Linda Maguire from our supplier, Undiscovered Destinations, explains what to expect food-wise: "The food is best summed up as simple. There is a lot of grilled lamb, and stew with mixed vegetables is very traditional and is served everywhere. The food isn't stodgy, but there is very little variety and it's not the most exciting. We ate a lot of cucumbers, tomatoes and herbs and the ingredients are very fresh, so it does taste delicious, but I wouldn't say that vegetarians are well catered for as the rice that is available is often cooked in meat stock, so they could struggle after a few days surviving on salad and bread." So there you have it, the basics are all there: meat (read: sheep, or horse) and rice, but the fat to meat ratio is often intolerable. If you're a nomadic carnivore who loves chewing fat, brilliant, if you're a vegetarian, prepare for more bread than you've ever eaten. Rush a welcome. Meeting and greeting locals in Tajikistan is a lengthy process and you will be asked all manner of questions about your family, work life and even your health. Take your time and answer politely – they're not prying and they are as intrigued by your way of life as you will be about theirs, so they'll welcome questions in return too.
Our top Tajikistan Holiday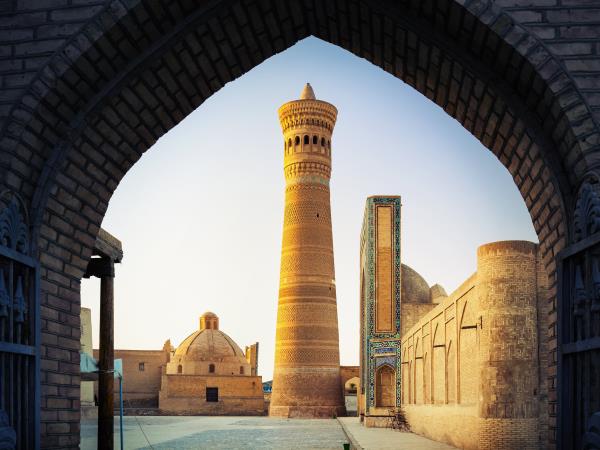 Step into the pages of history on a silk road tour
From
£5499

to

£6149
23 days
inc UK flights
Small group travel:
2023: 10 Jun, 17 Jun, 1 Jul, 8 Jul, 29 Jul, 12 Aug, 19 Aug, 26 Aug, 16 Sep
2024: 1 Jun, 8 Jun, 15 Jun, 22 Jun, 29 Jun, 6 Jul, 27 Jul, 10 Aug, 17 Aug, 24 Aug, 7 Sep, 14 Sep, 21 Sep
If you'd like to chat about Tajikistan or need help finding a holiday to suit you we're very happy to help.

Culture tips
Mark Huggins, from our supplier, Undiscovered Destinations, shares his Tajikistan travel advice:

"You need to forego any ideals of Western luxury. Of course, you can get nicer accommodation in the areas of Tajikistan moving up from Dushanbe to Iskander-Kul, but generally speaking your lodgings will be basic. It's a great destination for adventurous people and people that have already travelled in basic conditions. Another point to add is that you won't get guides who speak English of perfect quality either; they do their best and we have some excellent local guides, but travelling conditions in the area are primitive and that is part of the adventure."
Tips on the Pamir Highway
Tips on the Pamir Highway
Mark Huggins, from our supplier, Undiscovered Destinations, shares his Tajikistan travel advice:

"One of our trips takes in the Pamir Highway, which is a huge highway that traverses the Pamir Mountains through Afghanistan Uzbekistan, Tajikistan and Kyrgyzstan, and is a really adventurous road trip through the high mountain range. It's an amazing experience, but a very basic trip, so you stay with local families in traditional Pamiri homestays, sleeping on mattresses on the floor and eating as the locals do."
Tajikistan for adventure travel
Tajikistan for adventure travel
Daniel Waters, from our supplier, Wild Frontiers, shares his Tajikistan travel advice:

"Tajikistan is an adventure traveller's dream; it's so little travelled, you'll be hard pressed to see another tourist the entire time you're there. The country is nearly all mountainous, spectacular scenery is guaranteed throughout, from the azure blue lakes and waterfalls of the Fann Mountains to the snowy peaks of the Pamirs, and the raging rivers in the Wakhan Valley. The warmth of the people is so heartfelt, you'll be offered bread and fruit wherever you go in communities that seem to be frozen in time. The sense of remoteness, and the reality of being in a country so removed from the world as we know it, creates one of the most genuine travel experiences that can be found."
At Responsible Travel, we think the best people to advise our travellers are often... other travellers. They always return from our tours with packing tips, weather reports, ideas about what to do - and opinions about what not to.

We have selected some of the most useful Tajikistan travel tips that our guests have provided over the years to help you make the very most of your holiday - and the space inside your suitcase.

Enjoy all the wonderful people you come across everywhere. A smile goes such a long wayand gives so much in return!

"Some of the homestays were crowded (18 people) and facilities limited (1 loo, only washing facilities the local stream). You will see wonderful scenery, but there's a lot of travelling." – Peter Jackson

"It was very hot throughout, so take loose, cool clothing." – Gillian Urro

"Travel as light as possible; keep an open mind in case something unforeseen happens; and enjoy all the wonderful people you come across everywhere. A smile goes such a long way and gives so much in return!" – Gunilla Westerlund

"Hopefully anyone booking this holiday will have some experience in remote locations so will be well prepared. I think everyone needs to be warned to be a bit more cautious about food and water/drink. We were much more cavalier about these things (I ate and drank everything put in front of me!) than I would be when somewhere like India." – Sue Noble



Be prepared for long days driving, often on very bumpy roads. However nature's spectacles compensate for the travelling inconveniences.

"Be prepared for long days driving, often on very bumpy roads. However, nature's spectacles compensate for the travelling inconveniences." – Jayne Hanlin

"Be prepared for basic conditions in the yurt camps - no washing facilities (and don't mention the toilets). Take a head torch, plenty of wipes, and gloves for horse riding or trekking. You need to pack carefully for very cold and very hot conditions." – Joan Godman
More about Tajikistan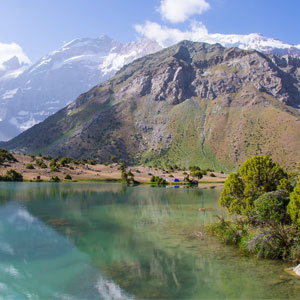 Tip toe your way through our Tajikistan travel guide and get lost in a world of spice stalls, yak carts and towering mountains as you discover how to make the most of your time.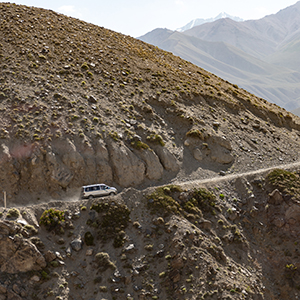 We reveal how to see the Pamir Highway – the highest highway in the world – properly, from its 4,000m-high mountain passes and hardy mountain villages to its 3,000-year-old Silk Road cities.