There are parts of the world lauded for their ancient history and tradition, but where time and progress have stripped them of their age-old qualities – Tajikistan, however, is not one of those. A country as if beautifully preserved in time millennia ago, one of its greatest charms is that nothing has really changed. Men still sell sugar and spices by the roadside, perched on carts and strumming hand-carved instruments; women wander the markets with huge pots atop their heads; and yaks and cows scramble freely, seeming to know where they're headed.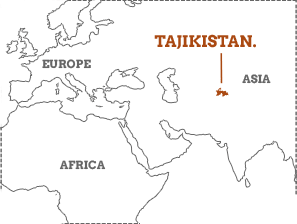 A throwback to thousands of years ago, a trip to wild, beautiful Tajikistan is about embracing a traditional way of life and exploring the uninhibited wilderness.

Tajikistan's other greatest charm? Its landscape: a wilderness of hauntingly high mountains, true-blue glacial streams of water pure enough to drink, and far-reaching steppe in shades of gold, burnt orange and green. Tajikistan has a simple and desolate beauty that cannot fail to arrest the attention of visitors and very rarely lets it go. Find out more in our Tajikistan travel guide.
Tajikistan is...
the home of the Pamir Highway - the second highest highway in the world.
Tajikistan isn't…
modern or fast paced in any way whatsoever.
Our top Tajikistan Holiday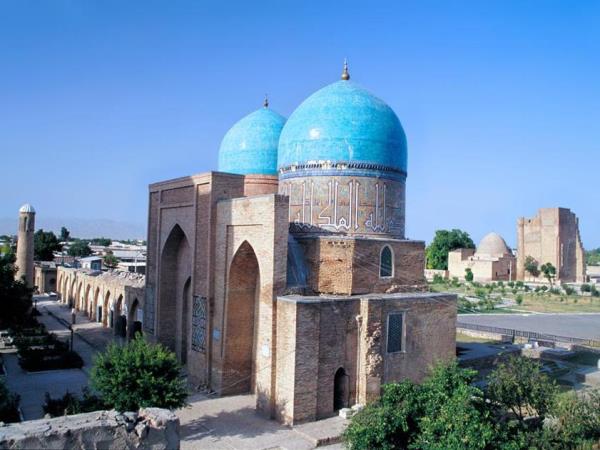 Discover amazing Uzbekistan, Turkmenistan and Tajikistan
From
£3345

to

£3995
15 days
ex flights
Small group travel:
2023: 16 Apr, 10 Sep
2024: 14 Apr, 8 Sep
If you'd like to chat about Tajikistan or need help finding a holiday to suit you we're very happy to help.

TAJIKISTAN MAP & HIGHLIGHTS
There's a lot of road travel involved when journeying around Takijistan, and you'll travel by 4-wheel drive most of the time – certainly along the Pamir Highway which just can't be accessed without a sturdy vehicle. These are 'roads' in the loosest sense of the term, and would be better described as gravel tracks that will test even the most patient of passengers' wits with their combination of lumps, bumps and potholes. You can expect daily stints of a few hours, but it's not like travelling on the M25 in rush hour; road travel along the Pamir Highway is regarded as one of the most amazing road trips in the world thanks to the spectacular surrounding scenery.
1. Dushanbe
Formerly 'Stalinabad', Dushanbe is a city that is fast developing. Clearly rooted in Soviet style, it's a rather glitzy blend of broad avenues, neoclassical architecture, and, oddly, the world's tallest flag pole; all perhaps trying to draw attention away from the dank apartment blocks that taint its edges. The Museum of Antiquities is a great introduction to the diverse cultures that have held sway there.
2. Iskander-Kul Lake
Lying on the northern slopes of the dense, green Gissar Range in the Fann Mountains, mountain lake Iskander-Kul, is a true visual feast. Glacial in its origin, but almost tropical looking under the bright sun thanks to its striking opal-blue colour, it lies at an altitude of over 2,000m, so you can't swim in it. You can, however, wander around its peaceful, bird-heavy surrounds for hours on end.
3. Istaravshan
An ancient centre of trade and crafts, Istaravshan still has a craftsman's quarter today – a higgledy-piggledy maze of blacksmiths workshops, woodcarvers, and tiny houses hidden behind straw-and-wattle plastered walls. The Khazrati-Shokh complex, located in the old town, consists of two mausoleums and a mosque, each well preserved and a great insight into Muslim culture in Tajikistan.
4. Khorog
Dressed in a green swathe of apple, apricot and mulberry trees, Khorog, the only real town among the Pamirs, is noted for its flora as evidenced by its eponymous Botanical Gardens where plants and trees from all over the world somehow manage to thrive at altitude. On Saturdays, the border is lifted allowing a captivating Tajiki-Afghan market to take place.
5. Penjikent
UNESCO-listed Penjikent is an ancient Sogdian city which was, in its 5th to 8th century heyday, one of the most vibrant cities along the Silk Road. Now an excavated hillside exposing lots of interesting archaeological relics including a former palace and a necropolis, a one-room museum puts into context what you're looking at and the mountain panorama makes it all the more atmospheric.
6. The Pamir Highway
The second highest highway in the world, the Pamir Highway runs from Osh in Kyrgyzstan to Khorog in Tajikistan and is towered over by 7,000m snow-covered peaks including those of the famed Hindu Kush. Dotted with home stays, natural hot springs, and quirky village markets, the highway is a holy grail for cyclists, but is lesser-travelled with good reason – it's absolutely beautiful, but gruelling too.
More about Tajikistan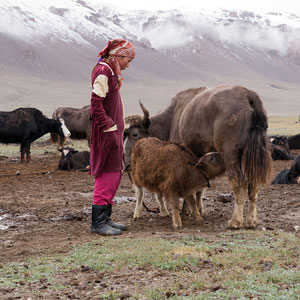 If you're looking for the best time to visit Tajikistan by way of the Pamir Highway then avoid the months outside of summer as it will be impassable due to heavy snowfall.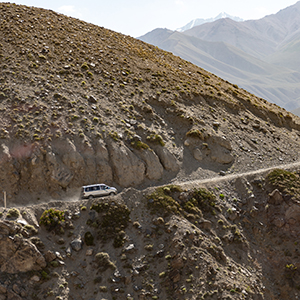 We reveal how to see the Pamir Highway – the highest highway in the world – properly, from its 4,000m-high mountain passes and hardy mountain villages to its 3,000-year-old Silk Road cities.