Timor-Leste is one of the world's unsung tourist destinations, with visitor numbers low in spite of its impressive natural credentials. Asia's newest nation, it gained independence from Indonesia in May 2002, and saw a long UN peacekeeping operation conclude in 2012, leaving the country at peace and ready for travel trailblazers to explore its beauty.

Head for a true off-the-beaten track adventure in a country blessed with rugged mountains, ancient traditions and jaw-dropping underwater landscapes

This island was never attached to another landmass and was instead pushed to the ocean's surface by tectonic activity. Just a short way from shore, the surrounding reefs plunge to deep depths, revealing the country's key attraction: its diverse and thriving waters. This underwater world will leave you reeling: you can snorkel above barely touched reefs, spot whales, dolphins and dugongs as they make their way from the Indian to the Pacific Ocean, and scuba dive into scenes of unparalleled biodiversity. On land there are forested slopes teeming with birdlife, jungle caves tattooed with ancient rock paintings and crumbling Portuguese colonial towns, where sipping homegrown coffee and shooting the breeze with the locals is practically mandatory. Find out more in our Timor-Leste travel guide.
Timor-Leste is…
home to some of the best snorkelling and diving on the planet.
Timor-Leste isn't…
dangerous. Now at peace the country welcomes intrepid travellers with open arms.
If you'd like to chat about Timor-Leste or need help finding a holiday to suit you we're very happy to help.

Timor-Leste map & highlights
Taking up the eastern half of Timor Island, Timor-Leste lies at the eastern end of Indonesia, some 400km north of Australia. Roughly the size of the Netherlands, it's rugged and mountainous. Its highest peak, Mount Ramelau, rises to 2,986m, and much of its land is covered in thick forest. The coast offers wild rocky headlands and long stretches of golden sand, as well as places where the mountains slip straight into the sea. Generally, if you're flying into Timor-Leste, you'll have to transfer in Jakarta, Darwin or Singapore. You can get around by bus, minibus or boat, but public transport here is unreliable, and road conditions poor, so for that reason we'd recommend travelling on an organised tour.
1. Ataúro Island
The tropical idyll you've never heard of, Ataúro Island is only a short boat ride from the capital, Dili. As well as the requisite palm-lined beaches, laid-back vibe and rustic-but-charming beach huts, it's also home to the
most biodiverse waters in the world
, with many of its reefs accessible from the shore.
2. Dili
Set on the north coast, the nation's capital is wedged between mountains and the sea and makes a charming rest-stop between inland and underwater adventures. Dotted with elegant Portuguese buildings and topped by a massive Jesus statue, it also has a lively waterfront lined with bars and eateries. Learn about the fight for independence at the Resistance Museum.
3. Jaco Island
This lush, uninhabited island is paradise personified, complete with bone white sands and brilliant, fish-filled, turquoise waters. There's nowhere to stay and it's a slog to get here – a six-hour drive from Dili through green hills and along twisty coastal roads, followed by a short boat journey with a local fisherman – but that's a small price to pay for a quiet slice of perfection.
4. IIi Kere Kere caves
Rock paintings are hidden in caves across Timor-Leste, and Ili Kere Kere is among the most significant sites, with artworks dating back around 13,000 years. Hidden in the hills, the caves are a thirsty, thigh-pounding hike from the main road (you'll need to take a guide), but it's well worth it given their archeological significance.
5. Mount Ramelau
At the heart of Timor-Leste's mountainous core, Mt Ramelau, the country's highest peak, is also one of its top attractions. Travellers come to hike its almost 3,000m bulk and gaze at the endless views from the summit; for locals people, this is a place of Christian pilgrimage, complete with a statue of the Virgin Mary at the top.
6. Venilale
Full of crumbling colonial charm, Venilale is a small town surrounded by hills and rice paddies. It's known for its Portuguese architecture, in particular the brightly coloured Escola do Reino de Venilale – a former school and now the local library. In the nearby hillsides are hot springs, as well as a series of caves carved out of the hillside by Japanese soldiers during WWII.
More about Timor-Leste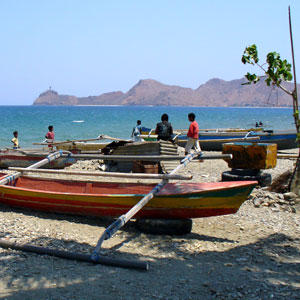 Whenever you choose to come, you'll find something to float your boat, so read on to discover the best time to visit, including top travel tips from our experts.